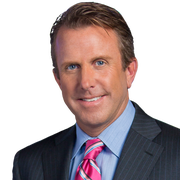 With more than two decades of experience in Atlanta, FOX 5 Storm Team meteorologist Jeff Hill has the answers to your weather questions. Whether you're trying to plan your weekend or need to know the latest on severe storms, depend on Jeff's accurate forecasts to keep you one step ahead.
Following graduation from Penn State with a B.S. in Meteorology, Jeff's meteorological career began at KCAU in Sioux City, Iowa. From there he ventured to WWBT in Richmond, Virginia, then to WTAE in Pittsburgh, Pennsylvania. Jeff returned to the South, making a stop at WTVD in Raleigh/Durham, North Carolina, before reaching Atlanta.
Jeff is a member of the American Meteorological Society and was awarded the AMS Seal in 1988. He is a native of Hartford, Connecticut.
Jeff enjoys golf, tennis, fishing and anything outdoors, as well as spending as much time as he can with his wife, Tracey, and their two daughters.
The latest from Jeff Hill