Georgia severe weather threat: Storms with gusty winds, heavy rain head south, east of Atlanta
ATLANTA - A powerful storm system moved through the South bringing the potential for severe weather. 
Strong thunderstorms will begin moving out of the metro Atlanta area by 5 p.m. 
There is no more severe storm threat in areas with temperatures is in the 60s, but there is still a risk in some areas in the southeast viewing area in the mid-afternoon where temperatures were in the 70s.
STORM DAMAGE: POWERLINES DOWN, ROADS CLOSED
The line of storms was moving faster than anticipated and struck Atlanta by 2 p.m.
DOWNLOAD THE FOX 5 STORM TEAM APP
Most of north Georgia, including metro Atlanta, began the day in a marginal risk for severe storms with the level 2 (slight risk) extending farther south and east. Storms were expected to reach downtown Atlanta by around 4 p.m. with gusty winds, torrential rain and frequent lightning. A brief tornado isn't out of the question as the storms pass through the state.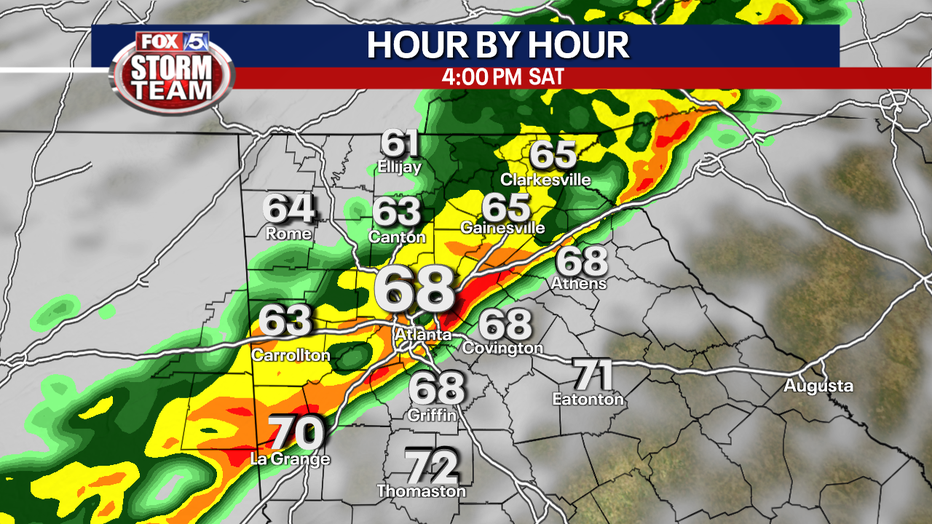 The worst of the storms will be pushing out of the FOX 5 Atlanta viewing area around 7 p.m. but showers will linger through midnight. 
KENTUCKY GOV. FEARS AT LEAST 70 DEAD AFTER STORM HITS CANDLE FACTORY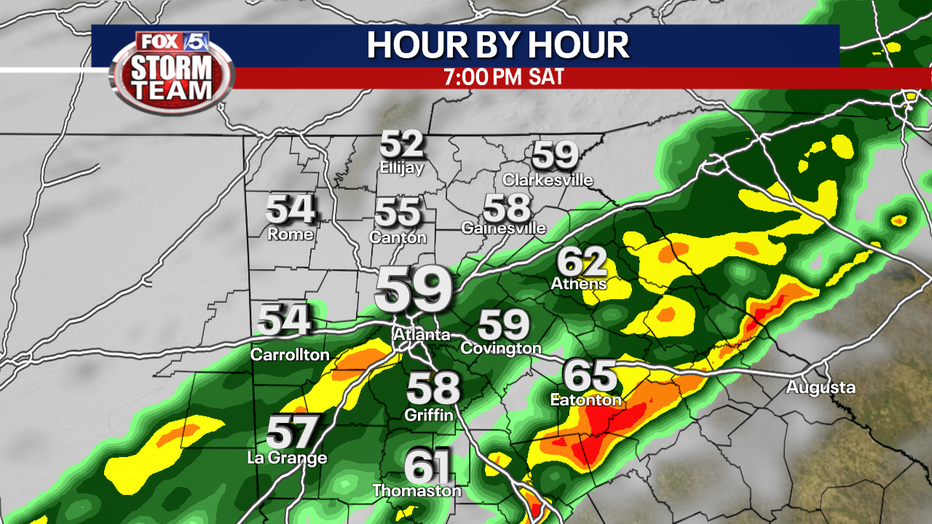 Clouds will quickly clear overnight. This cold front will bring a surge of much colder and drier air to our region by Sunday morning. 
Sunday afternoon temperatures project to be shy of 60 degrees.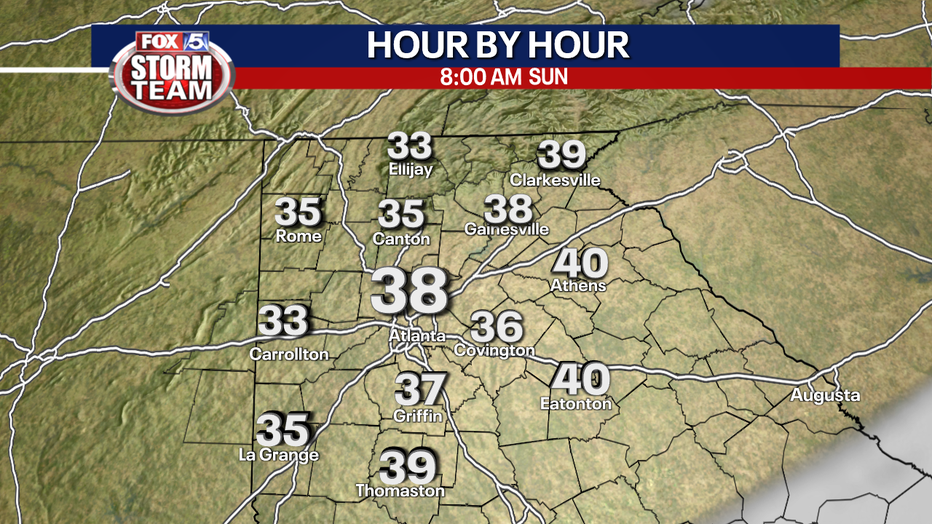 Temperature days will start the day in the 30s, but then rebound near 60 degrees will abundant sunshine. 
A slow warming trend is expected in the week ahead, but dry air should dominate through Friday.
Keep up with the latest by downloading the FREE FOX 5 Storm Team app and following @FOX5StormTeam on Twitter.
Tornadoes and severe weather ripped through multiple Midwestern states late Friday, leaving behind catastrophic destruction and killing at least six people. The death toll was expected to rise Saturday.
In Kentucky, several buildings collapsed during the severe weather that struck Mayfield, said Sarah Burgess, a trooper with the Kentucky State Police.
At least one person died after severe weather struck an Amazon facility in Edwardsville, Illinois, police Chief Mike Fillback told reporters Saturday morning.
WATCH: FOX 5 NEWS LIVE COVERAGE
_____