Kirby Smart speaks out on Georgia football's offseason issues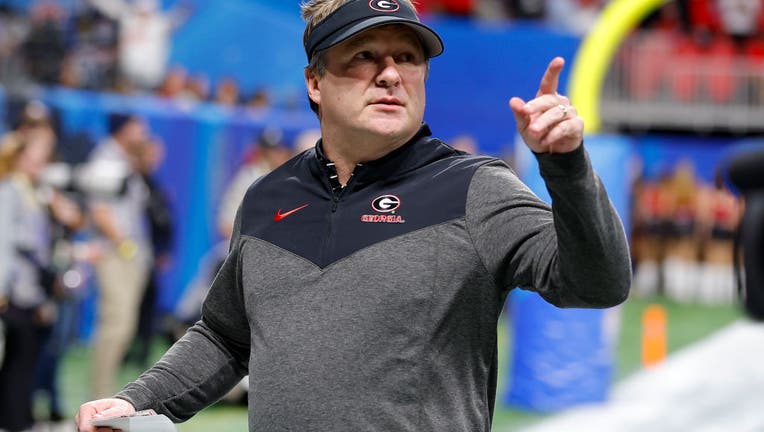 article
ATHENS, Ga. - UGA football head coach Kirby Smart is addressing the headlines about off-field issues that have plagued his program in recent months.
Smart held a news conference this week to refute claims that the program was rallying around players accused of abusing women.
The Atlanta Journal-Constitution's reported that 11 players in Smart's seven seasons remained with the program after women had alleged abuse to police or to the university.
According to USA Today, defensive tackle Jamaal Jarrett, who was 16 years old at the time, was investigated for sexual assault during a 2022 school visit, but police did not charge him, He committed to the University of Georgia last year and will begin his first season this fall.
Another case involved starting linebacker Adam Anderson who was charged with rape after a woman claimed he sexually assaulted her at a party in November 2021.
The assault allegedly took place on the same day that Georgia was preparing to leave Athens for a game in Jacksonville.
Anderson denied the allegations but was indicted by a grand jury in 2022 and was indefinitely suspended by the team.
UGA Athletics Association's general counsel sent a letter to the AJC claiming the story was full of errors and had unsubstantiated allegations and demanding a retraction.
During Tuesday's press conference, Smart also discussed his concerns over a series of speeding citations multiple players have received.
"I'll be the first to admit we haven't solved that issue or problem," ESPN reports that Smart told reporters. "I don't honestly know that anybody has, but certainly for us, it's important to acknowledge it first. We've had a lot of intervention in terms of talking and visiting, and discipline measures have been implemented in terms of education. We'll continue to do that."
Following a crash on Jan. 15 that killed 21-year-old offensive lineman Devin Willock and school recruiter Chandler LeCroy days after the team's national title win, players were still involved in a number of traffic-related incidents.
Linebacker Jamon Dumas-Johnson was charged in February for racing on highway/streets and reckless driving.
In May, wide receiver Marcus Rosemy-Jacksaint was charged with reckless driving and speeding after police say he was caught going 90 mph in a 45 mph zone on Atlanta Highway. He pleaded guilty to the second charge and was given six months probation and a fine.
UGA wide receiver De'Nylon Morrisette was arrested in June in Oconee County for DUI, driving too fast for conditions, and following too closely.
And earlier in July, Samuel M'Pemba, an 18-year-old freshman, was cited for speeding in Oconnee County after police say he was going 88 mph in a 55 mph zone.
"It's one of the things that we want to manage, but it is a tough situation to manage when you have 18- to 22-year-old men [and] a lot of them are driving for the first time," Smart said. "You know, every fall we have 25 new guys. We've averaged five guys that come here at 18 years old with no driver's license, and we continue to work on that. I don't have the exact answer. I wish I did, but we continue to work at it.
Athletic director Josh Brooks also admitted that speeding is an issue they continue to address.
Georgia's first home game is set for Sept. 2.