Georgia election probe timeline: From November 2020 to now
ATLANTA - By the time the polls closed on Nov. 3, 2020, nearly 5 million Georgians had voted early, in person or by absentee ballot.
But it would take another 17 days before Georgia's choice would be officially decided, leading to a series of actions still being questioned today.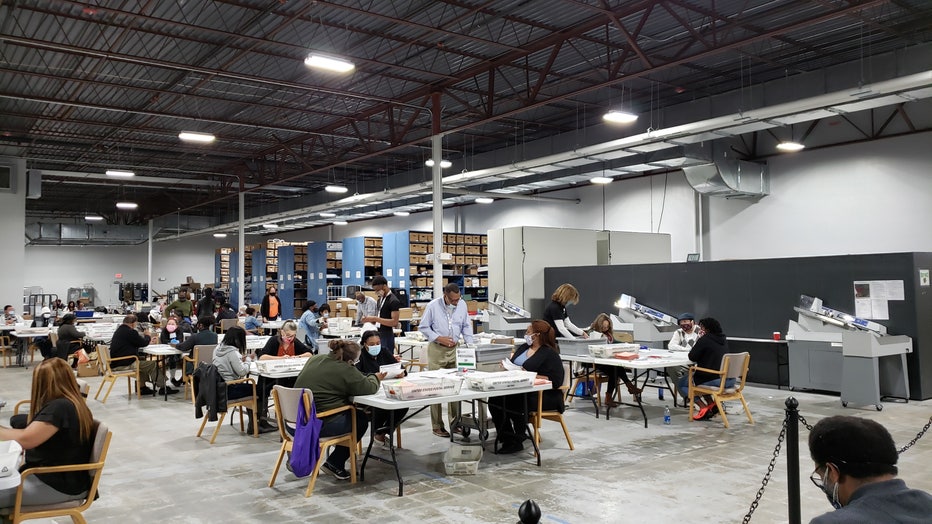 Georgia poll workers recount ballots for the 2020 Presidential Election.
NOV. 11 — Secretary of State Brad Raffensperger orders a hand recount of every presidential ballot.
NOV.  13 — South Carolina Sen. Lindsey Graham phones Raffensperger asking if he had the power to disqualify all mail-in ballots in certain counties over signature matching concerns. 
NOV.  20 — Raffensperger and Gov. Brian Kemp formally certify the results: Joe Biden wins Georgia by 11,779 votes. Georgia is the last state in the country to report, and one of the first to be hit with unproven allegations of fraud.
DEC. 3 — Donald Trump's personal attorney Rudy Giuliani makes his first of three appearances before Georgia lawmakers, urging them to appoint an alternate slate of electors.
He plays the infamous "suitcases" video, a selectively-edited clip of two Fulton County election workers pulling a container from under a counter after Trump poll watchers had left.
State and federal investigations find no evidence of wrongdoing. The two poll workers, Ruby Freeman and her daughter Shaye Moss, are repeatedly targeted with death threats.
Giuliani eventually admits in a civil suit that he won't contest claims that what he said was a lie.
DEC. 5 — Trump calls Kemp asking for a special session. Kemp tells him no. Trump also contacts attorney general Chris Carr and House Speaker David Ralston.
DEC. 14 — While Biden electors gather in the state senate chamber to certify their 16 electoral votes, a separate group of Republicans meet in Room 216 and sign documents falsely certifying that they were "duly elected and qualified Electors for President and Vice President of the United States of American from the State of Georgia."
Among the group of these alternate electors: future Lt. Governor Burt Jones, GOP chairman David Shafer and state Senator Shawn Still. Some later said the move was to protect Trump's rights in case pending litigation broke his way.
DEC. 22 — Trump Chief of Staff Mark Meadows shows up unannounced hoping to witness a signature audit in Cobb County. He's turned away.
DEC. 23 — Trump calls the state investigator for the audit advising her on how to do her job. Only one signature mismatch was discovered.
JAN. 2, 2021 — The president makes the call to Raffensperger heard around the world.
"I just want you to find 11,780 votes which is one more than we need."
Trump claimed the call was perfect. Supporters later argue the 67-minute call was not to ask Raffensperger to lie but to at least find that many fraudulent votes among the hundreds of thousands they believed were counted.
JAN. 4 — US Attorney Bjay Pak suddenly resigns from his position in the Northern Circuit of Georgia over his refusal to agree that election fraud took place.
JAN. 6 — Trump supporters riot at the US Capitol hoping to block the certification of Joe Biden.
JAN. 7 — A group of computer experts flies to the Coffee County Elections office 200 miles south of Atlanta. Former county GOP chair Cathy Latham welcomes them. She was also an alternate elector. Atlanta businessman Scott Hall admitted in a phone call he organized the trip.
"I went down there, we scanned every freaking ballot," he told the head of a group who filed an unrelated suit years earlier challenging the security of the Dominion voting system. "They said we give you permission. Go for it. So they went in there and imaged every hard drive of every piece of equipment."
That call — and hours of surveillance video — are part of that unrelated federal civil suit.
Directed by Trump attorney Sidney Powell, the group searched for evidence the Dominion Voting Systems had been compromised.
Instead, the GBI launched an investigation into their unauthorized access, and the state had to replace all those Coffee County machines.
JAN. 8 — Two days after riots at the Capitol, Fani Willis takes the oath of office as Fulton County's new district attorney.
FEB. 20 — Willis becomes the first in the country to announce a criminal investigation into Trump's conduct and "attempts to influence the administration of the 2020 Georgia general election."
JUNE 1, 2022 — A special purpose grand jury is seated. They would hear from 75 witnesses, including Giuliani, Raffensperger and Kemp.
JULY 15, 2022 — All 16 alternate electors receive target letters, although several have since been given immunity.
DEC. 15, 2022 — The grand jury issues a sealed report, one the foreperson says recommends indictments against more than a dozen people.
APRIL 4, 2023 — Donald Trump is indicted on 34 felonies for the payment of hush money to a pornographic film actress.
JUNE 9, 2023 — Donald Trump is indicted on 37 federal felonies accusing him of mishandling classified documents.
Three more counts would be added later.
JULY 11, 2023 — Fulton County grand jurors are sworn in to begin considering charges.
AUG. 1, 2023 — Donald Trump is indicted on four federal counts involving attempts to block the certification of Joe Biden as president. 
AUG. 14, 2023 – Trump and 18 other people are indicted in Georgia.