Raffensperger: Lindsey Graham asked about tossing Georgia ballots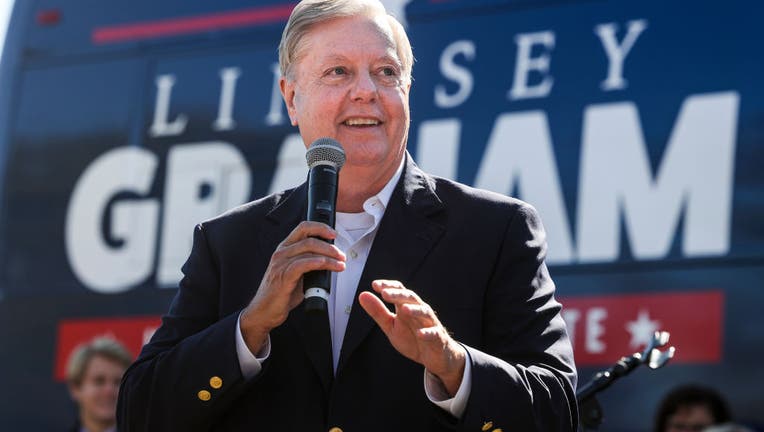 ATLANTA - Georgia Secretary of State Brad Raffensperger said Monday that U.S. Sen. Lindsey Graham asked him whether he had the power to reject certain absentee ballots, a question he interpreted as a suggestion to toss out legally cast votes.
Raffensperger made the comments to The Washington Post, saying he's faced rising pressure from fellow Republicans who want to see Democrat Joe Biden's narrow lead in the state reversed. Nearly 5 million votes were cast in the presidential election in Georgia, and Biden was leading President Donald Trump by about 14,000 votes.
Raffensperger's comments came as election officials across the state were working to complete a hand recount of votes in the presidential race.
When Georgia voters return an absentee ballot, they have to sign an oath on an outer envelope. County election office workers are required to ensure the signature matches the one on the absentee ballot application and the one in the voter registration system, Raffensperger said in a statement over the weekend.
WATCH: FOX 5 Atlanta live news coverage
Graham asked him whether political bias might have caused elections workers to accept ballots with nonmatching signatures and whether Raffensperger could throw out all absentee ballots in counties with higher rates of nonmatching signatures, the secretary of state told the newspaper.
When asked about the conversation with Raffensperger, Graham said Monday that he was "trying to find out how the signature stuff worked." He said Raffensperger "did a good job of explaining to me how they verify signatures."
Asked about Raffensperger's interpretation that he was suggesting that legally cast ballots should be thrown out, Graham said, "That's ridiculous."
GET MORE 2020 ELECTION COVERAGE
County election officials around the state worked through the weekend on a hand tally of the votes in the presidential race as part of a legally mandated audit to ensure the new election machines counted the votes accurately.
Once the tally is complete and the results are certified, the losing campaign can request a recount, which would be done using scanners that read and tally the votes.
Election officials said Monday that the hand tally had turned up more than 2,500 votes in one county that weren't previously counted but that that won't alter the overall outcome of the race.
The unofficial breakdown of the votes those votes was 1,643 for Trump, 865 for Biden and 16 for Libertarian Jo Jorgensen, according to Gabriel Sterling, a top elections official.
Download the FOX 5 Atlanta app for breaking news and weather alerts.