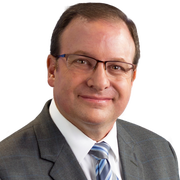 Marc Teichner joined FOX 5 Atlanta in 1998, coming from sister station WBRC in Birmingham, Alabama. He's on the scene while most of us are still deep in sleep. Marc breaks overnight news on Good Day Atlanta.
A self-professed night owl, Marc enjoys the graveyard shift because it allows him to cover lead stories on a daily basis. Also, he values being a part of the tight-knit overnight team.
Marc may be best known for being the only reporter in the Fulton County Courthouse during the March 2005 shootings involving Brian Nichols, but that's not the only big story Marc has covered. He also reported on the Birmingham abortion clinic bombing and the search for Eric Robert Rudolph. Marc continued to follow the Rudolph story through the arrest and conviction of the serial bomber
Graduating with honors from Beloit College, Marc went on to Northwestern University's Medill School of Journalism for his master's degree. He took his first on-air job at WIFR in Rockford, Illinois and then moved to WBBH in Fort Myers, Florida. Growing up in Boston, Marc was a ski instructor and still tries to hit the slopes at least one week during the winter. He also likes playing golf but has yet to achieve his goal of breaking 80. Marc enjoys family time with his wife, Andrea, and his son, Alex.
The latest from Marc Teichner
Atlanta police are looking for a man who sexually assaulted a 15-year-old girl who was riding her bike.
An Atlanta firefighter rescues a woman and 2 children from an early morning apartment fire on Cleveland Avenue.
Police are investigating a drive-by shooting at a Midtown Atlanta recording studio. 
A man is fighting for his life after getting shot in what police call a gang-related drive-by shooting in Gwinnett County.
A shooting in northwest Atlanta early Friday morning left a man fighting for his life. The victim was shot five times.
Atlanta police have arrested a suspect after they say he attacked a gas station clerk with a butter knife early Monday morning.  
Lawyers are headed to court Thursday hoping to stop the state of Georgia from removing 309,000 people from the voter rolls.
Active search underway for the gunman who shot someone at Dart Container Corporation near Conyers.
A teenager was rushed to the hospital in critical condition late Wednesday evening after being shot inside a home near Stone Mountain.