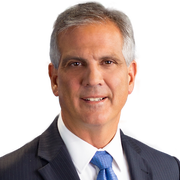 Doug Evans is a general assignment reporter and drone pilot for FOX 5 News. As a field reporter, he has won seven Emmy Awards as well as the FBI Director's Award for Community Service for his crime reporting in metro Atlanta that led to the capture of dangerous criminals.
Doug is also a meteorologist with more than 30 years of severe weather coverage. In that time he has been on the front lines of every type of natural disaster. OK, except a volcanic eruption and asteroid strike, but let's hope for north Georgia's sake it stays that way. Doug has won an Emmy Award for tornado reporting and often helps lead FOX 5's field coverage of severe weather with live reports from the FOX 5 Storm Chaser. On occasion, he can also be seen forecasting the weather in the FOX 5 Storm Center.
Doug graduated from the University of Missouri School of Journalism as well as Mississippi State's Broadcast Meteorology Program. Doug lives in Fayette County with his wife, Brenda, and their four children. They have a daughter who is a lawyer and another who is an officer in the U.S. Navy. Their dog, Gracie, is quite the internet sensation for the pictures of her sitting on Doug's roof waiting for him to return home from work.
The latest from Doug Evans
Police in Coweta County are looking for a trio of bold thieves who they say broke into video gaming machines at a Senoia convenience store. The crime was captured on surveillance video. That  video is very clear and police hope that the public will help them identify the people responsible for the crime.  
A Walmart shopper steps up to help police catch a shoplifter on the run. It's captured on surveillance video and it appears the shopper times his moment just right and rolls his shopping cart into the path of the shoplifter.  
FOX 5 News spoke with the man firefighters saved from his burning home in Coweta County last week. Also, those heroes are explaining what it was like for them to battle the flames and thick smoke to save him.  
Investigators say it was not the typical car theft case in Coweta County.  Two antique automobiles were stolen from a family's garage.  Now two men are under arrest and authorities say it may not be the end of the line in for charges.  
Peachtree City police are on the lookout for "Pete" and have offered a reward for his arrest. The graffiti artist has racked up thousands of dollars in damage by tagging both public and private property in the last two weeks.
Deputies say the "dangerous leader" of a Georgia gang has been running for weeks after escaping from law enforcement. He's now been caught hiding in an attic.
We are learning more about the victims of a tragic plane crash in Coweta County last weekend.  A Senoia family lost both their 13-year-old son and a close family friend when the plane went down near a small airport on January 25. The boy's father and the friend who died are both pilots with Southwest Airlines and partners in an award-winning aerobatic team called the Twin Tigers.  
FOX 5 viewers have graciously come to the aid of an animal rescue group which took in 15 dogs after a terrible animal abuse case in Spalding County.  Royal Animal Refuge is caring for 10 puppies and five adult dogs surrendered by an owner who has been charged in the case. FOX 5 viewers have helped raise $5,000 dollars for their care. 
A Spalding County woman is facing felony abuse charges after deputies said caged and dead animals were found on her property.