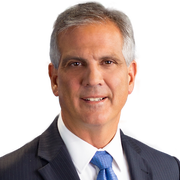 Doug Evans is a general assignment reporter and drone pilot for FOX 5 News. As a field reporter, he has won seven Emmy Awards as well as the FBI Director's Award for Community Service for his crime reporting in metro Atlanta that led to the capture of dangerous criminals.
Doug is also a meteorologist with more than 30 years of severe weather coverage. In that time he has been on the front lines of every type of natural disaster. OK, except a volcanic eruption and asteroid strike, but let's hope for north Georgia's sake it stays that way. Doug has won an Emmy Award for tornado reporting and often helps lead FOX 5's field coverage of severe weather with live reports from the FOX 5 Storm Chaser. On occasion, he can also be seen forecasting the weather in the FOX 5 Storm Center.
Doug graduated from the University of Missouri School of Journalism as well as Mississippi State's Broadcast Meteorology Program. Doug lives in Fayette County with his wife, Brenda, and their four children. They have a daughter who is a lawyer and another who is an officer in the U.S. Navy. Their dog, Gracie, is quite the internet sensation for the pictures of her sitting on Doug's roof waiting for him to return home from work.
The latest from Doug Evans
It was one of the most traumatic days in the history of the Henry County Police Department. Two officers were shot and a pregnant mother and her son were murdered by a gunman barricaded in their home. The department honored the heroes of that day and for the first time, the officers involved spoke openly in their own words about that traumatic day on April 4, 2019.  
One Coweta County investigator and mother is collecting donations to send to her son's Marine Corps unit.
Investigators have a new strategy in the year-long investigation of dead infant found on a rural road in Troup County. This week marks the first anniversary of the tragic discovery and investigators admit they have few leads to help identify the baby girl or determine what happened to her.  They said the baby's DNA is now being sent to a private lab in hopes of finding a relative.
Carroll County investigators are looking to identify three men accused of breaking into stores in Alabama and Georgia.
Spalding County investigators are looking for an iPhone thief that targeted a Verizon store for only Apple products.  The robber is seen on surveillance video and forces an employee to open a safe.  
Some holiday travel advice from police after cars are broken into at a hotel off Interstate 85 in Coweta County. They said the type of vehicle and even your choice of bumper sticker could put you at risk. 
Police are handing out gift cards instead of tickets during traffic stops in Fairburn, Georgia.
A new kind of thrift store is open in metro Atlanta, the goal to help raise money to provide counseling services for first responders. It was started by fire department chaplains who have opened the program up to all public safety members. 
A man on the run for two years and facing multiple counts of child cruelty is behind bars after a high-speed chase and a mad dash through a hotel lobby carrying a gun.  Deputies said Daniel Blakely refused to pull over and was driving over 120 mph in trying to getaway.