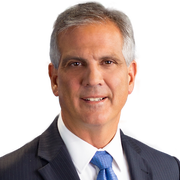 Doug Evans is a general assignment reporter and drone pilot for FOX 5 News. As a field reporter, he has won seven Emmy Awards as well as the FBI Director's Award for Community Service for his crime reporting in metro Atlanta that led to the capture of dangerous criminals.
Doug is also a meteorologist with more than 30 years of severe weather coverage. In that time he has been on the front lines of every type of natural disaster. OK, except a volcanic eruption and asteroid strike, but let's hope for north Georgia's sake it stays that way. Doug has won an Emmy Award for tornado reporting and often helps lead FOX 5's field coverage of severe weather with live reports from the FOX 5 Storm Chaser. On occasion, he can also be seen forecasting the weather in the FOX 5 Storm Center.
Doug graduated from the University of Missouri School of Journalism as well as Mississippi State's Broadcast Meteorology Program. Doug lives in Fayette County with his wife, Brenda, and their four children. They have a daughter who is a lawyer and another who is an officer in the U.S. Navy. Their dog, Gracie, is quite the internet sensation for the pictures of her sitting on Doug's roof waiting for him to return home from work.
The latest from Doug Evans
A manhunt is underway in Polk County after the discovery of a 36-year-old woman late Sunday evening.
Investigators found social security cards, driver's licenses, and 18 stolen credit cards in a bust they hope will solve several identity theft cases.
The percussionist for the Zac Brown Band sat down with FOX 5 to talk about his efforts to keep people safe during the pandemic, especially first responders.  
A Newnan man is facing a felony charge of aggravated animal cruelty after police say they found a dead puppy chained to a tree in his backyard. 
Friends of a missing Heard County woman are asking for a grand jury investigation into her disappearance.
Deputies say they identified four victims of human trafficking during the operation who are said to have been forced to work in prostitution.
Trying to keep up with the daily COVID-19 numbers and trends can be difficult, but one Smyrna mother has become a wiz at it. Her numbers-crunching has caused the state of Georgia to recheck and even correct its figures. She is now being followed on social media by many healthcare workers as a trusted source.
Carroll County's animal shelter needs help after a sharp influx in its cat population.  They report over 300 cats at their shelter, which is designed to house less than half that number.