Dam overflowing in Spalding County, flooding continues across Georgia
11 A.M. UPDATE: The National Weather Service has issued a Flash Flood Warning for Spalding County over a dam break. 
Officials say County Emergency Management has reported the imminent failure of Head's Creek Reservoir Dam, leading to a flash flood emergency for west Spalding County.
Weather officials say the situation is particularly dangerous and residents should seek higher ground immediately.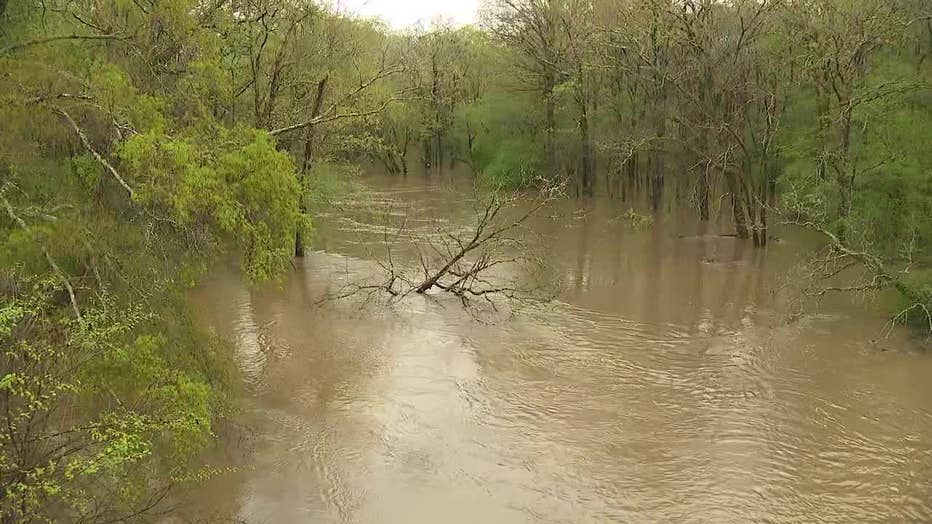 Residents in the area downstream along Heads Creek including West McIntosh Road, Vaughan Road, West Ellis Road, Moon Road need to immediately evacuate. The county had previously sent an evacuation notice to these residents.
Some areas near the creek could also experience high amounts of flash flooding. 
9:05 A.M. UPDATE: The Spalding County Sheriff has issued an evacuation notice to parts of the county over the heavy rain and flooding.
Spalding County Manager Dr. Steve Ledbetter says the contractor who is working on the Heads Creek Reservoir has asked the county to close nearby roads and evacuate all residents in the area.
The reservoir is located just off of New Salem Road and West McIntosh Road and is takes up 300 acres of the country.
Ledbetter says the evacuation notice is to ensure the safety of the community. The area has already experienced 7 inches of rain and more is expected.
8:00 A.M UPDATE: While the Tornado Warnings have ended, the threat of severe thunderstorms and flooding remains in Georgia as storms continues their way through the state.
Georgia Power reports over 6,000 people across the state remain without power Monday morning. The Georgia EMCs are reporting an additional 2,500 without power as well - with most of the power outages in western Georgia.
Officials warn that drivers should expect plenty of waters on the road and reduced visibility. Expect major delays if you are still preparing to commute.
Troup County issued a two-hour delay for school system employees due to the weather. 
7:10 A.M. UPDATE: A Tornado Warning has been issued for parts of west central Georgia as the severe storm system continues to pass through the area.
The National Weather Service in Peachtree City has issued a Tornado Warning for Southern Meriwether County and Northwestern Upson County until 8 a.m.
Officials say a severe thunderstorm that is capable of producing a tornado was located near Greenville and is moving east at 40 miles per hour. Anyone in the areas affect should seek shelter immediately.
Georgia continues to see effects of the storm, with hail and flooding in many areas in the northern area of the state.
As of 7 a.m., thousands of Georgians remain without power.
9:19 P.M. UPDATE: Monroe County schools will be delayed by an hour and a half on Monday.
Staff is expected to report by 9 a.m., all schools will begin at 9:30 a.m.
"Please allow plenty of time and use caution when driving to school in the morning," a spokesperson from Monroe County Schools said.
Thomaston-Upson County Schools announced a two-hour delay.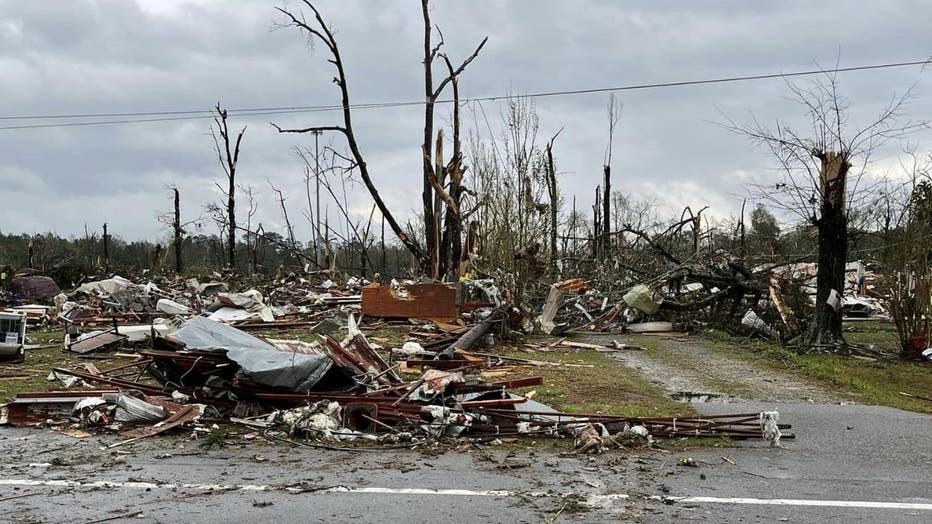 Severe weather damage across Georgia from March 25-26. (Supplied)
"We will reassess the road situation first thing in the morning and notify parents as soon as possible if there is a need to cancel school for the day," the school district stated.
8:19 P.M. UPDATE: All Troup County schools are officially closed for Monday, March 27 due to expected heavy rainfall and possible flooding in the area.
Meriwether County schools are also closed Monday.
"Due to the threat of inclement weather and continued flooding from the current storm front, all Meriwether County Schools will be closed on Monday, March 27, 2023. This storm front is predicted to produce more heavy rain through midday on Monday, March 27, 2023. Meriwether County bus routes service 580 miles of dirt roads, some with low-lying bridges, which become hazardous in these weather scenarios. There are already reports of hazardous roads and bridges.  The school system will continue to monitor this inclement weather situation and provide further updates if required. Thank you for your support and patience as we assure the safety and health of students."
SHELTERS OPEN FOR TORNADO VICTIMS IN TROUP, BALDWIN COUNTY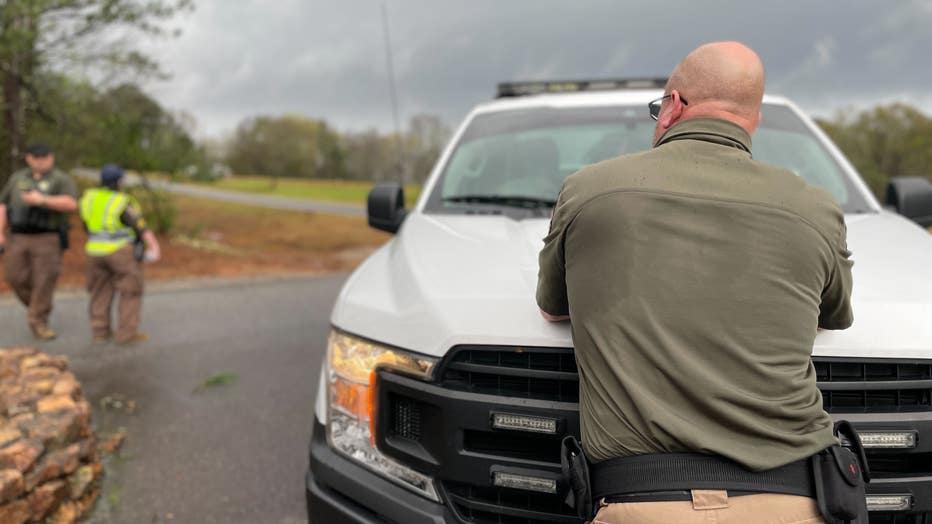 Troup county law enforcement looking for rotation in the clouds (FOX 5 Atlanta)
7:24 P.M. UPDATE: The National Weather Service issued a severe thunderstorm warning for Southern Troup County and Central Harris County until 8 p.m.
Severe thunderstorms were located along a line from Mount Jefferson close to Barletts Ferry Dam, traveling to the northeast at 30 mph, according to the NWS.
Troup County Law enforcement set up Sunday evening to watch the skies for movement.
Residents in the following areas may be able to expect hail damage to vehicles left out, as well as wind damage to roofs, siding and trees:
Hamilton
West Point
Pine Mountain
Pine Mountain-Callaway Gardens
Goat Rock Lake
F.D. Roosevelt State Park
Mountain Hill
Jones Crossroads
Barletts Ferry Dam
Pine Mountain Valley
Mulberry Grove
Whitesville-Pine Lake
Lake Harding
Get location-based weather alerts on your mobile device by downloading the FOX 5 weather app and allowing notifications.
6:34 P.M. UPDATE: Dallas Mill Road between Frost School Road and Cook Road is closed due to flooding.
Schools are still expected to open and operate as normal on Monday. Students who live on an affected portion of West Point Road or usually get picked up at the shelter at Point University Gym have been asked to meet at alternative pickup locations. The Troup County School System listed those locations in a Facebook post.
"We are hoping to resume normal drop-offs for students Monday afternoon. If not, parents and guardians will be notified by school principals through SendIt, the Troup County School System notification system," the post continued.
4:33 P.M. UPDATE: Sheriff Woodruff said a point of distribution (POD) would be set up Monday from 9 a.m. until 3 p.m. in the Troup County Jail Annex parking lot. Anyone impacted by the storm who is now in need of bottled water and tarps is invited to use the resource.
3:00 P.M. UPDATE: Troup County officials led a press conference delivering the latest stats on damage across the area and laying out an expected level of response from leaders into Monday. 
Irisha Goodman, director of public relations for the Troup County School system said school is expected to begin as normal Monday morning, without delays. School officials are working on transportation and alternative routes to pick up and drop off students.
Troup County Emergency Management Director Zachary Steele said it is now believed that 5 people suffered non-threatening injuries and 30-40 homes were completely destroyed in the storm. That number could change Monday as GEMA continues its damage assessments.
1:45 P.M. UPDATE: The National Weather Service Storm Prediction Center has upgraded their severe weather outlook for Monday to slight rise over parts of middle Georgia. Early morning severe storms are again possible. 
12 P.M. UPDATE: Additional heavy rain and strong storms are expected to move through North Georgia late Sunday night. More severe weather is possible. Some areas have already seen 3-inches of rain and more rain could increase the chances for flash flooding.
11:15 A.M. UPDATE: According to Troup County officials, there are 80 to 100 structures with damage and 20 to 30 structures with major damage in the West Point area. Officials say 2 to 3 injuries have been reported at this time. 
An emergency shelter has been established at the West Point Parks and Rec/Point University Gym off Highway 29 in West Point. The American Red Cross of Georgia and its community partners are providing emergency essentials and emotional support for families in need.
The Red Cross is also reporting that there is damage in Baldwin County. 
11:10 A.M. UPDATE: According to the Wild Animal Safari, two tigers were able to escape early Sunday morning after their enclosures were breached. Both tigers were located, tranquilized and returned to a secure enclosure. 
Georgia Gov. Brian Kemp has also issued a State of Emergency order following the severe storms and tornado on Sunday morning. 
10:45 A.M. UPDATE: The Troup County Sheriff's Office has announced on Facebook that a "second Tiger has been captured" from the Animal Safari. The status of the first tiger is unclear.
The facility announced on Facebook that they will be closed today but did not provide any information about missing animals.
10 A.M. UPDATE: According to the Troup County Sheriff's Office, most of the damage is around the West Point city limits and it appears the path of destruction goes east toward Meriweather County. The Sheriff's Office is asking residents not to travel in that area since first responders are at work. 
Tornado damage in West Point. Photo courtesy of FOX 5 Atlanta viewer Theresa Bauserman. 
A Flash Flood Warning has been issued until 3:45 p.m. for areas near Troup, Meriwether and Pike County. A Flash Flood Warning has also been issued for areas near Fayette and Spalding counties until 3:43 p.m. March 28. 
According to National Weather Service, the Flint River was at 6.2 feet on Sunday morning. It is expected to rise above flood stage tomorrow to 13.2 feet by evening. It is then expected to fall blow flood stage late Tuesday morning to 11.4 feet but rise again to 11.5 feet on Wednesday. Flood stage is 12 feet. 
9:18 A.M. UPDATE: Another strong thunderstorm has entered Troup County. In addition to heavy rain, gusty winds and frequent lightning is being reported.
8:30 A.M. UPDATE: The Troup County Sheriff's Office says they have received a report from Wild Animal Safari in Pine Mountain (Harris County) that they have a tiger that is currently unaccounted for.
The Sheriff's Office says it has also received multiple reports to downed trees, damaged houses and power lines that are down. They are advising everyone to stay off of the roads. There are also reports that Verizon's cell services has been disrupted. 
A Flash Flood Warning has also been issued for area in Upson, Meriwether and Pike counties. The warning is in effect until 2:30 p.m.
Additionally, multiple power outages have been reported. Click here for Georgia Power's outage map. 
8:09 A.M. UPDATE: The LaGrange Daily News is reporting that the county is responding to calls for trees on houses and entrapments in the southern portion of Troup County. FOX 5 Atlanta has a crew on the way to the scene. 
7:50 A.M. UPDATE: A Tornado Watch has been issued for Baldwin, Lamar, Meriwether, Monroe, Pike, Troup and Upson counties until 1 p.m. Sunday. 
7:27 A.M. UPDATE: The threat of a tornado in Meriwether County has lessened, according to the National Weather Service. A Severe Thunderstorm Warning is in effect for Meriwether until 8 a.m.
A Severe Thunderstorm Warning is also in effect until 8:15 a.m. for Henry, Spalding and Monroe counties and Baldwin, Washington and Hancock counties until 8:30 a.m. 
The National Weather Service has confirmed that a tornado touched down in Troup County. At this time, it is unknown if there is major damage. A FOX 5 team is on the way. 
7:18 A.M. UPDATE: Meriwether County is now on deck for tornado activity. A Tornado Warning is in effect until 7:30 a.m. for Meriweather County. 
Watch the Fox 5 Storm Team coverage
7 A.M. UPDATE: Radar indicates a possible tornado in Troup County. Residents are advised to take cover.
6:30 A.M. UPDATE: Severe Thunderstorm Warnings are in effect for multiple counties in Georgia.
The National Weather Services says there is a significant threat to properly of life in Butts County and Lamar County until 7 a.m. Sunday.
The same warning is in effect for Clayton County, Coweta County, Fayette County, Spalding County, Upson County, Rockdale County, Butts County, Newton County, Meriwether County, Lamar County, Heard County until 9 a.m. Sunday.
FOX5 viewers have sent multiple photos and video of sizable hail in their backyard
Hail in LaGrange. Photo courtesy of Cody Hall (FOX 5 Atlanta viewer)
Watch Good Day Atlanta for the very latest information and warnings. 
Get location-based weather alerts on your mobile device by downloading the FOX 5 weather app and allowing notifications.
ORIGINAL STORY
The Deep South is under the gun for another round of strong to severe storms Friday and Saturday. 
Keep up with the latest by downloading the FREE FOX 5 Storm Team app and following @FOX5StormTeam on Twitter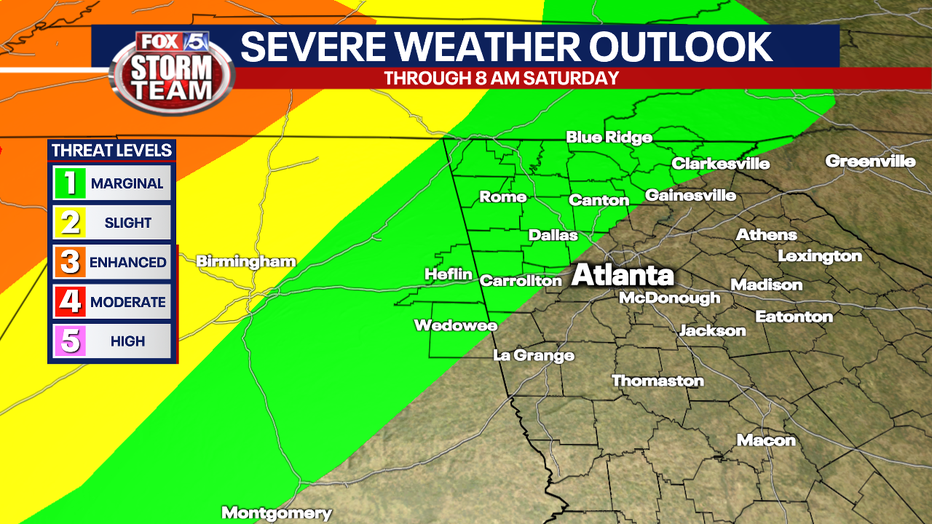 The risk for severe storms is lower in north Georgia because the line of storms will be weakening overnight.
CAR SHOW, FREE JIU JITSU AND CHERRY BLOSSOM FESTS: THINGS TO DO THIS WEEKEND IN METRO ATLANTA
Showers and thunderstorms are expected to approach northwest Georgia first around 2 a.m. Saturday and then reach metro Atlanta by 7 a.m.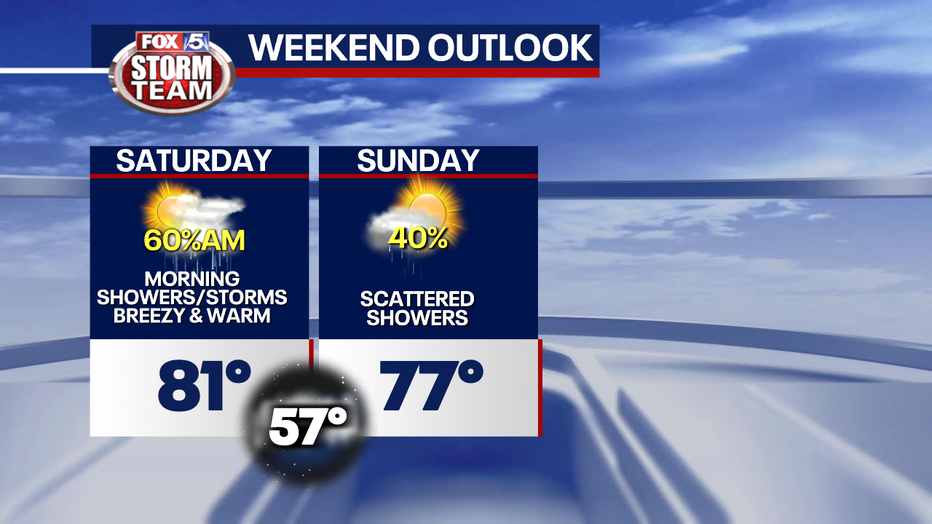 Once the line of storms moves through your neighborhood, your severe threat will end and your rain chances will remain low for the rest of the day. 
Abundant warm sunshine is expected Saturday afternoon before another round of rain and storms on Sunday. 
Neither day will be a washout, but some outdoor activities on Saturday morning will have impacts because some areas could get up to 1 inch of rain.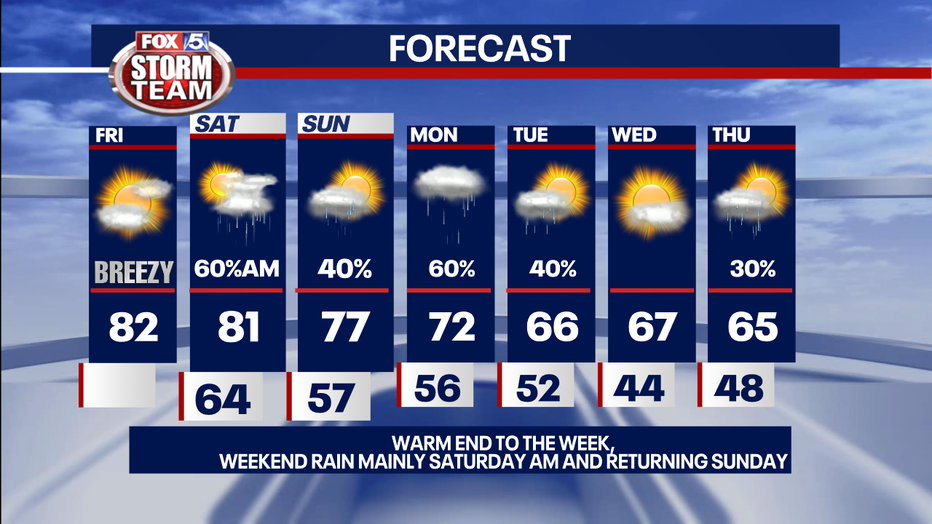 The unsettled weather pattern will continue next week and the unseasonably warm temperatures will stick around as well. 
This is a developing weather system. Check back for updates and changes to the forecast as they become available.