Car show, free jiu jitsu and cherry blossom fests: Things to do this weekend in Metro Atlanta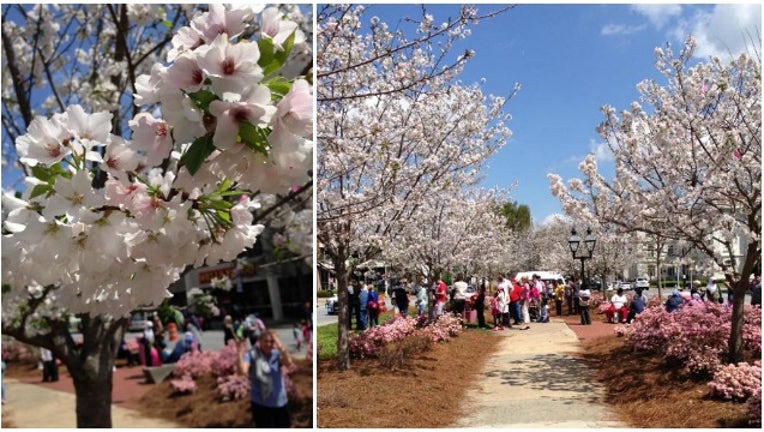 article
ATLANTA - Stuff your face at a foodie fest in Marietta, or enjoy a boujie brunch in Buckhead with the Francophonies. Rev up your engine and drop your car top at the Atlanta International Auto Show, or suit up with your fists up for a lesson in self-defense – for free. With beautiful weather like this, how could you not be out and about this weekend? Spring is officially here, and we know all the best ways to help you celebrate it.
Each week, FOX 5 Atlanta will update viewers and readers on Things to Do in Metro Atlanta. Download the FOX 5 Atlanta App, and follow FOX 5 Atlanta on social media channels for weekly updates. 
Keep up with the latest forecast by downloading the FREE FOX 5 Storm Team app and following @FOX5StormTeam on Twitter.
Free Brazilian Jiu Jitsu Classes
7 p.m. - 8 p.m. March 24 
SPARTAK Atlanta - Judo, Bjj, and Fitness; 11130 State Bridge Road Suite B105-106, Johns Creek
Looking for a new way to get in shape, stay in shape, or just make friends? SPARTAK Atlanta is letting patrons try free Brazilian jiu jitsu for a week. Instructors say you'll learn "how BJJ promotes physical fitness, builds character, and is ultimately a way of life." If the night classes don't work for you, there's an option to come in at 7 a.m. on Mondays, Wednesdays or Fridays.
No commitment is necessary to sign up for your free week. Kids also have Judo classes from 5:30 p.m. - 6:30 p.m.
Stand Up at the Doraville Underground
7 p.m. - 10 p.m. March 24
Doraville Civic Center; 3770 Central Avenue, Doraville
Get ready for a night filled with laughter, good eats and all-around good vibes. The Doraville Civic Center is hosting local comics this Friday. Admission is just $10 at the door. Food and beverages will be sold separately.
Brookhaven Cherry Blossom Festival
10 a.m. to 6 p.m. March 25-26
Blackburn Park; 3493 Ashford Dunwoody Road, Brookhaven
Live entertainment, a Kidz Zone, Dog Lure Chasing and a Classic Car Show – There's something for everyone at the Brookhaven Cherry Blossom Festival. You don't want to miss the family-friendly festivities this year. Did we mention The Fray is performing?
Atlanta Hawks
vs. Indiana Pacers
5 p.m. - 9 p.m. Mar. 25
State Farm Arena; 1 State Farm Drive, Atlanta
The Hawks face the Pacers this Saturday. The teams haven't seen each other since Jan. 13 when Atlanta narrowly beat Indiana 113-111. Can Trae Young fend off the Pacers' lead scorer Tyrese Haliburton again?
Purchase tickets here to see the action in person.
vs. Memphis Grizzlies
6 p.m. - 10 p.m. Mar. 26
State Farm Arena; 1 State Farm Drive, Atlanta
Grizzlies' point guard Ja Morant is back on the court after being suspended for 'conduct detrimental to the league'. The baller was spotted flashing a gun on Instagram Live. His return this week isn't the only thing that will make this an eventful game. Gucci Mane is slated to perform at halftime. It'll be his first time performing for the Hawks since 2016 when he famously proposed to his now-wife Keyshia Ka'Oir.
Pick up tickets here.
Annual Francophonie Brunch
11:30 a.m. - 2:30 p.m. March 26
InterContinental Buckhead Atlanta; 3315 Peachtree Road NE, Atlanta
Sundays are best for brunching. Join the Atlanta Francophone and Francophile community for a delicious buffet-style brunch in Buckhead. The menu is, of course, French-based, which includes assorted cheeses, pâtés, quiches and much more.
Admission is $45 per person for a $120 value.
Bach & Friends at UGA
3 p.m. March 26
Hugh Hodgson Concert Hall; 230 River Road, Athens
We have something special for our classical enthusiasts. The Atlanta Symphony Orchestra under the direction of Nathalie Stutzmann has a full concert of Johann Sebastian Bach, Antonio Vivaldi and George Frideric Handel at the University of Georgia this Sunday.
The performance is approximately 80 minutes without an intermission. More information, including where to buy tickets, can be found here.
An Evening with Brian McKnight
7 p.m. - 10 p.m. March 24-25
City Winery Atlanta; 650 North Avenue, Atlanta
It's like a dream come true. Singer, songwriter, actor, producer and multi-instrumentalist Brian McKnight is bringing his sultry vocals to City Winery this weekend. We gave you a sneak peek to this opportunity last week, so we hope you bought your tickets. The show is already sold out, but you can still join the waitlist.
McKnight is known for hits like Back at One, Anytime and You Should Be Mine (Don't Waste Your Time). The songbird released his latest album Exodus in 2020. We can't tell you what's on his setlist, but we're sure it's going to be a night to remember.
Atlanta International Auto Show
Atlanta International Auto Show 2022 (Chris Francis / FOX 5 Atlanta)
March 23-26
Georgia World Congress Center; 285 Andrew Young International Boulevard NW, Atlanta
If it has wheels, chances are you'll see it at the Atlanta International Auto Show. Since 1909, the Atlanta International Auto Show has given Georgians and patrons from all over a peek at what's new, fresh and exciting in the auto industry. It's always been a top of the line experience, and this year is expected to be no different. Automakers will be showing off their latest and greatest innovations on the display floor while athletes compete for your attention at attractions outside.
You can even meet your favorite FOX 5 Atlanta personalities. All of our reporters, anchors and meteorologists will be set up throughout the weekend for Meet and Greets. Plan your day so you can stop by and say 'hi'.
Don't miss out on an incredible weekend.
Georgia Food + Wine Festival
March 23-26
Jim R. Miller Park & Event Center; 2245 Callaway Rd SW, Marietta
Bring your stretchy pants and hit the park in Marietta. The Georgia Food and Wine Festival is in town. Georgia's celebrity chefs, winemakers/vintners, as well as local chefs, artisans and farmers are banding together for a classy, culinary festival like no other. In addition to the food, expect unique shopping experiences and even live music.
Organizers say it's an event for "all tastebuds and budgets." You can find more information here.
Romantic Tour
10 a.m. - 6 p.m. until March 28
Centennial Olympic Park; 265 Park Avenue W NW, Atlanta
Why wait for Valentine's Day once a year when you can be lovey-dovey with your sweetheart every day? Take a romantic tour around the city. For two hours, a professional tour guide will introduce you to all the best date spots, show you where you can go for the cutest photo ops and teach you all about some of the most romantic stories hidden in the history of Atlanta. One ticket will cover your whole group, up to 15 people.
Atlanta Scavenger Hunt: Finding Peace in Piedmont Park
Any time between 7 a.m. - 10 p.m. until March 25
Piedmont Park; 1181 Piedmont Avenue NE, Atlanta
Piedmont Park holds a lot of history and significance. You can learn about it while having fun with friends or family. Spend two hours scouring the park for clues to answer trivia questions and solve tricky challenges before your opponents can. Organizers say this event is perfect for bachelor/bachelorette parties, birthdays, or even as a team-building exercise for co-workers. You're racing against not only your opponents, but the clock too, so bring comfortable shoes.
Learn more here.
Atlanta Science Festival 2023
Until March 25
Here's one for the entire family. The famous Atlanta Science Festival is here! For the next two weeks, Piedmont Park is being taken over by all things STEM. There are 150 exciting events fun and interactive enough to entertain both kids and adults. Delta Air Lines is co-sponsoring the event along with a couple other big-name brands. Take a look at the program booklet. If anything excites you, grab a ticket and get ready to learn something new. Here are a list of events and their locations.
The Pinkest Party on Earth
Until March 31
450 Martin Luther King Jr. Boulevard, Macon
If you're closer to Central Georgia this weekend, check out the new Pink Provisions Trail in Macon, the Cherry Blossom capitol of the world. The International Cherry Blossom Festival is being held until Sunday, but the trail is open until the end of the month. They're calling it the Pinkest Party on Earth! More than three dozen eateries have prepared all sorts of pink munchies and drinks for your consumption.
Here's a fun fact: There are nearly 300,000-350,000 Yoshino cherry blossom trees all around Macon. The city is a magical place when they're in full bloom.
Dinner at Piedmont Park
Piedmont Park; 1320 Monroe Drive NE, Atlanta
Until April 2
We first told you about this amazing opportunity on Good Day Atlanta. Dinner With A View officially launches this week and runs through Sunday, April 2. This experience aims to bring the comforts of indoor dining to the beauty of outdoor dining, thanks to the use of clear, climate-controlled domes in which groups of four to six guests can sit back, dine, and enjoy the view. 
Seatings are scheduled for Wednesdays and Thursdays at 6:00 p.m. & 8:15 p.m., Fridays and Saturdays at 5:30 p.m., 7:30 p.m., & 9:30 p.m, and Sundays at 5 p.m, 7 p.m., and 9 p.m. For more information on domes and dinner reservations, click here.
Creator's Market at Atlantic Station
11 a.m. - 9 p.m. Saturdays
12 p.m. - 7 p.m. Sundays
Atlantic Station; 261 19th Street NW, Atlanta
What better way to shop and support local than the Creator's Market at Atlantic Station? Local, handcrafted and small businesses will be set up selling all sorts of goods like art, jewelry, soaps, candles, treats and so much more.
Dino Safari
North Point Mall; 1000 North Point Circle, Alpharetta
11 a.m. - 7 p.m. Wednesdays - Sundays
Dinosaurs take over the mall for the kid-friendly, walk-through exhibit. Tickets are $19 for kids and adults. 
Clint Alderman: A Modern Folk Potter
Folk Pottery Museum of Northeast Georgia; 283 Highway 255 North, Sautee Nacoochee
Any time, every day until May 1
Put some culture and history on your agenda with this new exhibit on display at The Folk Pottery Museum of Northeast Georgia. At just 13-years-old, Clint Alderman gained an interest for pottery after moving to North Georgia. He worked with local potters learning the craft of traditional folk pottery. Now at 39-years-old, the artist is known for using a wood-fired tunnel kiln, his own glazes and his own freshly dug clay from the Mossy Creek area of White County. Check out the beauty a local artist has been able to create with nature at his fingertips.
Wild Encounters
Zoo Atlanta; 800 Cherokee Avenue SE, Atlanta
Great Panda at 10:30 a.m. - 11:30 a.m. Fridays, Saturdays, Sundays and Mondays
Elephant 2 p.m. - 3 p.m. Fridays, Saturdays, Sundays and Mondays
Aldabra Tortoise 3:15 p.m. Fridays, Saturdays, Sundays and Mondays
Get a one-on-one with your favorite animal in the kingdom. You can choose a session with a Giant Panda, an African Elephant or one of the largest living tortoise species in the world. For an hour, you'll be up-close and personal with the animal and an Animal Care Team member who will teach you everything you need to know about the animal and its habitat. Ticket costs vary, you can look them up here.
Sneak Peek to Next Week
LEGO Discovery Center Atlanta's Grand Opening
March 31 - April 3
LEGO Discovery Center Atlanta; 3500 Peachtree Rd NE, Atlanta
Your little ones – including the one inside you – may not forgive you if you miss out on the grand opening of Atlanta's LEGO Discovery Center. Expect a massive party complete with amusement rides, an adventure land, experiences in virtual reality, a 4D movie theater, and of course a section to build with all of your favorite Lego pieces. Tickets are running out quickly.
Don't worry, we checked ahead for you. The building has elevator access for our viewers with disabilities. There's plenty of room for wheelchairs and tactile activities for those with sensory sensitivities. The new center even has a spot online to ask more questions about accessibility, or make your own recommendations.
Download the FOX 5 Atlanta App and enroll in our text alerts so you can be the first to find out when we bring you early details on cool events around the city like this one.