Opponents to Atlanta Public Safety Training Center vow not to give up despite funding vote
ATLANTA - After 14 hours of comment and debate, Atlanta City Council members passed a resolution to approve funding for the Atlanta Public Safety Training Center Tuesday morning.
Opponents of the controversial project aren't giving up and are now planning their next move.
"We're going to take this to the people. I think the people are going to decide, and I think if Mayor [Andre] Dickens thinks the majority of Atlantans want this, that's a bet we are willing to take," Cop City Coalition spokesperson Paul Glaze told FOX 5's Deidra Dukes.
Glaze said activists want to wage the next round of the ongoing battle at the ballot box.
ATLANTA CITY COUNCIL APPROVES FUNDING FOR PUBLIC SAFETY TRAINING CENTER AFTER HOURS OF PUBLIC COMMENT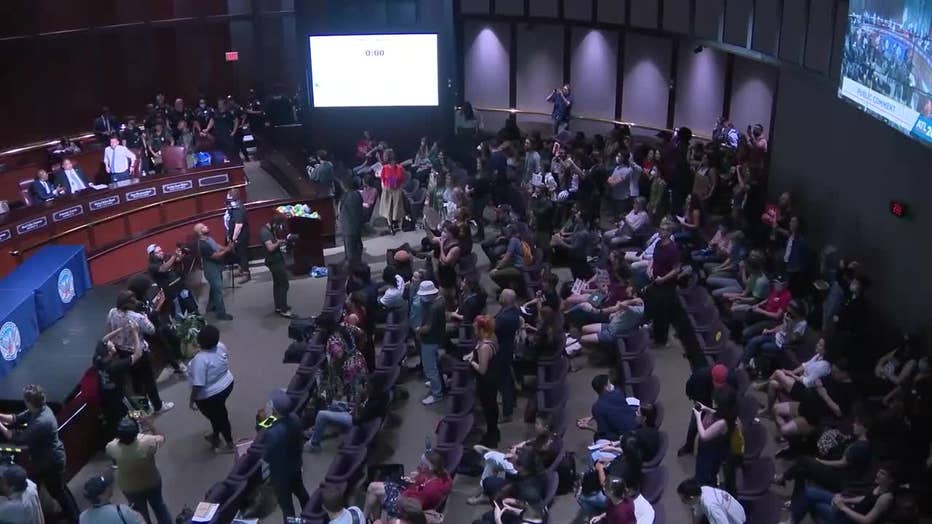 Hundreds of people come to speak at the Atlanta City Council on June 5, 2023. (FOX 5)
They plan to push for a city-wide referendum to let voters decide whether to build the training facility. 
"We are interested in having an actual vote on this," Glaze said. "We don't think that 12 people is enough to make a decision for the people of Atlanta. We think there are a lot of nuances to this conversation that gets lost when it becomes just a shouting match, and so I think we are going to call for a public referendum."
Activists are also circulating flyers designating June 10 National Call to Action Day. They are calling on opponents to hold demonstrations in their communities to protest.
Hundreds speak at Atlanta City Council meeting about training center
The decentralized "Stop Cop City" movement has galvanized protesters from across the country, especially in the wake of the January fatal police shooting of Manuel Paez Terán, a 26-year-old environmental activist known as "Tortuguita" who had been camping in the woods near the site of the proposed project in DeKalb County.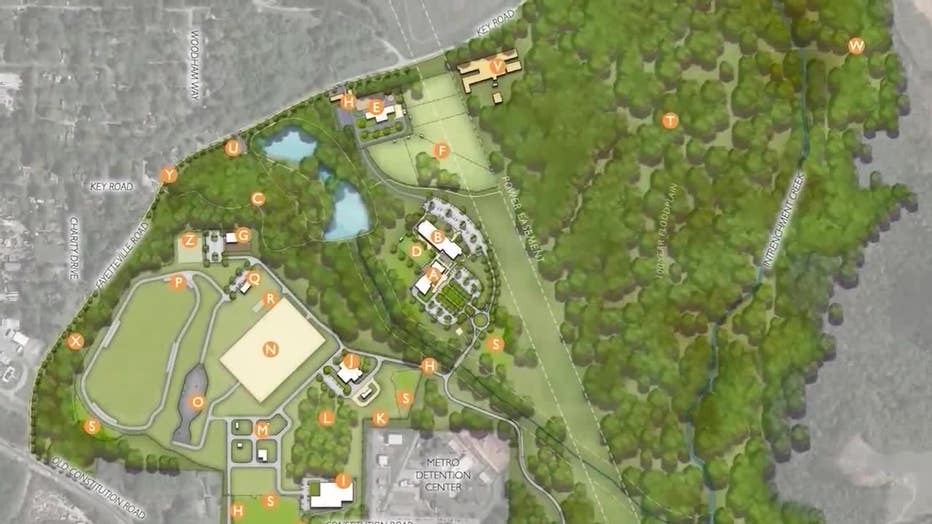 A rendering of the Atlanta Public Safety Training Center campus. (Supplied)
For about 14 hours, residents again and again took to the podium to slam the project, saying it would be a gross misuse of public funds to build the huge facility in a large urban forest in a poor, majority-Black area.
"We're here pleading our case to a government that has been unresponsive, if not hostile, to an unprecedented movement in our City Council's history," said Matthew Johnson, the executive director of Beloved Community Ministries, a local social justice nonprofit. "We're here to stop environmental racism and the militarization of the police ... We need to go back to meeting the basic needs rather than using police as the sole solution to all of our social problems."
The training center was approved by the City Council in September 2021, but required an additional vote for more funding. City officials say the new 85-acre (34-hectare) campus would replace inadequate training facilities and would help address difficulties in hiring and retaining police officers that worsened after nationwide protests against police brutality and racial injustice three years ago.
But opponents who have been joined by activists from around the country say they fear it will lead to greater militarization of the police, and that its construction will exacerbate environmental damage. Protesters had been camping at the site since at least last year. Police said they caused damage and attacked law enforcement officers and others.
Though more than 220 people spoke publicly against the training center, a small handful voiced support, saying they trusted Dickens' judgment.
Last-minute amendments to Atlanta Public Safety Training Center vote
Before the final vote early Tuesday morning to approve the funding for the Atlanta Public Safety Training Center, the Atlanta City Council opted to amend the ordinance.
The biggest change is that outside agencies must get approval from the council to use the site. Also, explosives or helicopters cannot be used there.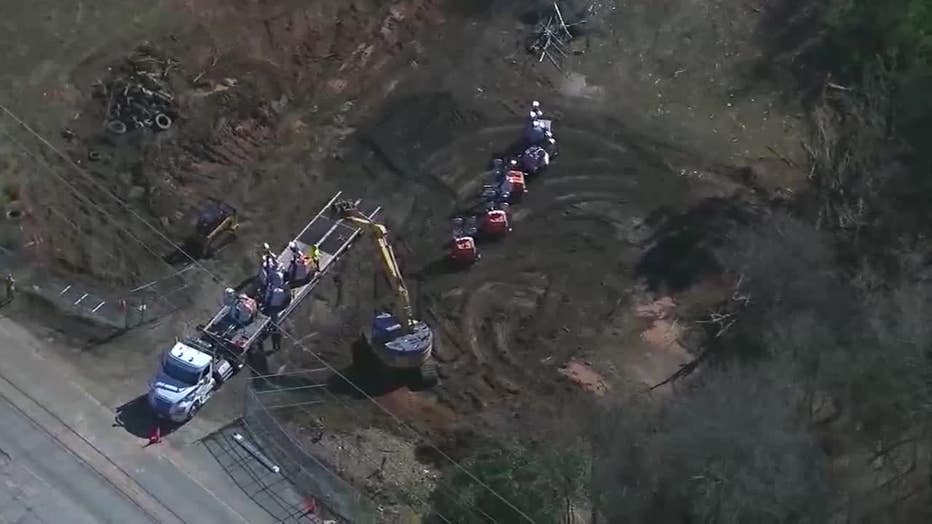 Crews continue to clear the future site of the Atlanta Public Safety Training Center. (FOX 5)
The amendment also caps the campus to 85 acres, and it cannot encroach on nearby South River Forest area greenspace. In addition, 30 acres within that space will be set aside as greenspace.
The ordinance also engrains Mayor Andre Dickens' pledge that training will focus on de-escalation, diversity, and mental health crisis. It also asserts that it will provide training with emphasis on protecting free speech. However, it does put training to combat gang and gun violence, including mass shootings, and street and stunt driving events.
MILLION-DOLLAR PLAN ANNOUNCED TO REOPEN DEKALB COUNTY'S INTRENCHMENT CREEK PARK
That section reads:
"…upon completion of all phases of the Project, the training provided to the Atlanta Police Department shall include or continue to include, but is not limited to, (i) full integration of pre-arrest diversion response to non-violent misdemeanor incidents, (ii) racial, gender, and sexual orientation anti-bias training, (iii) de-escalation training especially with respect to traffic stops, (iv) accurate reporting of use of force incidents, (v) best practices in responding to individuals who may be experiencing severe mental illness and resolving such incidents without fatal outcomes, (vi) addressing gangs and gun violence, including mass shootings; (vii) protecting free speech and the right to publicly and peacefully dissent; (viii) building genuine relationships at the community level; (ix) reducing street racing and auto crimes; (x) going beyond minimum legal standards governing use of force by incorporating recommendations made in the Atlanta Police Department April 2022 Agency Review and Assessment, including the Police Executive Forum's 30 Guiding Principles on Use of Force; and (xi) ensuring officers are aware of and encouraged to avail themselves to officer wellness programs and support…"
The council also is requesting the Atlanta Police Foundation adds two more seats to its board of trustees with the council picking who serves.
Atlanta Public Safety Training Center mired in controversy
Council members agreed to approve $31 million in public funds for the site's construction, as well as a provision that requires the city to pay $36 million - $1.2 million a year over 30 years - for using the facility. The rest of the $90 million project would come from private donations to the Atlanta Police Foundation. Up until recently, city officials had repeatedly said the public obligation would only be $31 million.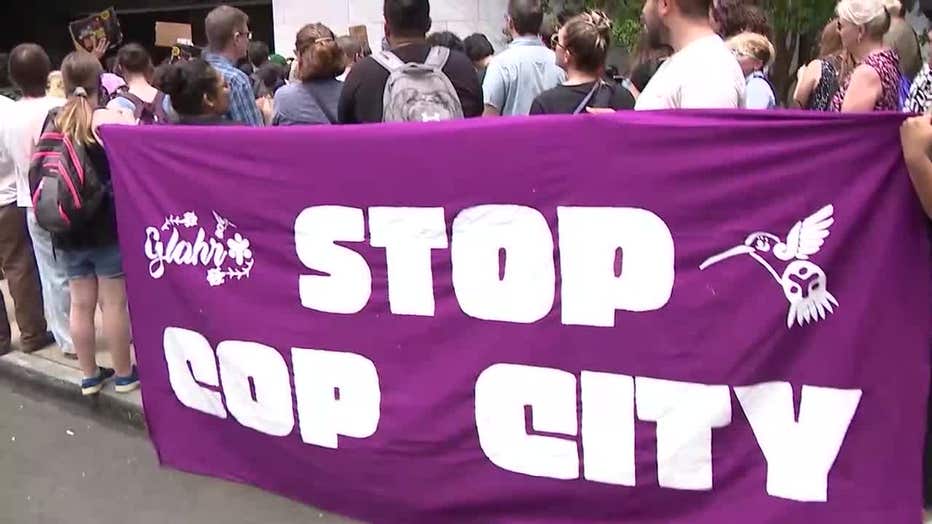 Hundreds of protesters opposing the planned Atlanta Public Safety Training Center march in front of Atlanta City Hall on June 5, 2023. (FOX 5)
The highly scrutinized vote occurred in the wake of the arrests Wednesday of three organizers who lead the Atlanta Solidarity Fund, which has provided bail money and helped to find attorneys for arrested protesters.
Prosecutors have accused the three activists of money laundering and charity fraud, saying they used some of the money to fund violent acts of "forest defenders." Warrants cite reimbursements for expenses including "gasoline, forest clean-up, totes, COVID rapid tests, media, yard signs." But the charges have alarmed human rights groups and prompted both of Georgia's Democratic senators to issue statements expressing their concerns. 
U.S. Sen. Raphael Warnock tweeted that bail funds held important roles during the Civil Rights Movement and said the images of the heavily armed police officers raiding the home where the activists lived "reinforce the very suspicions that help to animate the current conflict - namely, concerns Georgians have about over-policing, the quelling of dissent in a democracy, and the militarization of our police."
Devin Franklin, an attorney with the Southern Center For Human Rights, also invoked Wednesday's arrests while speaking before the Atlanta City Council.
"This is what we fear - the image of militarized forces being used to effectuate arrests for bookkeeping errors," Franklin said.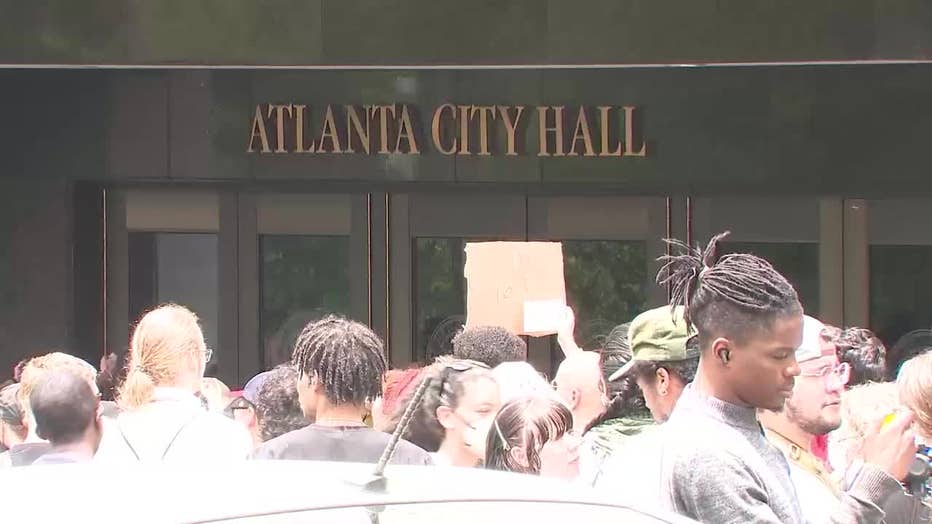 Hundreds of protesters opposing the planned Atlanta Public Safety Training Center march in front of Atlanta City Hall on June 5, 2023. (FOX 5)
Numerous instances of violence and vandalism have been linked to the decentralized "Stop Cop City" movement, including a January protest in downtown Atlanta in which a police car was set alight, as well as a March attack in which more than 150 masked protesters chased off police at the construction site and torched construction equipment before fleeing and blending in with a crowd at a nearby music festival. Those two instances have led to more than 40 people being charged with domestic terrorism, though prosecutors have had difficulty so far in proving that many of those arrested were in fact those who took part in the violence. 
In a sign of the security concerns Monday, dozens of police officers were posted throughout City Hall and officials temporarily added "liquids, aerosols, gels, creams and pastes" to the list of things prohibited inside the building.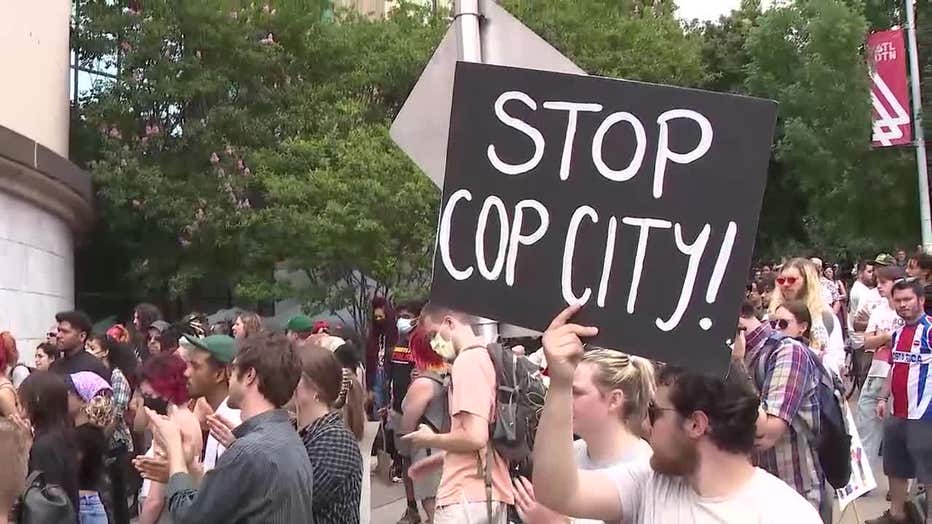 Hundreds of protesters opposing the planned Atlanta Public Safety Training Center march in front of Atlanta City Hall on June 5, 2023. (FOX 5)
In a statement Tuesday after voting against the facility, council member Keisha Sean Waites said $67 million in taxpayer funds could be better spent elsewhere, including on "affordable housing, resources for the homeless and unsheltered, infrastructure improvements, mental health services, health care for the uninsured, rental and mortgage assistance, including providing housing and salary increasing for our first responders and law enforcement officers. 
"These resources directly impact the root causes of crime, which policing does not," Waites said.
How did each Atlanta City Council member vote on training center funding? 
The decision to move forward with funding for the Atlanta Public Safety Training Center was not a unanimous one.
There were 12 votes in the affirmative:
Jason Winston - Dist. 1
Amir R. Farokhi - Dist. 2
Byron Amos - Dist. 3
Alex Wan - Dist. 6
Howard Shook - Dist. 7
Mary Norwood - Dist. 8
Dustin Hillis - Dist. 9
Andrea L. Boone - Dist. 10
Marci Collier Overstreet - Dist. 11
Michael Julian Bond - Dist. 13
Matt Westmoreland - Dist. 14
Three council members voted "No":
Jason S. Dozier - Dist. 4
Antonio Lewis - Dist. 12
Keisha Sean Waites - Dist. 15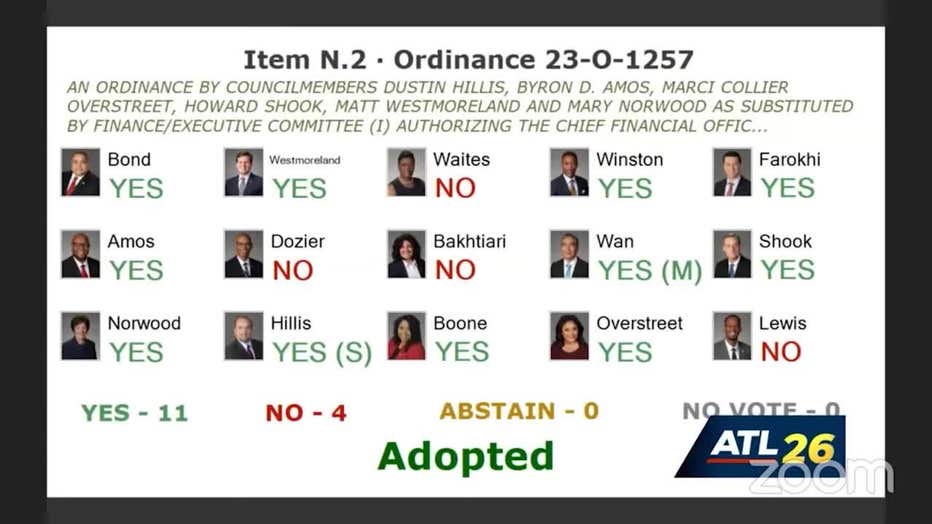 Dozier had voted "Yes" to the new amendments, but ultimately voted "No" on the funding vote itself.
Liliana Bakhtiari, who represents Dist. 5, was the only official who did not vote at all. She was marked "Away" during the motion.
The Associated Press contributed to this report