Million-dollar plan announced to reopen DeKalb County's Intrenchment Creek Park
DEKALB COUNTY, Ga. - Intrenchment Creek Park, the area near the planned Atlanta Public Safety Training Center where police say they found booby traps, drugs and Molotov cocktails during a cleanup in March, is scheduled to reopen soon according to a top DeKalb County official.
"I know everyone is eager to get back to participating in recreational activities in the Intrenchment Creek Park, so we are thrilled to receive this funding to improve the quality of life for the citizens of DeKalb," said DeKalb County Parks Director Chuck Ellis.
ATLANTA CITY COUNCIL APPROVES FUNDING FOR PUBLIC SAFETY TRAINING CENTER AFTER HOURS OF PUBLIC COMMENT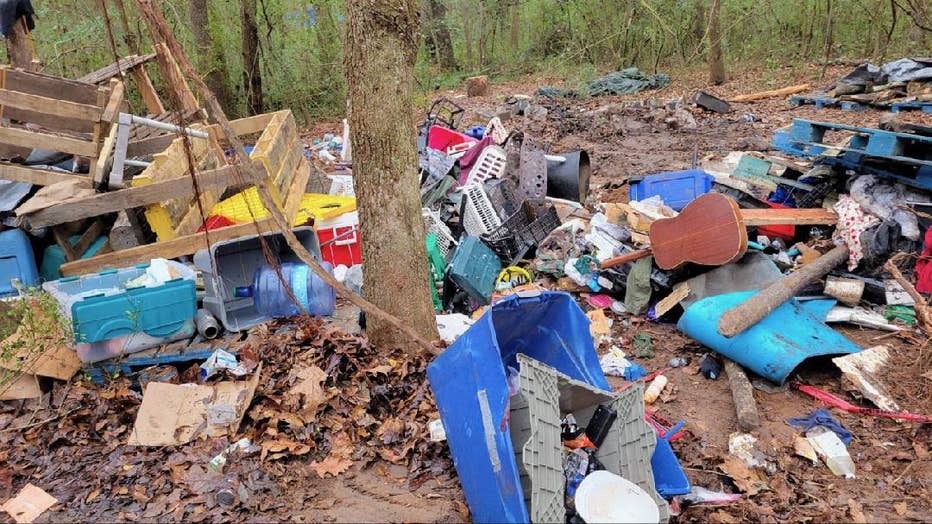 DeKalb County police shared photos taken during the cleanup and clearing of Intrenchment Creek Park. (DeKalb County Police Department)
CEO Michael Thurmond announced a $1.8 million plan to reopen the park on Bouldercrest Road SE that closed March 2023. Officials say they spent hours breaking down illegal structures that demonstrators against the construction of the facility they call "Cop City" built while they camped out in the park for months.
"It was a decision that had to be made, Thurmond said. "Once we secured it and ensured it was safe we would reopen it. I made that promise." 
In a press conference held post-sweep, Thurmond said officers also found a number of items that could "not only injure and maim, but can literally become deadly for small children and pets and others."
. "Our funding came first, not second," Thurmond said. "All of this predates this controversy. The DeKalb County commissioners voted to appropriate the $1.8 million before Atlanta voted." 
DeKalb County released photos showing some of the booby-traps found at Intrenchment Creek Park during a press conference on March 24, 2023. (FOX 5)
The funds, provided by the DeKalb County Board of Commissioners, are supposed to bring new amenities to the area, including a pavilion, trailhead, remote control airplane runway and a walking trail.
"I thank the Board of Commissioners for supporting our request to fund the redevelopment and reopening of Intrenchment Creek Park," CEO Thurmond said. "We are excited about the investment in the new amenities and will work to expedite construction."
The Board of Commissioners said the money is coming from taxes collected from hotels and motels.