Atlanta City Council approves funding for Public Safety Training Center after hours of public comment
ATLANTA - After hours of public comment, the Atlanta City Council has voted to approve millions of dollars for the development of the controversial Atlanta Public Safety Training Center.
For more than 13 hours, hundreds of residents took to the podium to slam the project, saying it would be a gross misuse of public funds to build the huge facility in a large urban forest in a poor, majority-Black area. The testimony at times grew testy, with councilmembers struggling to quiet the rowdy crowd. Shortly before 5: 30 a.m. Tuesday, having exhausted all speakers, the City Council passed the vote to the boos of the crowd that still remained.
The City Council passed the resolution with a vote of 11 to 4. The no votes came from Jason Dozier, Liliana Bakhtiari, Keisha Sean Waites, and Antonio Lewis.
As the vote was being called, the crowd broke into the chant of "Cop City will never be built."
This week's vote was on whether the City Council should give $31 million for the development of the $90 million training center. The Atlanta Police Foundation is to foot the rest of the bill. The city's agreement with the foundation also includes a "lease back" provision requiring the city to pay $1.2 million a year for the use of the facility over 30 years, which the city said is less than the $1.4 million it currently pays annually to lease training space.
"We're here pleading our case to a government that has been unresponsive, if not hostile, to an unprecedented movement in our City Council's history," said Matthew Johnson, the executive director of Beloved Community Ministries, a local social justice nonprofit. "We're here to stop environmental racism and the militarization of the police. ... We need to go back to meeting the basic needs rather than using police as the sole solution to all of our social problems."
Though more than 210 people who spoke during the City Council meeting were against the training center, a small handful voiced support, saying they trusted the judgment of Mayor Andre Dickens.
ATLANTA CITY COUNCIL MEMBER: ARRESTS OF 'COP CITY' BAIL FUND ORGANIZERS APPEAR TO BE 'INTIMIDATION TACTIC'
In a statement to FOX 5, Dickens said the approval was a "major milestone for better preparing our fire, police, and emergency responders to protect and serve our communities."
"We know there have been passionate feelings and opinions about the training center. Over the past several months, we have heard from citizens who have concerns about the center as well as from many who support it. I want to thank all who serve on a committee, task force or have weighed in on this issue, especially those who came to City Hall, for exercising your voice and your First Amendment rights in a peaceful manner," Dickens said. "I also want to thank the Atlanta City Council for their commitment to the people of this city and for continuing to listen and engage with all our communities, and to city staff for their hard work and tireless dedication. Atlanta is made up of people who care, and I will continue to work with all Atlantans to develop a comprehensive approach to keep our city safe."
The mayor said he is "committed to building trust" despite the opposition to the plan and "looks forward to continuing the conversation in the weeks ahead." 
In anticipation of possible reaction to the proposal passing, City Hall closed its other offices throughout Monday. Officials also announced there would be a temporary ban on liquids, aerosols, gels, creams and pastes from anyone other than City officials and employees quoting "safety concerns" until further notice.
All in-person services will be handled online. Business is expected to resume as normal Tuesday.
The City Council meeting comes on the heels of police arresting Adele MacLean, 42, Marlon Scott Kautz, 39, and Savannah Patterson, 30 on charges of charities fraud and money laundering. The three lead the Atlanta Solidarity Fund, which has provided bail money and helped find attorneys for arrested protesters.
WHAT WILL ATLANTA END UP PAYING FOR THE PLANNED PUBLIC SAFETY TRAINING CENTER?
The arrests of the three, who were granted bond by a judge on Friday, have led to reactions from many Georgia officials, including Atlanta City Council member Liliana Bakhtiari, who represents District 5, who questioned the timing of the raid.
"The execution of this raid, from its timing - just days before the Atlanta City Council is scheduled for a final vote on the controversial Public Safety Training Center - to the excessive means in which it was conducted, appears to be nothing more than an intimidation tactic by the state," Bakhtiari wrote. "And in the words of Judge Altman yesterday, 'I don't find it real impressive.'"
Georgia Sens. Jon Ossoff and Raphael Warnock both also tweeted their concerns about the arrests, with Warnock saying the tactics "could have a chilling effect on nonviolent, constitutionally-protected free speech activities those of us in the fight for justice have been engaged in for years."
Devin Franklin, an attorney with the Southern Center For Human Rights, also invoked Wednesday's arrests while speaking before City Council.
"This is what we fear — the image of militarized forces being used to effectuate arrests for bookkeeping errors," Franklin said.
Six hours into the meeting, Emory University religion professor Sara McClintock took to the podium and pleaded with councilmembers to reject, or at least rethink, the training center.
"We don't want it," McClintock said. "We don't want it because it doesn't contribute to life. It's not an institution of peace. It's not a way forward for our city that we love."
The training center, which was approved by the Atlanta City Council in September 2021, has drawn opposition from the start. City officials say the new 85-acre campus would replace inadequate current training facilities and would help address difficulties in hiring and retaining police officers that worsened after nationwide protests against police brutality and racial injustice three years ago.
Local opponents, who have been joined by activists from around the country, say they fear it will lead to greater militarization of the police and that its construction will exacerbate environmental damage. Protesters had been camping at the site since at least last year, and police said they had caused damage and attacked law enforcement officers and others.
Tensions escalated in January, when officers shot and killed 26-year-old protester Manuel Esteban Paez Terán, known as Tortuguita. The Georgia Bureau of Investigation has said officers fired in self-defense after Terán shot at them while they cleared protesters from the site. But the state troopers involved weren't wearing body cameras, and activists have questioned the official narrative.
Several dozen people accused of involvement in the protests have been arrested since May 2022, including more than 40 who have been charged with domestic terrorism, a weighty felony charge that carries a penalty of five to 35 years in prison.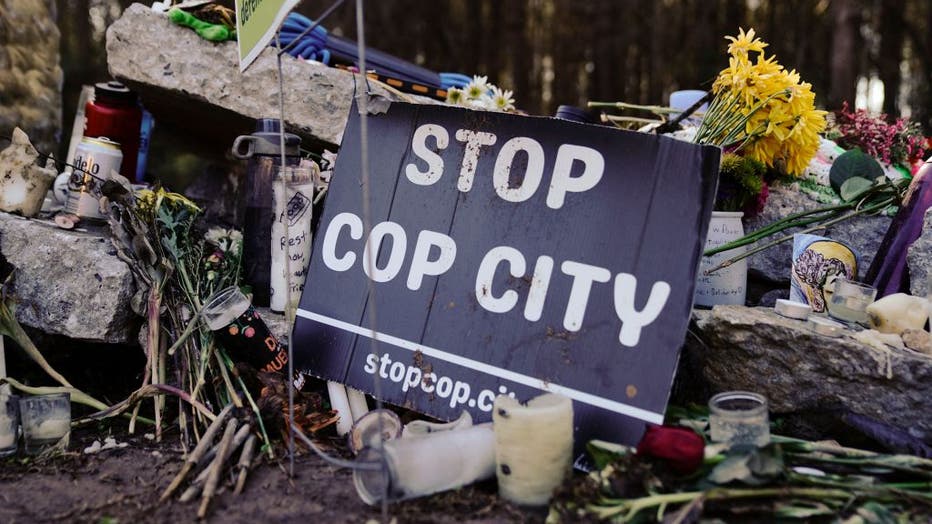 A makeshift memorial for environmental activist Manuel Teran, who was deadly assaulted by law enforcement during a raid to clear the construction site of a police training facility that activists have nicknamed "Cop City" near Atlanta, Georgia on Feb
The public city council meeting is set to begin at 1 p.m. Monday. For more information, visit the Atlanta City Council website.
The Associated Press contributed to this report.