Organizers arrested in connection to protests at 'Cop City' site to be granted bond
ATLANTA - Three organizers who have been aiding protesters against the planned Atlanta Public Safety Training Center have been granted bond after they were arrested Wednesday.
The Georgia Bureau of Investigation announced the arrests of Marlon Scott Kautz, 39, of Atlanta, Savannah D. Patterson, 30, of Savannah, and Adele Maclean, 42, of Atlanta, Wednesday morning in conjunction with the Atlanta Police Department. Kautz, Patterson, and Maclean, 42 were each charged with money laundering and charity fraud.
The arrests come after Atlanta police executed a search warrant at a house owned by Kautz and MacLean in the city's Edgewood neighborhood.
CRIMINAL DEFENSE ATTORNEY: CHARGES AGAINST 'COP CITY' PROTESTERS 'WILL LIKELY STICK'
MacLean, Kautz and Patterson are respectively the CEO, chief financial officer and secretary of the Network for Strong Communities, which was incorporated in 2020 and runs the Atlanta Solidarity Fund.
Marlon Scott Kautz, 39 (DeKalb County Sheriff's Office)
Opponents of the training facility, which they have dubbed "Cop City", said the three are organizers that ran a nonprofit organization and bail fund founded to provide legal support to anyone arrested while engaging in protest. 
ATLANTA PUBLIC SAFETY TRAINING CENTER COULD IMPACT PROPERTY INSURANCE RATES
"I think that it is a really frightening and dangerous escalation by the police, by Mayor Andre Dickens, by Gov. Brian Kemp against the right to protest and not just the right to protest but the ability to support those who have been criminalized for protesting," said community activist Micah Herskind.
Speaking in court, Georgia Deputy Attorney General John Fowler said that the three defendants "harbor extremist anti-government and anti-establishment views."
Fowler cited a protest over the death of George Floyd in which officials argue protestors threw a Molotov cocktail into the Atlanta Department of Public Safety, injuring two people. The prosecutor also pointed to the group's alleged support of a group that vandalized Ebenezer Baptist Church over the Supreme Court's decision to reverse Roe v. Wade.
Over $230,000 of donations has been distributed to a separate fund, known as the Forest Justice Defense Fund, Fowler alleged, which supports activism against the training site.
"They are finding like-minded people. They are radicalizing them. They are using subversive materials, which is of course anti-government materials," Fowler said.
He argued the bail fund is not just used to get people out of jail, but also to keep them connected to the protests, pointing to a defendant charged with domestic terrorism who was going to talk to prosecutors before they were allegedly told they wouldn't be bailed out by the fund if they did so.
Defense attorney Donald Samuel objected, saying that none of the defendants have ever been accused of violent activity that they are currently not charged with.
"You can hate the government and also not spend time in the DeKalb County Jail," Samuel said, pointing specifically to former President Donald Trump. "It's one of the great things of the country that you can protest the way you want."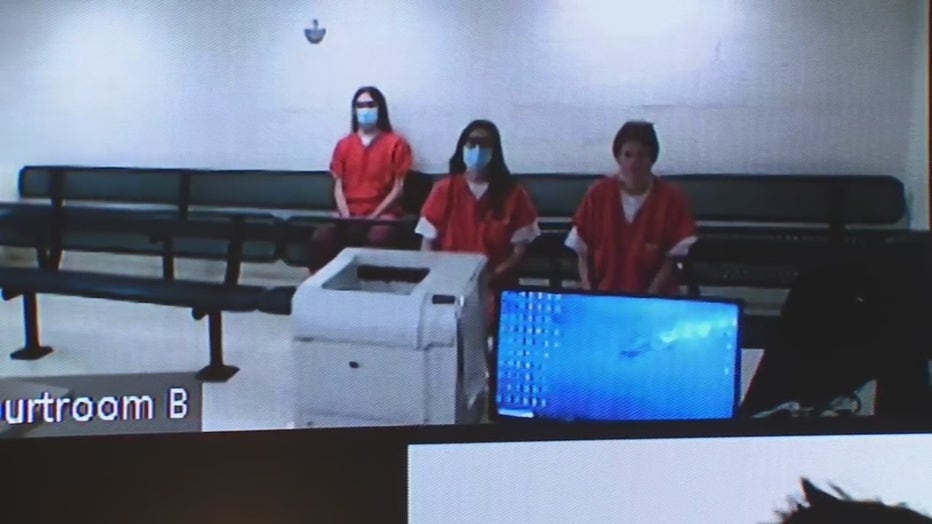 Samuel said the idea that the fund could be responsible for everything that happens over the line is "unbelievably unjust to me."
He pointed out that the state has allowed almost all the activists charged in connection with the protests have been released on bond.
"I'm a little confused why the people who are clearly funding legitimate activities are supposed to stay in jail while most of the protestors - some of whom have done violent things - are allowed out," Samuel said.
Billy Heath/FOX 5 Atlanta
While someone down the line may be using it for illicit activities, Samuel argued that there's no way that the three people at the top of the organization should be charged.
"Looking at the warrants it's unclear what the illegitimate reasons are - buying food, paying for people's bonds, camping supplies, buying gas - I'm sure the prosecutors would like to say it's for a Molotov cocktail," he said.
Judge James Altman acknowledged the state's concerns, but he agreed that the three should be granted bond pending that they stay off of social media and take part in pre-trial services. Altman said the fund could not support the "illegal occupation of the forest" because "Mr. Fowler could be hopping on a motion to revoke bond, and then they'll really be in the DeKalb County Jail without bond."
Altman eventually decided each defendant will receive a $1,500 bond - $750 for both charges.
More than 40 people have been charged with domestic terrorism in connection with protests over the Atlanta Public Safety Training Center, a cause that has garnered international attention since authorities clearing the protesters' camp in South River Forest fatally shot an environmental activist in January. Officials say the officers fired in self-defense after the protester shot a trooper. The Georgia Bureau of Investigation is investigating.
Kautz himself predicted in a February statement that investigators were trying to build a criminal case against protesters using Georgia's Racketeer Influenced and Corrupt Organizations law.
"Over the past year, police spokespeople and Gov. Kemp have repeated talking points which characterize Stop Cop City protesters as 'terrorists' who 'come from other states'. In court filings, prosecutors have taken the position that arrested protesters are guilty based on their 'cooperation with Defend the Atlanta Forest' which they claim to be 'a domestic violent extremist organization,'" Kautz wrote. "This narrative, while completely fabricated and repeatedly debunked, is an attempt at concocting a 'RICO-like' story about the movement, where protest is painted as a criminal enterprise."
That law allows prosecutors to bring charges against multiple people accused of committing separate crimes while working toward a common goal. RICO is a felony charge that carries stiff penalties: A prison term of five to 20 years; a fine of $25,000 or three times the amount of money gained from the criminal activity, whichever is greater; or both.
In a statement issued after the arrests, Gov. Brian Kemp said the state would "track down every member of a criminal organization, from violent foot soldiers to their uncaring leaders."
"These criminals facilitated and encouraged domestic terrorism with no regard for others, watching as communities faced the destructive consequences of their actions." the Republican said. "Here in Georgia, we do not allow that to happen."
Georgia Attorney General Chris Carr, also a Republican, pledged to "not rest until we have held accountable every person who has funded, organized, or participated in this violence and intimidation."
Activists nationwide have joined the protest movement, arguing that the 85-acre center would train officers to become more militarized and quell dissent, all while hundreds of trees are cut down, worsening flooding and climate change.
The Atlanta City Council approved the training center in 2021, saying a state-of-the-art campus would replace substandard offerings and boost police morale, which is beset by hiring and retention struggles in the wake of violent nationwide protests against police brutality and racial injustice in the summer of 2020.
The city is tasking the private Atlanta Police Foundation with building the complex, promising to pay $67 million over time. The remainder of the $90 million complex would come from private funds. Foundation work is ongoing, with the complex projected to be completed in 2024.
The Associated Press contributed to this report.