Police finish cleanup of park near planned Atlanta Public Safety Training Center site
DEKALB COUNTY, Ga. - DeKalb County police say they finished a cleanup operation at a park close to the site of the planned Atlanta Public Safety Training Center, which critics have nicknamed "Cop City."
Officials say the DeKalb County Sanitation Department spent hours demolishing several illegal structures built inside Intrenchment Creek Park.
The operation began Monday with agents from multiple law enforcement agencies at both the state and local level searching the park for any protestors who were in restricted areas. Law enforcement also were removing unauthorized vehicles and blocked the entrances and exits to the property with barricades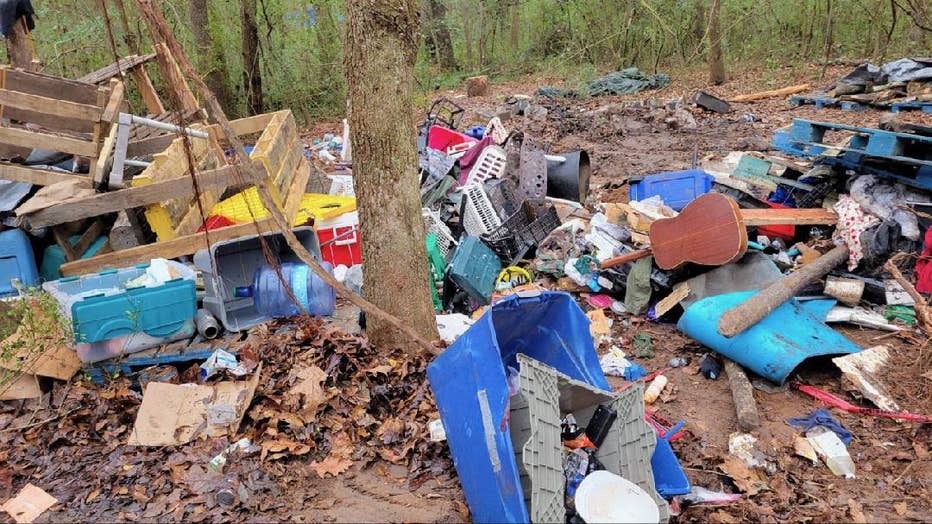 DeKalb County police shared photos taken during the cleanup and clearing of Intrenchment Creek Park. (DeKalb County Police Department)
The action comes just a few days after DeKalb County CEO Michael Thurmond issued an executive order that makes it illegal to enter Intrenchment Creek Park.
In a press conference Friday, Thurmond says officers have found booby traps inside the park.
The county has released photos showing wooden boards with spikes in them and other devices. The CEO says these devices are possible life-threatening hazards that could endanger the public.
DeKalb County released photos showing some of the booby-traps found at Intrenchment Creek Park during a press conference on March 24, 2023. (FOX 5)
"We know that there are dangers that have been discovered in this area, and we are afraid that there might be other hidden traps that will not only injure and maim, but can literally become deadly for small children and pets and others," said Thurmond during a press conference Friday afternoon.
Some activists have been camped out at the site for months. 
Earlier this month, Atlanta Police say masked protesters hurled rocks and makeshift explosives at officers. Police arrested 23 people and were charged with domestic terrorism.
VIDEO SHOWS 'VIOLENT AGITATORS' AT ATLANTA PUBLIC SAFETY TRAINING CENTER
Under the executive order, anyone caught in the park or surrounding area will be subject to prosecution.
Booby traps found at Intrenchment Creek Park
Police say they found nailed boards, Molotov cocktails, and syringes filled with trace amounts of fentanyl during the sweep of the park. 
"We have found several booby traps," said DeKalb County Police Chief Mirtha Ramos, after officers searched the park on Monday. 
DeKalb County Police are leading a multi-agency taskforce that includes the Georgia Bureau of Investigation, Georgia State Patrol and the county DA's office.
"Our goal is to clear the area of citizens who may be in there unlawfully, give them their options and hopefully gain voluntary compliance from them exiting the park," Ramos said.
Chief Ramos says they removed three people. 
"One is in custody, two have chosen to walk out of the park, which they did," she said 
The charges against the person in custody are not immediately clear.
The park is at the center of a hostile standoff between police and protesters. Atlanta police want to build a $90-million training center there. The conflict, has at times, turned violent.
Spence Gould is a homeowner in the neighboring community. He supports the right to protest. But he wants authorities to make sure the park is clear of any potential hazards
"As a dad and as a homeowner, yes, i think that's the safest option," Gould said. "I understand the safety measures. I think the citizens of this community want to be safe."
John Denine, another homeowner, says shut the park but only temporarily.
"If it's truly cleaned up, and they're pretty confident, let's open it back up," Denine said.
While Thurmond said the park would be reopened after the park was declared safe, the executive order declaring the area off-limits "will remain in effect until further notice," officials told FOX 5.
What is the Atlanta Public Safety Training Center? 
In addition to classrooms and administration buildings, the proposed $90-million police and firefighter training center would include a shooting range, a driving course to practice chases, and a "burn building" for firefighters to work on putting out fires. A "mock village" featuring a fake home, convenience store, and nightclub would also be built for authorities to rehearse raids.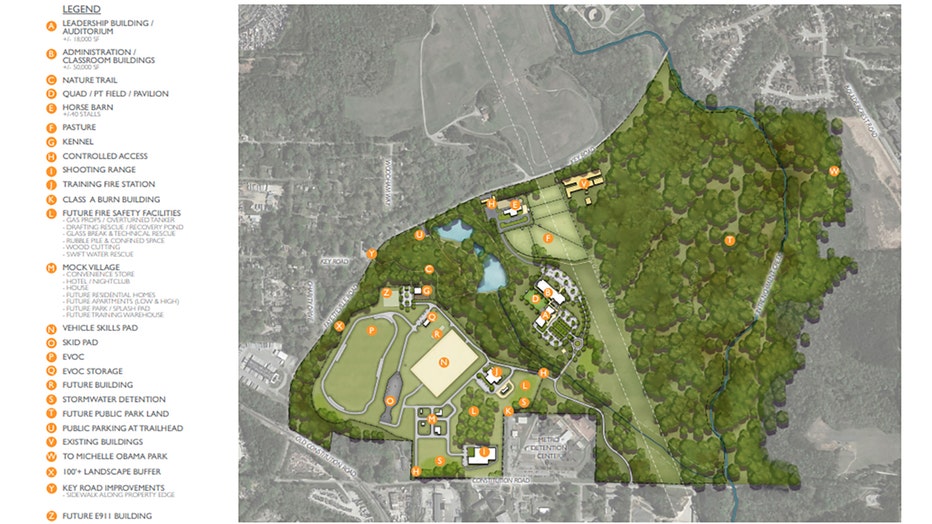 The 85-acre property is owned by the city of Atlanta but is located just outside the city limits in unincorporated DeKalb County, and includes a former state prison farm.
Police officials say the state-of-the-art campus would replace substandard offerings and boost police morale beset by hiring and retention struggles in the wake of violent protests against racial injustice after George Floyd's death in 2020.
Opponents of the training center have been protesting since 2021 by building platforms in surrounding trees and camping out at the site. They say that the project, which would be built by the Atlanta Police Foundation, involves cutting down so many trees that it would be environmentally damaging. Many activists also oppose spending so much money on a police facility that would be surrounded by poor, majority-Black neighborhoods in a city with one of the nation's highest degrees of wealth inequality.
FOX 5 put together a full timeline of the progression of protests over the past two years, including the trooper-involved shooting death of 26-year-old protestor Manuel Esteban Paez.