Trump asks judge to dismiss criminal charges in Georgia 2020 election case
FULTON COUNTY, Ga. - Former President Donald Trump is asking a court to dismiss several criminal charges against him in Georgia's 2020 election interference investigation.
Monday, Trump's lawyers filed new motions saying that he wanted to adopt the arguments of his co-defendants and allies Rudy Giuliani and Kenneth Chesebro have made in recent days in court filings.
On Friday, Giuliani filed a challenge to Fulton County's indictment, asking a Fulton County Superior Court judge to throw out his indictment, arguing that there were "deficiencies" that made it invalid and argued that the prosecution was violating his rights against "double jeopardy." Chesebro also filed a similar challenge in August, asking the judge to dismiss the state's RICO argument against all co-defendants.
Trump's Monday filings come after he indicated in separate court motions last week that he may ask for his case to be moved to federal court.
"President Trump hereby notifies the Court that he may seek removal of his prosecution to federal court," the brief court filing reads. "To be timely, his notice of removal must be filed within 30-days of his arraignment."
There are several reasons Trump may seek to move his trial. Primarily, it would give him the opportunity to try to convince a judge that the actions for which he was indicted were tied to his formal duties as a government official.
Additionally, if his case is moved to federal court, the jurors will be chosen from multiple states, not just Georgia, which voted primarily for President Joe Biden.
The former president has also asked that his case be severed from his co-defendants, arguing that his attorneys will not have enough time to prepare for the trial if it is held when scheduled on Oct. 23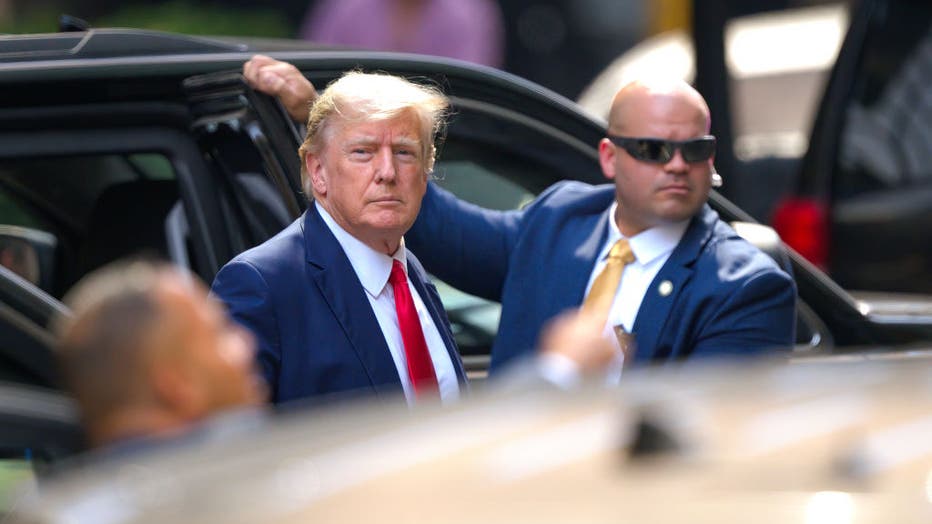 Former U.S. President Donald Trump leaves Trump Tower on September 6, 2023 in New York City. (Photo by James Devaney/GC Images)
OTHER RECENT STORIES
Georgia election interference special grand jury report released
Trump trial: Fulton County DA seeks to protect jurors in Georgia election interference case
Georgia judge rules that Sidney Powell and Kenneth Chesebro can be tried together starting Oct. 23
Kemp names commission to look into state senator indicted in Georgia election interference case
Trump and his 18 co-defendants were indicted Aug. 14 for violating Georgia's RICO (Racketeer Influenced and Corrupt Organizations) Act and other charges related to the 2020 election results in Georgia. The grand jury indictment was issued following a 2-and-1/2-year investigation by Fulton County District Attorney Fani Willis and a recommendation for indictment by a special grand jury earlier in the year.
Trump has repeatedly denied wrongdoing. He said in a social media post this week that he was being prosecuted for what he described in capital letters as a "perfect phone call" in which he asked the Republican Secretary of State, Brad Raffensperger, to help him "find 11,780 votes" for him to overturn his loss in the state to Democrat Joe Biden.
Offenses listed in the indictment include an alleged request from Trump to Georgia's Secretary of State, Brad Raffensperger, to alter votes. Other charges include making false statements and writings, impersonating a public officer, filing false documents, influencing witnesses, conspiracy to defraud the state, and perjury, among others.
GEORGIA ELECTION PROBE TIMELINE: FROM NOVEMBER 2020 TO NOW
All 19 defendants in the case were ordered to surrender to the Fulton County Jail by noon on Aug. 25 and have since pleaded not guilty to their charges. Initially, Willis requested a trial date in March 2024, but that request has since been amended to October. 
The Associated Press contributed to this report.