Donald Trump pleads not guilty, asks for case to be severed from co-defendants
ATLANTA - Following entering a plea of not guilty and waiving his first appearance in Fulton County on Thursday morning, former President Trump and is team are now asking for his case to be severed from his co-defendants.
His attorneys say they will not have enough time to prepare for the trial if it is held on Oct. 23.
According to the latest motion, Trump's lawyers contend the former president will not receive a fair trial and due process of law if his lawyers have less than 2 months to prepare to defend Trump against such serious charges.
Additionally, Trump's lead council is involved in another trail that starts on Sept. 26 and is expected to last for 2 to 3 weeks, according to the motion. 
Trump entered a plea of not guilty on charges he and his allies participated in an illegal scheme to overturn the 2020 presidential election in Georgia earlier in the day.
Lawyers for the New York businessman filed a waiver of arraignment stating that Trump would not appear in court and would plead not guilty to all charges levied against him.
Trump surrendered at the Fulton County Jail a week ago, completing the process in a brisk 20 minutes, providing officials as is customary with his physical measurements: 6 foot 3 inches. 215 pounds. Blond or strawberry hair. And Trump, who for four years in the White House reveled in the title of "Mr. President," was given the inmate number of P01135809.
After posting a bond of $200,000, the former president headed back to the airport for his return flight home to New Jersey, flashing a thumbs-up through the window of his sport utility vehicle as his motorcade left. Unrepentant but subdued after the brief jail visit, he again insisted that he "did nothing wrong" and called the case accusing him of subverting election results a "travesty of justice."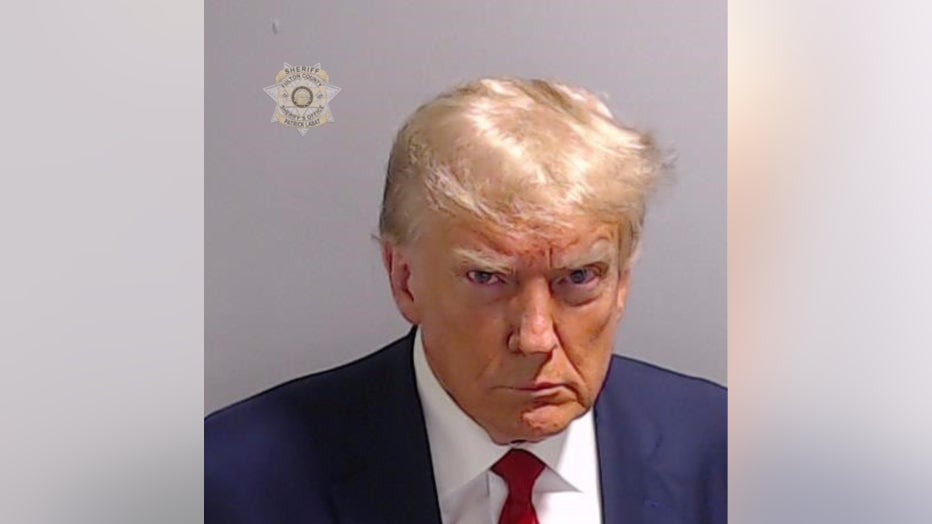 Donald J. Trump (Fulton County Sheriff's Office)
"If you challenge an election, you should be able to challenge an election," he told reporters on the airport tarmac.
RELATED: Trump mug shot released after former president turns himself in at Georgia jail
The Fulton County prosecution is the fourth criminal case against Trump since March, when he became the first former president in U.S. history to be indicted. Since then, he's faced federal charges in Florida and Washington, and this month he was indicted in Atlanta with 18 others — including his ex-chief of staff, Mark Meadows, and former New York Mayor Rudy Giuliani — under a racketeering statute normally associated with gang members and organized crime.
Trump has repeatedly denied wrongdoing. He said in a social media post this week that he was being prosecuted for what he described in capital letters as a "perfect phone call" in which he asked the Republican secretary of state, Brad Raffensperger, to help him "find 11,780 votes" for him to overturn his loss in the state to Democrat Joe Biden.
TRUMP INDICTMENT: WHAT HAPPENS NOW THAT ALL THE DEFENDANTS HAVE SURRENDERED? 
All the defendants in Fulton County's indictment have been scheduled for arraignment hearings on Sept. 6. Along with Trump, three others - Ray Stallings Smith III, Sidney Powell and Trevian Kutti - have waived their appearances and entered not-guilty pleas.
You can read the full waiver below:
The Associated Press contributed to this report.