Kemp, weather officials to tour Troup County as clean-up of tornado damage continues
TROUP COUNTY, Ga. - Residents in Georgia's Troup County are just starting to pick up the pieces after a tornado touched down in the area over the weekend. Officials say at least 100 structures are damaged, and five people sustained non-life threatening injuries.
West Point Road had some of the worst damage in the area. Officials say 30 to 40 structures are a total loss. 
Monday, the National Weather Service will be back in West Georgia touring the storm damage. Gov. Brian Kemp is also set to evaluate the damage in the area.
The governor had declared a state of emergency on Sunday, allowing for the state to distribute more resources to eliminate power outages and assist in emergency response.
"As we continue to monitor the weather and work with local partners to address damage throughout the day, I ask all Georgians to join us in praying for those impacted," the governor wrote on Twitter.
After all the storm's damage, many Troup County residents are just happy to be alive.
"Shock – devastation. My heart sank, and I just started thanking the lord that their lives were spared," Jessica Johnson said.
Related: Shelters open for tornado victims in Troup, Baldwin County
Johnson rushed to her best friend's house Sunday morning in West Point to find it in pieces.
"Thankfully, they heard it coming and were able to get in a safe place in their home," she explained.
She spent the day helping her friend salvage what they could.
"We've been able to sift through some stuff. Got some family items, heirlooms, things, clothes – but everything else is gone," Johnson said.
Related: Looters take advantage of Troup County tornado victims, sheriff says
Troup County Emergency Officials say calls of impacts throughout the area started coming in around 7 a.m.
"The initial calls we received were trees on houses, people trapped in there. I know those people on the initial calls were not injured, just an egress point they could not get past," said Zac Steele, Troup County Emergency management director.
West Point Road was closed off while crews worked to clear debris and fallen power lines.
"This is the third tornado we've had in a two-month span as well as some straight line wind damage in West Point not just two weeks ago. So, I know people are growing weary of that. But stand assured, we're doing everything we can to make sure that the public is safe," Steele said.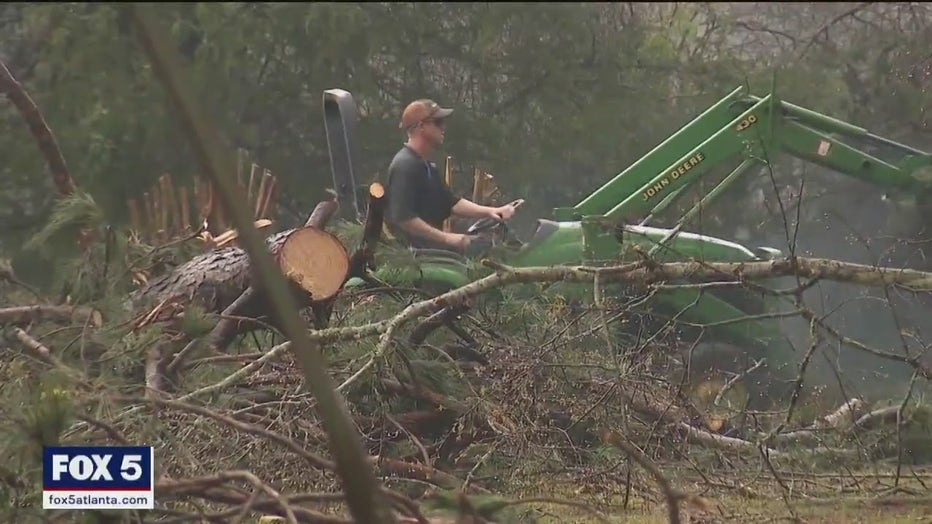 Troup County (FOX 5 Atlanta)
As the cleanup process begins, neighbors are doing what they can to help each other make it through.
"Even Bethel Baptist Church. They came here to offer help and their whole church [building] is gone," Johnson said.