Body cam video shows recovery of parrots stolen from popular Buckhead restaurant
ATLANTA - Police release body cam video of the moments officers arrest an accused birdnapper. Police say Adam Deck stole three exotic birds from R. Thomas Deluxe Grill on Peachtree Road in Buckhead 
Investigators say Deck disabled the restaurant's surveillance cameras except for one.
Investigators used video from the camera which still operated to track down Deck. "We were able to get a tag number off the vehicle," said spokesperson Sgt. John Chafee.
Video shows the theft of parrots from R. Thomas Deluxe Grill on Peachtree Road in Buckhead.  (Supplied)
Atlanta Police Department body cam video shows detectives, with guns drawn, cautiously walk up to home on Erin Avenue in southwest Atlanta on April 14.
An investigator identifies himself. The suspect inside the home tries to buy time. "Just 10 seconds, sir," the man says. An investigator responds "No, I need to see you come on out." 
Detectives tell the man not to touch his weapon. "Atlanta police, sir. Come on out," investigators say. "Just relax. I'm just gonna set my gun down, OK?" the man responds. Officers say "No, you're going to leave it where it is, sir." 
Video from an officer-worn camera shows Atlanta police arresting Adam Deck and finding what investigators say are stolen parrots at his home.
Police place Deck in handcuffs. They go to the back of the house, where they find the feathered haul.
"When they got there, they could hear birds chirping from the trailer," Chafee said.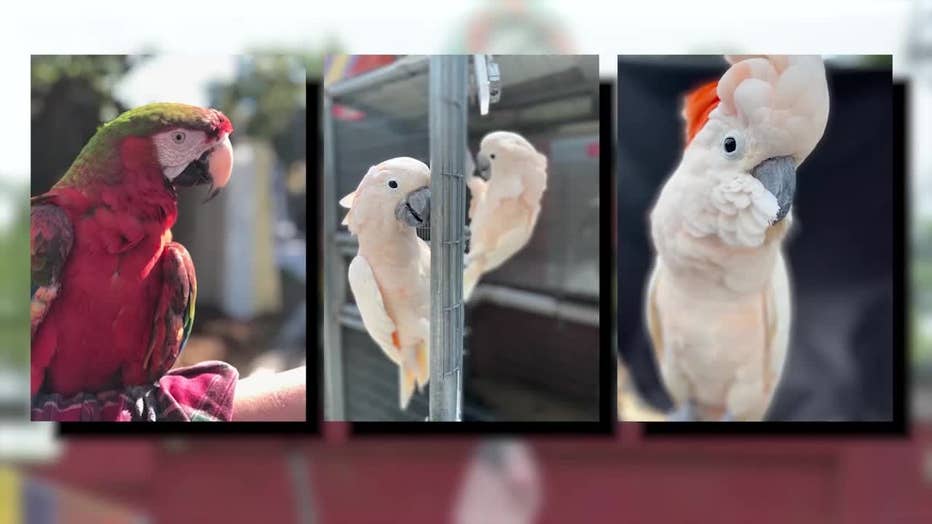 Ruby, Peaches and Cream (Supplied)
Police returned Ruby, Peaches and Cream to their home the same day.
"This is not something we see every day," said Chafee, who added this is one of the more bizarre thefts he has encountered in a long time. "I can't think of another case in this city where we've seen something like this. There are many, many things that come to mind, exotic birds are not one of them. It makes you wonder why?"
It is not clear why the birds were stolen. Deck is charged with theft and property damage.