Here's how you can wish Jimmy Carter a happy 99th birthday
PLAINS, Ga. - Former President Jimmy Carter is just weeks away from his 99th birthday, and the Carter Center wants to do something big to make it one that the oldest-living former president will never forget.
The Carter Center is asking Georgians and people around the world to help contribute to the 99th birthday celebrations by leaving your own personal message for Carter ahead of his birthday on Oct. 1.
The new campaign named "Jimmy Carter 99" will result in a large digital mosaic that will reflect on the former president's life and legacy.
You can contribute by uploading a birthday wish on the Carter Center's website or by using the hashtag #JimmyCarter99. 
JIMMY, ROSALYNN CARTER'S GRANDSON SHARES HEALTH UPDATE AHEAD OF FORMER PRESIDENT'S BIRTHDAY
"What we wanted to do was find a way for all of these people [whose lives my grandfather has impacted] to weigh in," Jimmy Carter's grandson and Carter Center chairman Jason Carter told People Magazine.
In February, the center announced the former president was entering home hospice care. Thousands of well-wishes and tributes poured in from around the world.
Months later, Carter remains in hospice with the love of his life, former first lady Rosalynn Carter, at their home in Plains, Georgia. In July, the couple celebrated their 77th wedding anniversary.
"He's been in hospice now for several months, but they are happy," Jason Carter told USA Today on Thursday. "They are together. They are at home. They're in love, and I don't think anyone gets more than that. I mean, it's a perfect situation for this time in their lives."
He says his grandfather remains in great spirits despite his health problems and keeps himself busy by spending time with family, watching baseball, and enjoying peanut butter ice cream.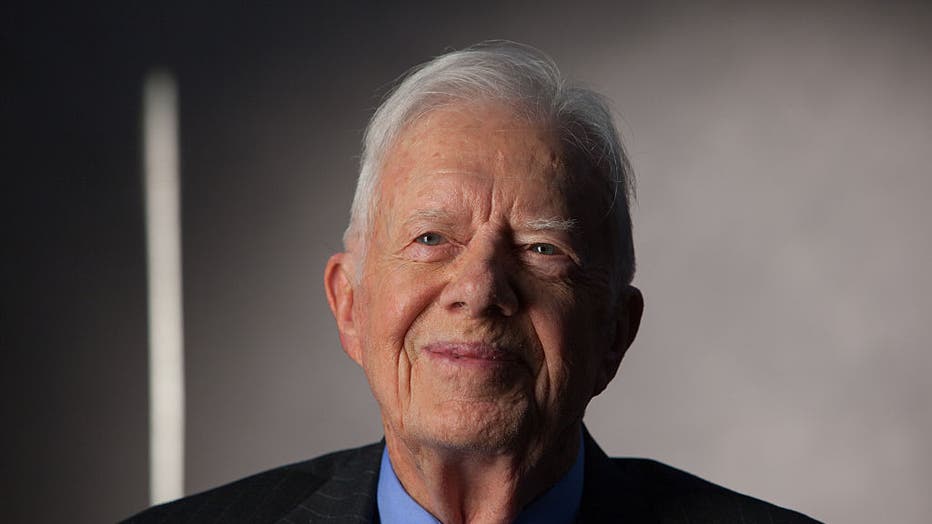 Former President Jimmy Carter interviewed for "The Presidents Gatekeepers" project at the Carter Center, Atlanta, Georgia, September 14, 2011. (Photo by David Hume Kennerly/Getty Images)
Latest news on The Carters: