Newly released inmate details 'cruel and inhumane' conditions in Fulton County Jail without AC
ATLANTA - UPDATE
Temperatures continued to soar Sunday inside the Fulton County Jail after a power outage caused by Friday's storms knocked out the air conditioning. Fulton County Sheriff Patrick 'Pat' Labat reportedly deployed emergency measures after a powerful storm knocked out power at the Rice Street jail, according to a press release sent Saturday night. While the power was restored, the AC reportedly was not.
"It's fine inside of the working pods where the deputy sheriff's work at," Paul Kincaid said. "But inside the actual cells, there is none."
Kincaid is a former inmate who was released from the Fulton County Jail Sunday. He spoke to FOX 5 about the conditions he and other inmates faced.
"All of our temperatures are right at 100," he said. "You've got 30 of us in there with no air conditioning and no ventilation. That's cruel and inhumane."
According to the Fulton County Sheriff's Office, the building lost power as storms moved through Friday afternoon. Backup generators provided power for basic operations. The sheriff's office said the issue was damage to a backup propane tank. Officials say they had to get rid of dangerous gases before the AC could be restored. They say a portable chiller truck was brought in to cool the building in the meantime.
Intake temporarily stopped on Friday, but resumed Saturday. The sheriff's office also said there had been no heat-related injuries.
"Things are very uncomfortable, and it's concerning for us because we believe this is directly connected to what has been our foremost concern since the very beginning, which is the danger that persons are being placed in due to lack of staffing and lack of maintenance," Devin Franklin from the Southern Center for Human Rights said.
This comes a little over a week after the Department of Justice announced an investigation to the operation and treatment of inmates at the jail and the overall dilapidated conditions.
Sheriff Patrick "Pat" Labat issued a statement late Saturday saying in part, "We are operating under incredibly difficult circumstances right now which are creating uncomfortable conditions for the inmates and staff, but our team has mounted an incredible response to keep everyone safe."
But advocates hope this latest incident will continue the push for change inside the facility.
"We'll try to continue to do what we are doing, which is try to work with electors to make sure that accountability measures and maintenance measures are put in place," Franklin said. "We understand that this is not a building issue, we understand that this is a management and staffing and maintenance issue."
PREVIOUS STORY
Fulton County Sheriff Patrick 'Pat' Labat reportedly deployed emergency measures after a powerful storm knocked out power at the Rice Street jail, according to a press release sent Saturday night.
The sheriff says all available commanders and extra staff have been on duty since the storms on Friday night. He also says the work to restore power and safely resume full operations is an arduous task requiring extensive coordination between the Fulton County Sheriff's Office, Georgia Power, the Atlanta Fire and Rescue Department (AFRD) and Fulton County's Department of Real Estate and Asset Management (DREAM).
POWER OUTAGES, CLEANUP CONTINUE AFTER POWERFUL STORMS THURSDAY AND FRIDAY IN NORTH GEORGIA
According to the latest report, a backup propane tank that was damaged during the storm must be offloaded before the chiller system which controls the air conditioning for the jail can be restarted. A portable chiller truck has been used to cool parts of the building and the tank is expected to be emptied soon.
Backup generators are currently providing power for basic operations, but Atlanta's fire department says all mechanical equipment must remain off until the tank finishes venting.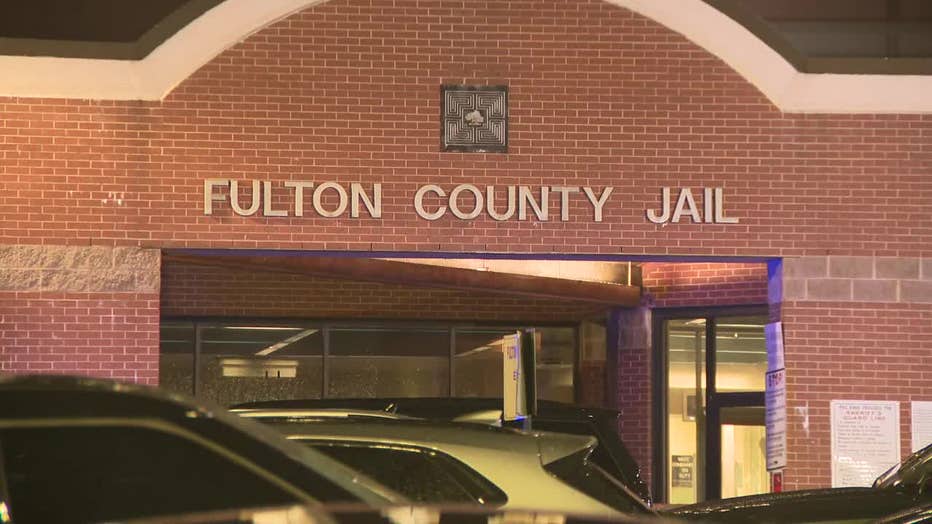 Fulton County Jail (FOX 5)
FLOODED MIDTOWN ANIMAL SHELTER NEEDS TEMPORARY HOMES FOR DOGS
Georgia Power has been on site to help resolve issues related to the kitchen. The jail says it had to serve sandwiches Friday night, but hot meals with double portions were delivered on Saturday night.
Fulton County Jail temporarily stopped accepting new detainees but began accepting them again on Saturday night.
DOJ ANNOUNCES INVESTIGATION INTO FULTON COUNTY JAIL AFTER DEATH OF INMATE, OTHER REPORTS
Three inmate medical emergencies were reported during the outage and those inmates were treated, according to the sheriff. The sheriff also says medical services have continued at the jail uninterrupted.