DOJ announces investigation into Fulton County Jail after death of inmate, other reports
ATLANTA - The U.S. Department of Justice has announced that it has opened a civil investigation into the condition in the Fulton County Jail.
The DOJ says that after an "extensive" review of publicly-available information, including reports about LaShawn Thompson who died in September 2022 covered in insects and filth and reports of prevalent violence, it found significant justification to open an investigation.
FAMILY OF INMATE WHO DIED AT FULTON COUNTY JAIL AFTER BEING 'EATEN ALIVE' DEMANDING JUSTICE
DOJ says it will be examining the living conditions at the jail; medical and mental health care; use of excessive force' and protection from violence.
The investigation will also examine whether Fulton County and the Fulton County Sheriff's Office discriminate against persons with psychiatric disabilities inside the jail, according to the press release.
"People in prisons and jails are entitled to basic protections of their civil rights," said Attorney General Merrick B. Garland.
"The unconstitutional conditions that we see too often inside jails and prisons have no place in society today," said Assistant Attorney General Kristen Clarke of the Justice Department's Civil Rights Division.
"All Georgians deserve fairness from the institutions that serve us, including our local jails," said U.S. Attorney Ryan K. Buchanan for the Northern District of Georgia. "The recent allegations of filthy housing teeming with insects, rampant violence resulting in death and injuries, and officers using excessive force are cause for grave concern and warrant a thorough investigation. This investigation is part of our ongoing efforts to ensure that citizens are safe, and their constitutional rights protected, even while they are in custody."
RECENT STORIES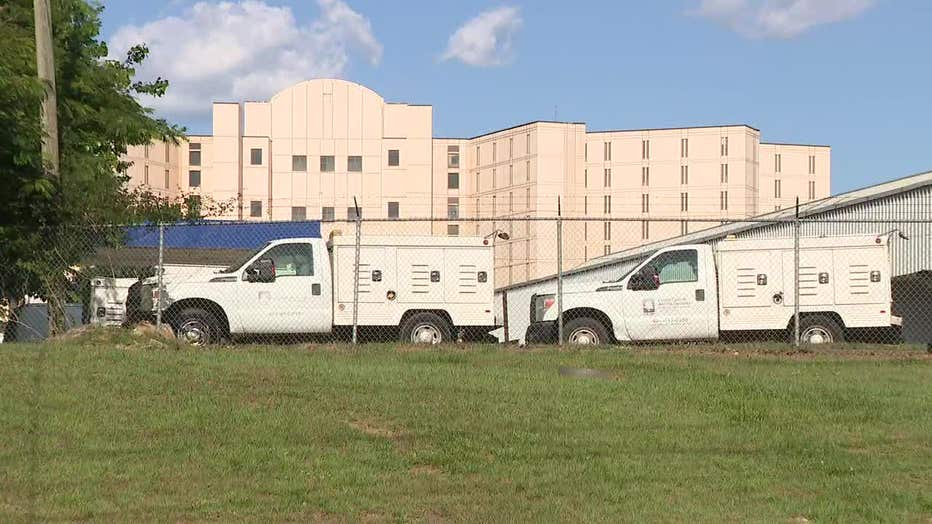 Security was increased at the Fulton County Jail after several holes were found in the fencing on June 2, 2023. (FOX 5)
The investigation will be conducted under the Civil Rights of Institutionalized Persons Act (CRIPA) and the Americans with Disabilities Act (ADA). Both statutes give the Department the authority to investigate systemic violations of the rights of people confined to correctional facilities.
Individuals with relevant information are encouraged to contact the Department via phone at (888) 473-4092 or by email at fultoncountyjail@usdoj.gov.
Following the news on Thursday, Fulton County Sheriff Pat Labat issued the following statement:
"I want to thank the Department of Justice (DOJ) Civil Rights Division for our meeting today. As I shared with DOJ officials, we welcome this investigation and are prepared to cooperate fully.  
"The humanitarian crisis at the Fulton County Rice Street Jail is not new. Recognizing the systemic concerns that have plagued the Fulton County Jail for decades, I contacted DOJ's National Institute of Corrections (NIC) in September of 2022 making an urgent request for a security audit, technical assistance and support surrounding the circumstances at the jail.
"As recently as 10 days ago, we had an in-person conferral with NIC's Executive Leadership Team and, together, instituted a strategy and course of action that will include dispatching national experts. NIC has committed to make a full operational, programmatic and architectural assessment to address and mitigate these critical issues within the next 30 days. They have also committed to working with the Bureau of Justice Assistance (BJA) to maximize and leverage all the resources of both DOJ agencies to support the Fulton County Sheriff's Office.  
"I have publicly, privately, and repeatedly raised concerns about the dangerous overcrowding, dilapidated infrastructure and critical staffing shortages at the jail. The best possible outcome of the report from the Department of Justice is that it will confirm the findings of the Jail Feasibility Study completed in March of 2023 – that the Rice Street Jail is not viable and a replacement jail is needed. In addition, solutions will be identified and implemented with the support of the Board of Commissioners that guarantee humane care and detention of inmates and provide safety assurances for all who live and work in our facilities.
"Despite the difficult circumstances, we will continue to work collaboratively with our partners to ensure the health and safety of all the women and men remanded to our care."