Can Trump and his allies be pardoned for charges in the Georgia indictment?
FULTON COUNTY, Ga. - All eyes are on Georgia as the country waits for the surrender of former President Donald Trump and his 18 allies indicted on Monday over their alleged efforts to overturn his 2020 election loss in the state.
But with Trump running for election again in 2024 and Republicans controlling the Peach State's political system, many are wondering if the 19 defendants could be pardoned for their charges.
The answer? It's possible, but would require anyone involved to cross major hurdles.
TRUMP, ALLIES RICO CHARGES IN GEORGIA EXPLAINED
What isn't possible would be Trump or anyone else receiving a pardon from Georgia Gov. Kemp or any sitting president if the Republicans take back the White House in 2024.
The Georgia indictment is not subject to presidential pardons and can't be pardoned by any single person in the state's government.
Instead, Trump would have to get approval from the State Board of Pardons and Paroles - a five-member panel appointed by the governor. Georgia voters approved an amendment to the state Constitution creating the independent body in 1943 and expanded it to five members in 1973.
REACTIONS TO GEORGIA'S INDICTMENT OF FORMER PRESIDENT DONALD TRUMP
To receive a pardon, inmates have to have completed all sentences at least five years before applying and must have "lived a law-abiding life" during those five years, the board stated on its website.
Applicants also can not have any pending charges and must have paid all their fines in full.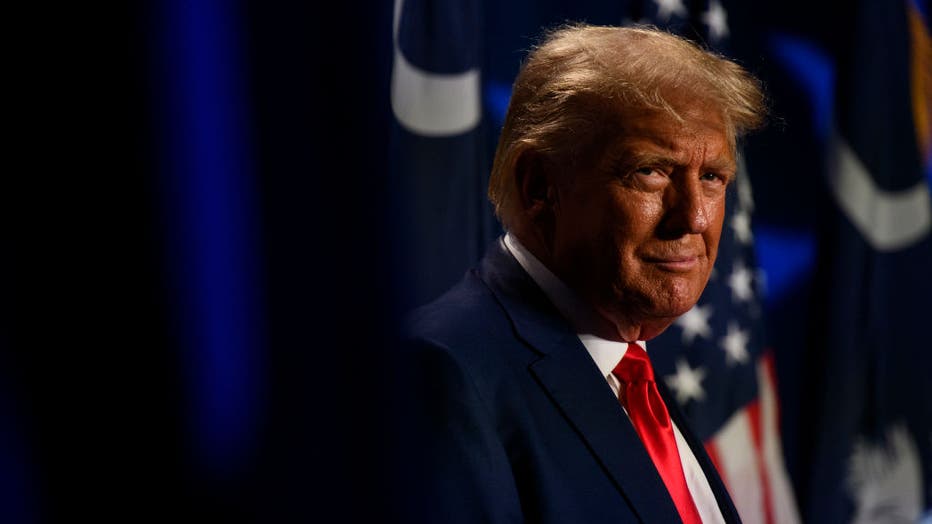 Former President Donald Trump pauses for cheers from the crowd before speaking as the keynote speaker at the 56th Annual Silver Elephant Dinner hosted by the South Carolina Republican Party on August 5, 2023 in Columbia, South Carolina. (Photo by Mel
In Fulton County's indictment, prosecutors have used RICO, a statute normally associated with mobsters. to accuse the former president, lawyers and other aides of a "criminal enterprise" to keep him in power.
WHAT'S NEXT FOR FORMER PRESIDENT DONALD TRUMP, CO-DEFENDANTS IN FULTON COUNTY AFTER INDICTMENT
The nearly 100-page indictment details dozens of acts by Trump or his allies to undo his defeat, including beseeching Georgia's Republican secretary of state to find enough votes for him to win the battleground state; harassing an election worker who faced false claims of fraud; and attempting to persuade Georgia lawmakers to ignore the will of voters and appoint a new slate of electoral college electors favorable to Trump.
Other defendants include former White House chief of staff Mark Meadows; Trump attorney and former New York City Mayor Rudy Giuliani; and a Trump administration Justice Department official, Jeffrey Clark, who aided the then-president's efforts to undo his election loss in Georgia. Other lawyers who advanced legally dubious ideas to overturn the results, including John Eastman, Sidney Powell and Kenneth Chesebro, were also charged.
WHO ARE THE 19 PEOPLE INDICTED IN FULTON COUNTY'S ELECTION INTERFERENCE CASE?
Willis said the defendants would be permitted to voluntarily surrender by noon on Aug. 25. She also said she plans to seek a trial date within six months and that she intends to try the defendants collectively.
A spokesperson for the Fulton County Sheriff's Office said that all the defendants will likely be booked at the Rice Street Jail. That means they'll be searched, photographed and fingerprinted.
Those who choose not to surrender are expected to be arrested.
The Associated Press contributed to this report.