Former NY mayor, Trump lawyer Rudy Giuliani reacts to Monday night's indictment in Fulton County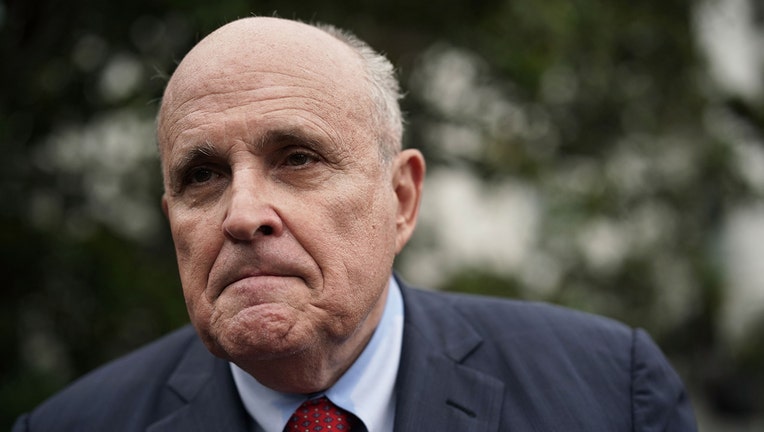 article
ATLANTA - Former New York City Mayor Rudy Giuliani has issued a statement in response to being indicted Monday night in Fulton County along with former President Donald Trump and 17 others. The former president and others were indicted in relations to efforts to overturn the results of the 2020 presidential election in Georgia.
TRUMP ISSUES STATEMENT AFTER GRAND JURY HANDS UP INDICTMENTS IN GA
Giuliani is facing 13 counts. He released a statement early Tuesday morning:
"This is an affront to American Democracy and does permanent, irrevocable harm to our justice system.
It's just the next chapter in a book of lies with the purpose of framing President Donald Trump and anyone willing to take on the ruling regime.
They lied about Russian collusion, they lied about Joe Biden's foreign bribery scheme, and they lied about Hunter Biden's laptop hard drive proving 30 years of criminal activity.
The real criminals here are the people who have brought this case forward both directly and indirectly."
- Rudolph W. Giuliani
Giuliani is a former US attorney who was elected as the mayor of New York City in 1993. During his stint as mayor, he guided America's largest city after the Sept. 11 terror attacks. He was dubbed "America's mayor" due to his leadership in helping the city recover from the terrorist attack that killed more than 2,000 people in the World Trade Center towers.
WHO ARE THE 19 PEOPLE INDICTED IN FULTON COUNTY'S ELECTION INTERFERENCE CASE 
During his time as a lawyer and before he became mayor, Giuliani made his name using the Racketeer Influenced and Corrupt Organization statute (RICO) to prosecute organized crime and was one of the most effective prosecutors in American history in taking down the Mafia and cleaning up New York City. He is also known for taking down Wall Street executives like Ivan Boesky and Michael Milken.
TRUMP, ALLIES RICO CHARGES IN GEORGIA EXPLAINED
After leaving New York City Hall, Giuliani started his own security consulting firm and largely stayed out of the public eye. He resurfaced when he threw his support behind then-presidential candidate Trump in 2016.
He served as Trump's personal lawyer and reportedly led the legal efforts in several states to keep Trump in power after the 2020 election. Additionally, he is accused of making multiple false allegations of election fraud before state legislative committees in December 2020 and creating a bogus slate of Trump presidential electors. 
Giuliani also accused two Black election workers of fraud saying "they look like they're passing out dope, not just ballets." In late July, Giuliani conceded he made false statements about those election workers. 
Giuliani was made aware last year that he was a target of the lengthy investigation in Fulton County. He sought to avoid testifying to the special grand jury that initially heard the case but was ordered to appear in Atlanta last August despite claims that he could not fly safely because of a heart condition. He testified in Atlanta on Aug. 17, 2022. 
Giuliani was also mentioned 4 times in the Jan. 6 indictment of Trump. However, Trump was the only person indicted. 
READ: TRUMP INDICTMENT IN GEORGIA ELECTION PROBE
List of charges faced by Giuliani:
1 - Violation of the Georgia RICO (Racketeer Influenced and Corrupt Organizations) Act
2 - Solicitation of Violation of Oath by public officer
3 - False statements and writings
6 - Solicitation of violation of oath by public officer
7 - False statements and writings
9 - Conspiracy to commit impersonating a public officer
11 - Conspiracy to commit forgery in the first degree
13 - Conspiracy to commit false statements and writing
15 - Conspiracy to commit filing false documents
17 - Conspiracy to commit forgery in the first degree
19 - Conspiracy to commit false statements and writings
23 - Solicitation of violation of oath by public officer
24 -False statements and writings