Midtown crane collapse: Around 1K homes evacuated, roads closed as crews deal with damage
ATLANTA - Crews remain on the scene below the site of a crane collapse in the heart of Midtown Atlanta that has left an estimated 1,000 homes evacuated.  
The collapse left four workers injured and others scrambling for safety after what officials say was a mechanical failure at a construction site Monday afternoon.
At a brief Tuesday, Atlanta Fire Rescue Chief Roderick Smith estimated around 1,000 homes remained evacuated as crews work to "neutralize" the structure.
While Smith couldn't say how many people specifically were displaced, he said that the city was working with the Red Cross to ensure everyone had temporary housing and that fire crews would remain in a "defensive posture."
Firefighters respond to partial crane collapse in Midtown Atlanta
According to the Atlanta Police Department, the incident happened shortly before 2:30 p.m. at 1052 W. Peachtree St. NW.
"I heard what sounded like a really large truck speeding down the road, followed by a very large booming crash," said Jeffery Bean, who lives and works in Midtown. "And then it's been sirens ever since."
Initially, firefighters say they got a 911 call reporting a fire, but it was quickly determined what people thought was smoke, was actually dust after a portion of a crane fell about 28 stories onto a building under construction.
"I was working, and I heard a big … crash and the building started shaking," said Midtown resident Katerina Mathis.
When Mathis walked outside, she saw a construction worker who explained what happened.
"He told me a crane, part of the crane fell, four people got injured," Mathis said.
A crane collapsed damaging a building under construction and injuring four workers in Midtown Atlanta on May 22, 2023. (FOX 5)
Shortly after, Mathis said her residential building was evacuated.
Atlanta Fire Captain Michael Roman says special operations teams were immediately dispatched to the scene. Police worked to clear the area and evacuate buildings believed to be in the fall zone. Sections of West Peachtree and Spring streets between 10th and 14th streets were shut down due to a construction accident. 
Four injured in partial crane collapse in Midtown Atlanta
Captain Roman says firefighters quickly worked to ensure everyone on the construction crew was accounted for.
Four people were transported to Piedmont Hospital with minor injuries.
"I hope no one's hurt. The good thing is that I heard paramedics within a minute at least," Bean said. "Thankfully, the people that I saw walking toward the ambulances, at least initially, appeared to be mostly just be holding their arms as if it was just minor injuries to their arms."
A crane collapsed damaging a building under construction and injuring four workers in Midtown Atlanta on May 22, 2023. (Courtesy: John Graham)
Seven others had to be rescued from the scene.
Collapse danger after part of crane falls in Midtown Atlanta
Engineers are at the scene working to evaluate how to make the scene safe.
"There are two wrecked cranes on site and the one that is next to the building is the one that is unstable at this time," Captain Roman said.
Captain Roman says a piece of a counterweight fell from the crane and caused damage to the machine and the building.
"Right now, we determined there is a collapse danger to the cranes, being that it's unstable," said Captain Roman. "We got engineers on site, crane experts on site, and we're just trying to get more information from them, for the next, essentially 12 hours."
He says there was no load on the crane at the time of the collapse.
"One of the counterweights did fall off, and that was the main issue," Captain Roman said. "So, how and why? We don't know. That's going to be for a later on investigation on the private side."
The counterweight fell on top of the building under construction.
"There wasn't an actual collapse of the floors. It was just compromised. They're not stable. The engineers have advised everyone to evacuate the building and they are in fear of the two floors further collapsing.
Emergency crews are expected to be at the scene well into the evening.
Road closures after Midtown Atlanta crane collapse
Atlanta Mayor Andre Dickens said his office and the Georgia Department of Transportation would be closely monitoring the situation and that the closure of Spring Street and West Peachtree Street between 10th and 12th streets will remain in place as long as necessary.
"The residents have been through a lot recently," Dickens said, pointing out that the deadly shooting in the Atlanta neighborhood happened just a block away from the collapse.
The mayor acknowledged that there would be disruptions while crews work at the scene.
Atlanta Department of Transportation Commissioner Solomon Caviness IV said drivers should use MARTA and GPS to try to look for alternate routes.
"If at all possible avoid the area," Caviness said.
Has a crane fallen in Midtown before?
An unstable crane shut down the same street in Midtown just three years ago. Atlanta Fire and Rescue responded to 1105 West Peachtree Street on Feb. 19, 2021, where a construction site crane was "leaning and possibly unstable."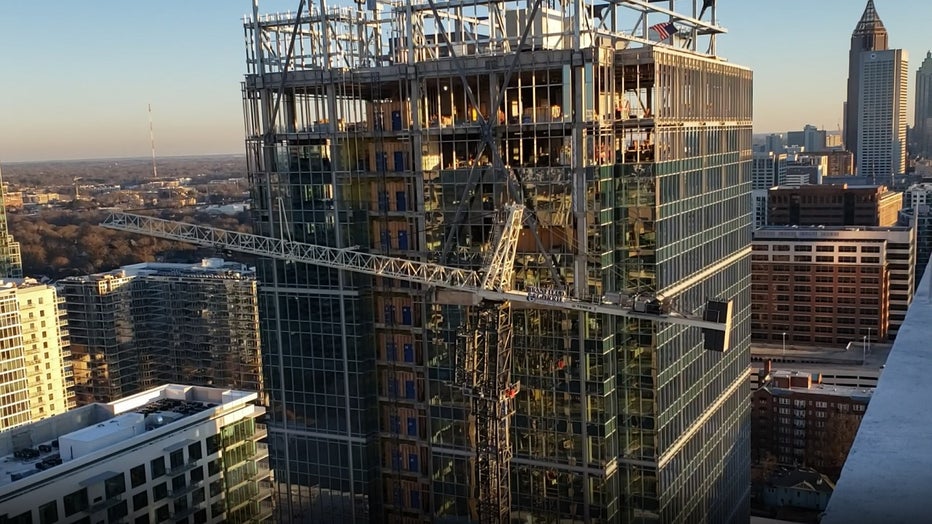 A construction crane threatens to fall in Midtown Atlanta after a hydraulic cylinder fails on Feb. 19, 2021. (FOX 5)
Multiple buildings in the area were evacuated, including the Northside Family Medicine and Urgent Care Center where a gunman recently opened fire killing a woman.
Officials said the crane experienced mechanical failure causing it to lean toward the medical center with the threat of collapsing. Two mobile cranes had to be brought in to help.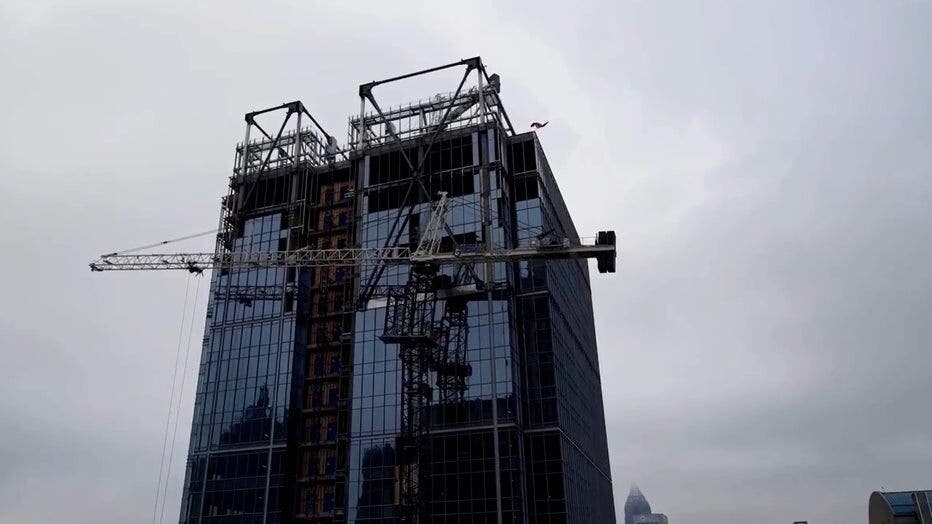 (Credit: PB&J Photography)
West Peachtree Street had been shut down between 11th and 14th streets for days.
There were no injuries reported in this incident.