Unstable crane causes evacuations, street to remain shut down in Midtown Atlanta
ATLANTA - An unstable crane caused the shutdown of a Midtown Atlanta road and the evacuation of multiple buildings Friday morning.
Officials say a tower crane near the 1100 block of West Peachtree Street is leaning precariously and is in danger of collapsing.
Atlanta Fire is on the scene and working with engineers to evaluate the situation. Two mobile cranes were also brought in to help.
"The crane right now is in jeopardy of falling down," said Atlanta Fire spokesperson Cortez Stafford on Friday. "There was a mechanical failure with one of the hydraulic cylinders, used in taking down the crane. That led the top of the crane to lean as you can see behind me."
WATCH: FOX 5 Atlanta live news coverage
The danger from the crane has caused numerous buildings in the area to be evacuated, officials said. Three residential buildings, parking decks, a handful of restaurants, and the Northside Medical Midtown building were all evacuated.
Atlanta police were forced to shut down Peachtree Street between 11th and 14th Street on Friday. Police said that section of roadway could be closed all weekend.
According to Brasfield & Gorrie, the company running the job site the crane was used at, has engineers on the site evaluating the situation.
"Our job site has been evacuated except for a team working to secure the crane, which is not occupied," the company said. "We are working diligently with engineers, safety professionals, and crane experts to remove the crane safely."
"The concern is if this crane comes down how will it affect the other buildings in the area...what buildings may it damage?" Stafford said.
On Sunday afternoon provided the following update: 
"Crews are beginning the process of reinforcing the tower crane at 1105 West Peachtree. This portion of the process is necessary to safely dismantle the crane and is expected to continue through the evening and into tomorrow. Once it is reinforced, the next step will be to begin safely dismantling the crane. The timeline of when that will be completed will be determined by the progress today."
Jackie Patterson lives in a building nearby and received an email saying he had to get out immediately.
"When I looked out my window I couldn't believe the crane was leaning over west Peachtree street. I knew it was a dangerous situation. Immediately I had to grab what I could. I now can't get back in my residence and they said it would be 24 to 48 hours I will be displaced," Patterson said.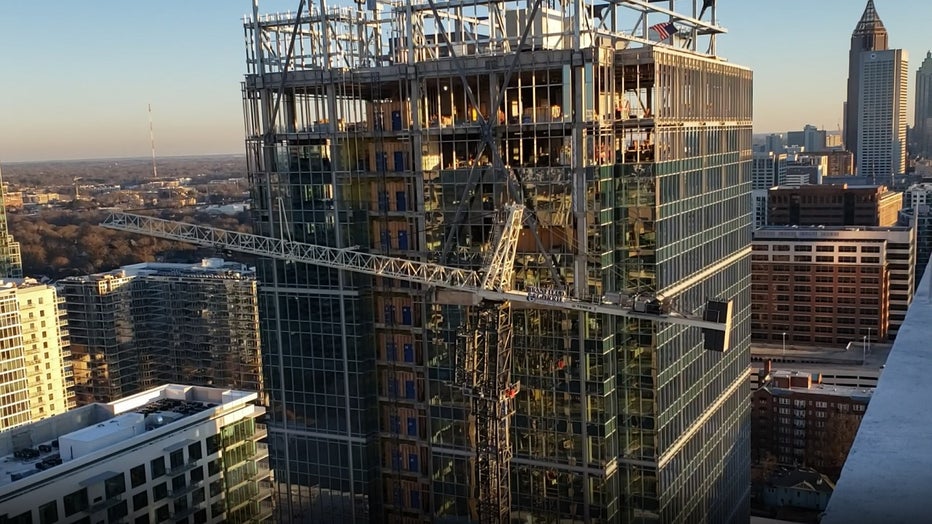 A construction crane threatens to fall in Midtown Atlanta after a hydraulic cylinder fails on Feb. 19, 2021.
His building is providing hotels for anxious residents nearby.
"I didn't think much about it until they told me if it falls and hits our building we are above a gas line and if it hits the gas line the building could eventually explode. That's when I took it really seriously," Patterson said.
"This is really my worst nightmare playing out in real life," Scott Tenenbaum said.
FOX 5 got a look at the leaning crane owned by Brasfield and Gorrie from the top of a nearby building.
Many people came out amazed with what they saw.
"It's scary. I don't really know how it happened but it's scary to think about what would happen if it fell," Isaac Italiaander said.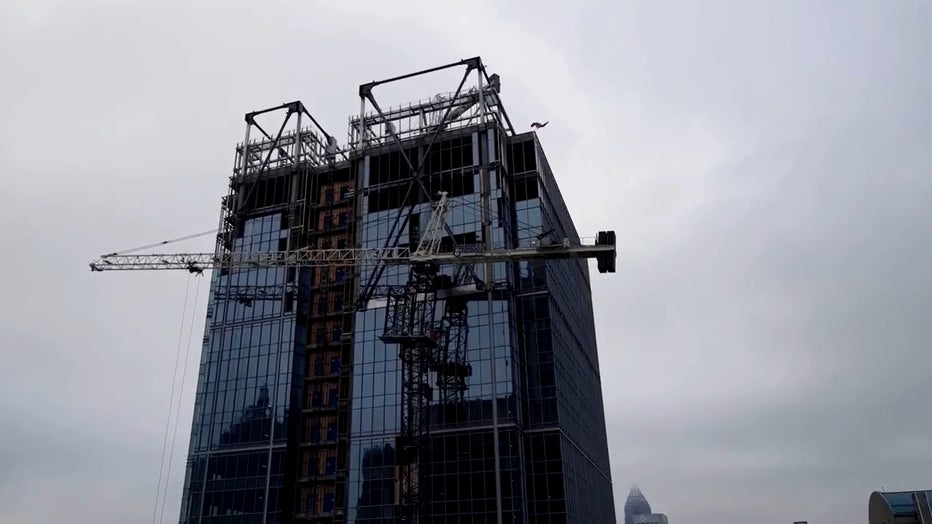 Courtesy of PB&J Photography
PK and Denise Kalentzis live in the Atlantic House but they were evacuated at about 9 a.m. Friday. Their building is just feet away from the leaning crane in Midtown on13th Street at W. Peachtree.
"This is serious. So, we went up top and saw the crane and we heard them talking about how they may have to evacuate us," Denise Kalentzis said. "If the wind blows a little too hard, that's when they are saying the crane could potentially fall down. So, when we were on the rooftop, I could see on the 32nd floor all of the streets being shut down."
There are no injuries reported due to the crane.
Download the FOX 5 Atlanta app for breaking news and weather alerts.