Burger named after Ponce de Leon sinkhole
ATLANTA - During this week's Burgers with Buck segment, FOX 5 Atlanta's Buck Lanford travels to the Torched Hop Brewing Company in midtown to try a burger he collaborated with the restaurant to make.  
The inspiration for the Kitchen Sinkhole Burger was the massive real-life sinkhole that damaged a truck last week on Ponce de Leon Avenue. Ironically, the restaurant is located across the street from the location of the incident. 
The sandwich is stacked high with chili, bacon, fried egg, roasted jalapeños, lettuce, tomato, onion, and Lanford's very own "Buck sauce" – a blend of mayonnaise, ketchup, and mustard. 
Before happily realizing a sauce is now named after him and giving the burger creation a double thumbs up, Lanford spoke to co-founder Stephen Bivins about the restaurant's very own "Burger Week" from July 10 to July 14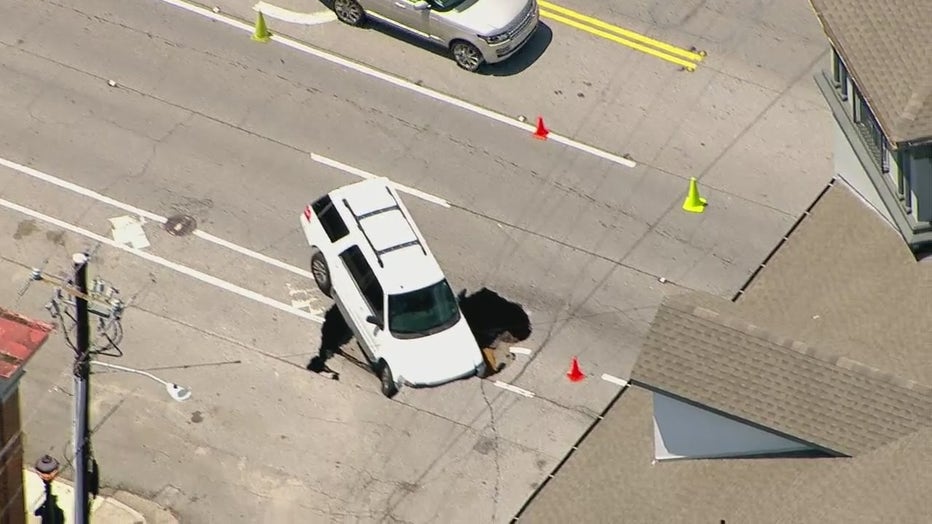 SKYFOX 5 is learning more about a sinkhole that opened up in Midtown, swallowing a white SUV Tuesday afternoon.
Guests may look forward to $5 beers and ten epic burgers for $16 during the week. But even more interesting is "Burger Monday" – a day when every burger will come with a beer and a side of fries.