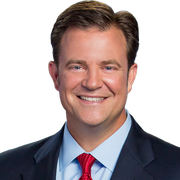 Wake up with Buck Lanford weekday mornings on Good Day Atlanta. Buck joined FOX 5 Atlanta in 1998 after working as the weekend sports anchor at WTOC in Savannah.
When he is not sitting behind the Good Day Atlanta anchor desk, he can be seen sitting down with some of Atlanta's top chefs for his popular weekly segment, Burgers With Buck. He has eaten and given the coveted BWB "thumbs up" salute to hundreds of local restaurants ... and counting. Got a favorite burger? Let him know about it.
Before tackling anchor duties on Good Day Atlanta, Buck was FOX 5's weekend sports anchor and lived FOX 5's sports slogan: "Get in the Game!" He has covered the Super Bowl, World Series, The Masters, PGA Championship, Daytona 500, Final Four, heavyweight fights and even the American Bowl in Tokyo. He continues to be active in FOX 5's High 5 Sports coverage.
Covering a story is just the beginning for Buck. He once reported live while driving a race car and served as the "runnercam" reporter for the Peachtree Road Race. Manning the "runnercam" involved delivering live reports and interviews while running the 10K with 50,000 other people.
While Buck has covered it all, he is most proud of his four-part series on the sport of wheelchair racing. His commitment to the story was so strong that Buck actually competed in the 5K wheelchair race.
Buck's unique style and willingness to get in the game has earned him five Emmy Awards, including Best Sportscaster. Also, the Leukemia & Lymphoma Society recognized him with their Michael Schoenbrun National Media award. Heavily involved in the community, Buck speaks at various civic events and emcees the annual Gwinnett County Hall of Fame awards ceremony.
Buck is happy to be living in his hometown of Atlanta. A graduate of South Gwinnett High School, he went on to earn degrees in journalism and business management from Georgia State University. In fact, he interned at FOX 5 Atlanta during college! Buck enjoys traveling, playing "bad golf," surfing not-so-big waves all over the world, and raising his three children.
The latest from Buck Lanford