Atlanta Braves legend Henry 'Hank' Aaron dead at 86
ATLANTA - Atlanta Braves legend and Baseball Hall of Famer Hank Aaron has died Friday at the age of 86, FOX 5 has confirmed. 
The home run king, who accomplished a massive amount of achievements both on and off the field, died peacefully in his sleep, the Braves said in a release. 
Henry Louis Aaron was born Feb. 5, 1934, in Mobile, Alabama to his parents Herbert and Estella Aaron. He headed a long list of outstanding players who came from that Gulf Coast city — Satchel Paige, Willie McCovey, Billy Williams and Ozzie Smith among them.
FULL COVERAGE: Remembering Atlanta Braves legend Hank Aaron
Aaron left Mobile to first play professionally for the Indianapolis Clowns of the Negro League. Aaron, who initially hit with a cross-handed style, was spotted by the Braves while trying out for the Clowns. The Giants also were interested — imagine him in same outfield with Mays — but Aaron signed with Milwaukee, spent two seasons in the minors and came up to the Braves in 1954 after Bobby Thomson was injured in spring training.
SEE MORE: Braves dedicate road to spring training park after Hank Aaron
It only took three months before the Major Leagues came calling. Aaron signed with the Braves organization and some of his favorite Braves memories happened while playing in Milwaukee. Like a walk-off home run in 1957 to win the National League pennant for the Braves. They'd win the World Series that year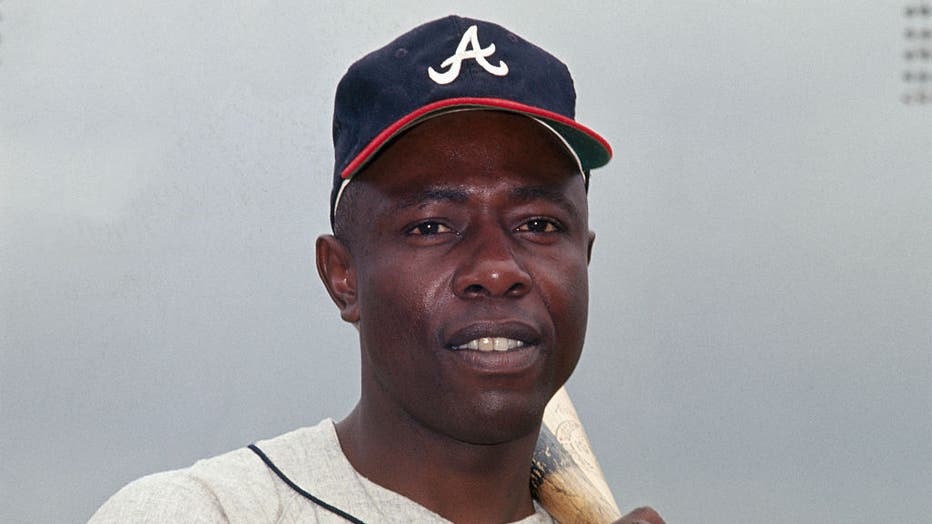 Hank Aaron poses as an Atlanta Braves outfielder during Spring Training. (Bettmann via Getty Images) (Getty Images)
Aaron was a full-fledged star by 1957 when he led the Braves to that World Series victory over Mantle's New York Yankees. The following year, Milwaukee made it back to the Series, only to blow a 3-1 lead and lose to the Yankees in seven games.
Though he played for nearly two more decades, Aaron never came so close to a championship again.
In 1959, the Braves finished in a tie with the Los Angeles Dodgers for first in the NL, only to lose a best-of-three playoff to the Dodgers for the pennant. Aaron's only other playoff appearance came in 1969, when the Braves were swept by New York's Amazin' Mets in the inaugural NL Championship Series.
His dearth of October appearances was baseball's loss. In 17 postseason games, Aaron batted .362 (25 of 69) with six homers and 16 RBIs.
But forever, there was that April night in 1974.
SEE MORE: Hank Aaron, civil rights leaders get vaccinated in Georgia
In 1966, Hammerin Hank along with the rest of the Braves headed south  It was in Atlanta-Fulton County Stadium on April 8, 1974, that Aaron, in front of a sellout crowd and in front of a national television audience hit the 715th home run of his career off the pitch of Al Downing of the Los Angeles Dodgers, breaking the mark of Babe Ruth.
Aaron whipped his 34-ounce Louisville Slugger through the strike zone with those powerful wrists. The ball rose higher and higher as the crowd of 53,775 rose to its feet with a collective roar.
Finally, home run No. 715 came down in the Braves bullpen. Despite a mighty leap that left him dangling atop the fence, Dodgers left fielder Bill Buckner never had a chance. Atlanta reliever Tom House made the catch at 9:07 p.m. and swiftly returned the ball to Aaron, who was celebrating at home plate with his teammates and parents.
SEE ALSO: Georgia, Alabama lower flags to honor Hank Aaron
As Aaron rounded second, two young fans sprinted in from the right field, startling No. 44 when they patted him on the back before racing back to the stands in left.
"I guess that will always be a part of me running around the bases," Aaron said. "I never had anyone run with me before. They were just kids having a good time."
Dodgers announcer Vin Scully was among those delivering the call on the historic shot.
"What a marvelous moment for baseball. What a marvelous moment for Atlanta and the state of Georgia. What a marvelous moment for the country and the world," Scully said, well aware of the cultural significance. "A Black man is getting a standing ovation in the Deep South for breaking a record of an all-time baseball idol."
PHOTOS: Hank Aaron exceled and inspired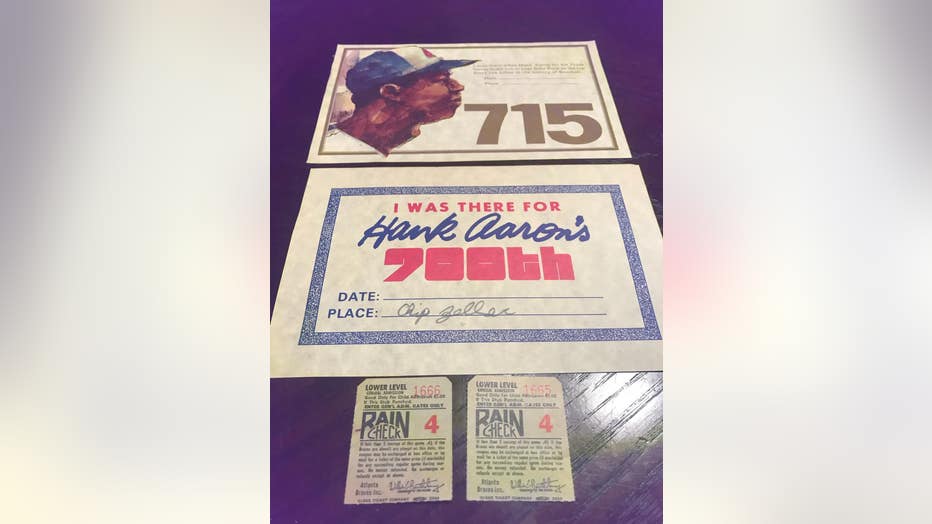 Former President Jimmy Carter described Aaron as "a personal hero."
"A breaker of records and racial barriers, his remarkable legacy will continue to inspire countless athletes and admirers for generations to come," said Carter, who often attended Braves games with his wife, Rosalynn.
George W. Bush, a one-time owner of the Texas Rangers, presented Aaron in 2002 with the Presidential Medal of Freedom — the nation's highest civilian honor.
"The former Home Run King wasn't handed his throne," Bush said in a statement Friday. "He grew up poor and faced racism as he worked to become one of the greatest baseball players of all time. Hank never let the hatred he faced consume him."
SEE ALSO: Tributes pour in honoring the legendary Hank Aaron
SEE ALSO: In memory of our home run king, Hank Aaron
Aaron spent 21 of his 23 seasons with the Braves, first in Milwaukee, then in Atlanta after the franchise moved to the Deep South in 1966.
While knocking the ball over the fence became his signature accomplishment, the Hammer was hardly a one-dimensional star. In fact, he never hit more than 47 homers in a season (though he did have eight years with at least 40 dingers).
A true five-tool player, Aaron won three Gold Gloves, and in 1963 stole 31 bases to go along with his 41 home runs that year. 
Aaron would leave Atlanta and return to Milwaukee for the final two seasons of his career. It was there that he hit his 755th and a final home run on July 20, 1976. He finished his career back in Milwaukee, traded to the Brewers after the 1974 season when he refused to take a front-office job that would have required a big pay cut.
After retiring as a player in 1976, Aaron made amends with the Braves for trading him away. He returned as a vice president and director of player development, a task he held for 13 years before settling into a largely ceremonial role as senior vice president and assistant to the president in 1989.
Sign up for FOX 5 email alerts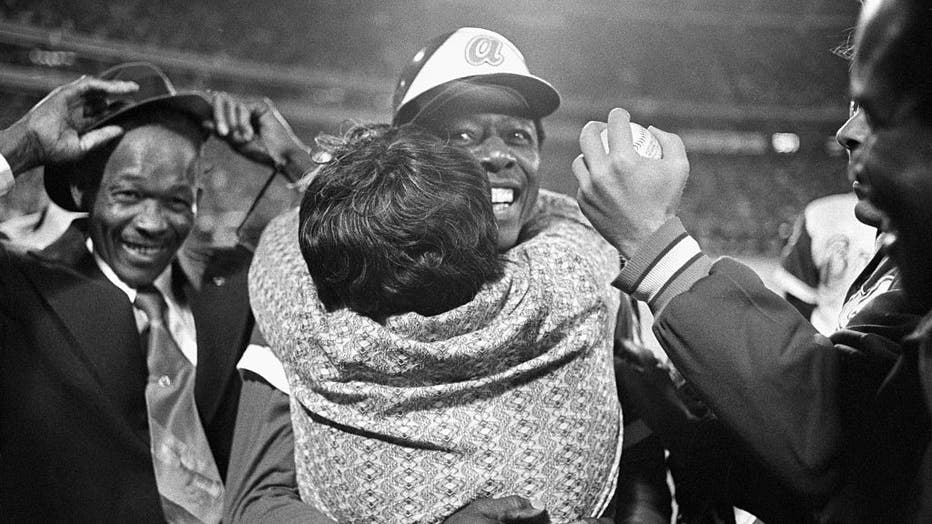 Hank Aaron's mother gives her favorite home hitter a hug after Hammerin' Hank made Babe Ruth an also-ran. (Getty Images)
In a statement, Braves Chairman Terry McGuirk called Aaron a "beacon for our organization first as a player, then with player development, and always with our community efforts."
"His incredible talent and resolve helped him achieve the highest accomplishments, yet he never lost his humble nature," McGuirk said. "Henry Louis Aaron wasn't just our icon, but one across Major League Baseball and around the world."
In 1982, Aaron got the call from the Hall of Fame and his parents and wife Billye were there to see him inducted into Cooperstown. 
HANK AARON - 715: A 13-year-old kid's favorite memory
Aaron's career total was surpassed by Barry Bonds in 2007 — though many continued to call the Hammer the true home run king because of allegations that Bonds used performance-enhancing drugs.
Bonds finished his career with 762. Aaron never begrudged someone — not even a tarnished star — eclipsing his mark.
His common refrain: More than three decades as the king was long enough. It was time for someone else to hold the crown.
SEE ALSO: Timeline of Hank Aaron's life and career
Besides, no one could take away his legacy.
"I just tried to play the game the way it was supposed to be played," Aaron said, summing it up better than anyone.
Bonds praised Aaron "for being a trailblazer through adversity and setting an example for all of us African American ballplayers who came after you."
SEE ALSO: Aaron lauded for grace amid racism during home run pursuit
Aaron's journey to Babe Ruth's mark was hardly pleasant. He was the target of extensive hate mail as he closed in on Ruth's cherished record of 714.
"If I was white, all America would be proud of me," Aaron said almost a year before he passed Ruth. "But I am Black."
Aaron was shadowed constantly by bodyguards and forced to distance himself from teammates. He kept all those hateful letters, a bitter reminder of the abuse he endured and never forgot.
"It's very offensive," he once said. "They call me 'n-----' and every other bad word you can come up with. You can't ignore them. They are here. But this is just the way things are for Black people in America. It's something you battle all of your life."
WATCH: FOX 5 Atlanta live news coverage
He ventured into business, buying fast food chicken franchises, doughnut shops and an automobile dealership. He also dipped into politics as campaign treasurer for his brother-in-law, David Scott, who was elected to the U.S. House.
When you think of Hank Aaron you think of class. 
Whether it was how he handled the racist hate mail he received during his home run chase or when Barry Bonds broke his record in 2007 amid rumors of Bonds using performance enhancers. 
Aaron was awarded the Presidential Citizen's Medal and the nation's highest civilian honor, the Presidential Medal of Freedom. 
SEE ALSO: Andrew Young fondly remembers his friend Hank Aaron
Aaron became a revered, almost mythical figure, even though he never pursued the spotlight. He was thrilled when the U.S. elected Obama as its first African American president in 2008. Former President Bill Clinton credited Aaron with helping carve a path of racial tolerance that made Obama's victory possible.
"You've given us far more than we'll ever give you," Clinton said at Aaron's 75th birthday celebration.
"He never missed an opportunity to lead," former President Barack Obama said, describing Aaron as an "unassuming man" who set a "towering example."
Atlanta Mayor Keisha Lance Bottoms said Aaron's death was a "loss for the entire city of Atlanta."
"While the world knew him as 'Hammering Hank Aaron' because of his incredible, record-setting baseball career, he was a cornerstone of our village, graciously and freely joining Mrs. Aaron in giving their presence and resources toward making our city a better place," Bottoms said. "As an adopted son of Atlanta, Mr. Aaron was part of the fabric that helped place Atlanta on the world stage."
SEE ALSO: A look at Hank Aaron's career and accomplishments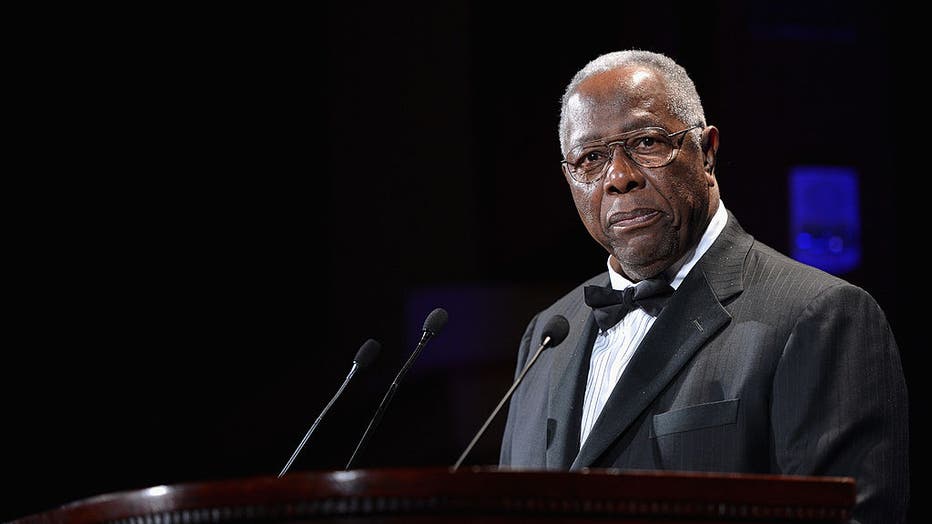 Hank Aaron speaks onstage at the The Jackie Robinson Foundation Annual Awards' Dinner (Photo by Stephen Lovekin/Getty Images for The Jackie Robinson Foundation)
Hank Aaron's survivors include his wife, Billye, and their daughter, Ceci. He also had four children from his first marriage to Barbara Lucas — Gail, Hank Jr., Lary and Dorinda.
Hank Aaron. An Atlanta icon and an American treasure. 
The Associated Press contributed to this report
Download the FOX 5 Atlanta app for breaking news and weather alerts.