Falcons secure No. 4 pick in 2021 NFL Draft
ATLANTA - The tentative order of the first round of the 2021 NFL Draft was announced today by the NFL, subject to the results of the playoffs.
The Falcons will pick No. 4 overall during the April 29-May 1 draft in Cleveland, Ohio.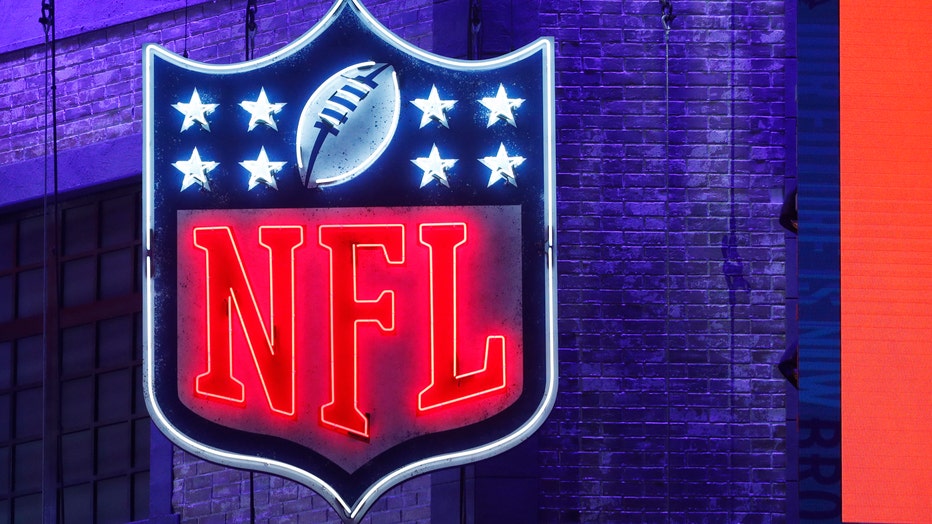 NASHVILLE, TN - APRIL 25: Detail view of the NFL shield logo in neon lights during the first round of the NFL Draft on April 25, 2019 in Nashville, Tennessee. (Photo by Joe Robbins/Getty Images)
The Jacksonville Jaguars own the No. 1 pick. Below is the rest of the first-round selection order, along with the team's 2020 record:
Jacksonville Jaguars (1-15)

New York Jets (2-14)

Houston Texan -- traded to Miami (4-12)

Atlanta Falcons (4-12)

Cincinnati Bengals (4-11)

Philadelphia Eagles (4-11)

Detroit Lions (5-11)

Carolina Panthers (5-11)

Denver Broncos (5-11)

Dallas Cowboys (6-10)

New York Giants (6-10)

San Francisco 49ers (6-10)

Los Angeles Chargers (7-9)

Minnesota Vikings (7-9)

New England Patriots (7-9)

Arizona Cardinals (8-8)

Las Vegas Raiders (8-8)

Miami Dolphins (10-6)

Washington Football Team* (7-9)

Chicago Bears* (8-8)

Los Angeles Rams -- traded to Jacksonville (10-6)*

Indianapolis Colts* (11-5)

Cleveland Browns* (11-5)

Tennessee Titans* (11-5)

Tampa Bay Buccaneers* (11-5)

Baltimore Ravens* (11-5)

Seattle Seahawks -- traded to New York Jets (12-4)*

New Orleans Saints* (12-4)

Pittsburgh Steelers* (12-4)

Green Bay Packers* (13-3)

Buffalo Bills* (13-3)

Kansas City Chiefs* (14-2)
* Subject to Playoffs​