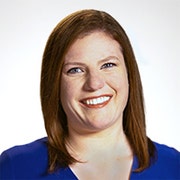 Kim Leoffler joined the FOX 5 News team in January 2023. She grew up in Peachtree City and is thrilled to be back home and have the opportunity to serve the Atlanta community!
Before joining FOX 5, Kim worked as a reporter for the AccuWeather Network. She traveled the country covering severe weather events and weather related stories. She's been on the ground for a number of major storms including the deadly tornadoes in Kentucky in 2021 as well as Hurricanes Ida and Ian. She feels grateful to have met so many remarkable people during these assignments working to help their neighbors start to move forward after unthinkable disasters.
Previously, Kim worked as a Reporter/MMJ for Spectrum Bay News 9 in Tampa, FL and KLTV in Tyler, TX.
She attended the Annenberg School of Journalism at the University of Southern California. While in school, she had the chance to learn from a number of talented journalists at NY1 in New York City and NBC News in Los Angeles and Atlanta.
When she's not reporting, you'll find Kim tearing up the dance floor in one of the many wonderful dance classes in Atlanta or trying out all the amazing food options in the city.
The latest from Kim Leoffler