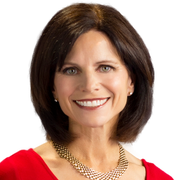 Denise Dillon's television career has taken her across the country and the globe. These days you can typically find her on FOX 5 News at 10 and FOX 5 News Edge at 11.
Reporting, editing, producing and anchoring: Denise has done nearly every job that television news has to offer. She broke into journalism in Denison, Texas, and also has worked in Indianapolis, Knoxville, and Columbus, Georgia.
Before coming to FOX 5, Denise worked for CNN, where she anchored for many of their networks including Headline News. While at CNN International, she interviewed world leaders nearly every day, giving her a unique perspective on global events.
Denise is an avid athlete and fitness buff. She's a highly competitive triathlete and has finished three Ironman events, including the World Championship in Hawaii. Believing it's the only way to travel, she and her husband have run marathons in seven countries and on three continents. Denise has been a personal trainer for more than 15 years and loves to pass on her knowledge of fitness. Denise grew up in a small town in western New York and went to Syracuse University. She and her husband have two daughters.
The latest from Denise Dillon
A Lithia Springs man is in jail charged with murder. Cobb County Police say he stabbed another man to death after finding him in his ex-girlfriend's apartment.
A Carrollton Police Officer is feeling very fortunate that he wasn't hurt when a tree came crashing down on to his patrol car.
U.S. Marshals arrested Jimmy Blackmon in Carroll County Monday morning. 
It was a tense situation in a Holly Springs neighborhood on Wednesday afternoon after a SWAT team surrounded a home in the Harmony Lakes subdivision.
Some good news for the man who was casting his ballot on Monday when someone stole his car with his precious dog inside. Craig Washington said Max was found wandering Centennial Olympic Park.
A group of adults with physical disabilities were given the opportunity to go mountain biking thanks to a nonprofit on a mission.
Cobb County Animal Shelter closed to public after illness sickens and kills animals.
Spirit of Sharing Inc is a nonprofit organization that has been helping people in Winder for 20 years. Now others are reaching out to them to help after investigators say someone deliberately set their building on fire Thursday morning.
A family hike turns tragic in the North Georgia Mountains when a woman falls to her death