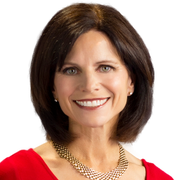 Denise Dillon's television career has taken her across the country and the globe. These days you can typically find her on FOX 5 News at 10 and FOX 5 News Edge at 11.
Reporting, editing, producing and anchoring: Denise has done nearly every job that television news has to offer. She broke into journalism in Denison, Texas, and also has worked in Indianapolis, Knoxville, and Columbus, Georgia.
Before coming to FOX 5, Denise worked for CNN, where she anchored for many of their networks including Headline News. While at CNN International, she interviewed world leaders nearly every day, giving her a unique perspective on global events.
Denise is an avid athlete and fitness buff. She's a highly competitive triathlete and has finished three Ironman events, including the World Championship in Hawaii. Believing it's the only way to travel, she and her husband have run marathons in seven countries and on three continents. Denise has been a personal trainer for more than 15 years and loves to pass on her knowledge of fitness. Denise grew up in a small town in western New York and went to Syracuse University. She and her husband have two daughters.
The latest from Denise Dillon
After a violent and deadly weekend in Georgia, Governor Brian Kemp has declared a State of Emergency. He authorized 1,000 Georgia National Guard Troops to protect state buildings.
When schools went virtual and businesses shut down, Corners Outreach, a nonprofit that tutors children, started focusing on the families and put the moms of those children to work making masks.
There have been complaints about young men who hang around intersections throughout Atlanta trying to sell bottles of water. One man says he encountered one young amn who was very aggressive.
An argument escalated into a shootout in Marietta Tuesday afternoon. Three people were shot, including a bystander who was hit when one man sprayed a business with bullets.
A Bartow County teacher and school board member are in hot water after social media posts.
A high school orchestra director was arrested after police say he intentionally rammed another vehicle that had a family with a young baby inside
In the midst of the COVID-19 pandemic, charities stepped in to help families. In Cobb County, food pantries have food, now they need volunteers to help distribute it
With so much unrest in cities across the country, residents are concerned about what's going on in their neighborhoods. Residents in the City of South Fulton had a chance to question their police chief about the department's use of force policy.
Hundreds gather for Juneteenth Day celebration in Marietta