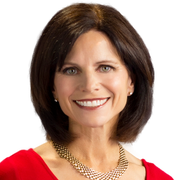 Denise Dillon's television career has taken her across the country and the globe. These days you can typically find her on FOX 5 News at 10 and FOX 5 News Edge at 11.
Reporting, editing, producing and anchoring: Denise has done nearly every job that television news has to offer. She broke into journalism in Denison, Texas, and also has worked in Indianapolis, Knoxville, and Columbus, Georgia.
Before coming to FOX 5, Denise worked for CNN, where she anchored for many of their networks including Headline News. While at CNN International, she interviewed world leaders nearly every day, giving her a unique perspective on global events.
Denise is an avid athlete and fitness buff. She's a highly competitive triathlete and has finished three Ironman events, including the World Championship in Hawaii. Believing it's the only way to travel, she and her husband have run marathons in seven countries and on three continents. Denise has been a personal trainer for more than 15 years and loves to pass on her knowledge of fitness. Denise grew up in a small town in western New York and went to Syracuse University. She and her husband have two daughters.
The latest from Denise Dillon