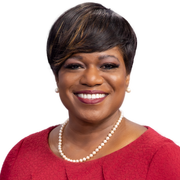 Deidra Dukes
Anchor/Reporter
When Deidra Dukes is not reporting the big story from the field, you can watch her anchor the weekend editions of FOX 5 News at 6 p.m., 10 p.m and 11 p.m. 
A member of the FOX 5 family since 2005, Deidra, a California native, earned her B.A. in Communications at Chico State (Go Wildcats!). She got her first big break in television as an anchor-reporter in Fresno and Redding. From the sunny West Coast, she headed east to do general assignment reporting at Pittsburgh's WPXI-TV. Three years later, Atlanta viewers first saw Deidra reporting for cross-town rival WSB-TV. She made the leap to FOX 5 News in 2005.
Every television station needs reporters who can handle any type of story. From criminal cases to City Hall to the just plain unpredictable, Deidra goes the extra mile for every assignment! She is most proud of her contributions to coverage of metro Atlanta's biggest stories, such as the Fulton County Courthouse shootings.
Since moving to Atlanta, Deidra has involved herself in a number of community programs, working closely with groups such as the Junior League of Atlanta, the Atlanta Association of Black Journalists, and as an adviser to the American Red Cross Minority Recruitment Program. Deidra and her son make their home in south Fulton County.
The latest from Deidra Dukes
Georgia law enforcement agencies have arrested dozens of suspects after the year-long Operation Caged Dove.
It was dark and rainy the night Christy Ramsey was struck by two different vehicles as she walked on Athens Street near Athens Highway. Gainesville Police Sgt. Kevin Holbrook said the first driver who hit the 49-year-old on Saturday stopped immediately.
Detectives say the Sugar Hill Bakery has been damaged multiple times.
A Newnan couple is scrambling to find new transportation for two of their children with medical disabilities. They required a specialized van for both to get around.
Some Gwinnett County firefighters are being called heroes after performing a dramatic rescue during Saturday night's severe weather. Video of the swift water rescue has been viewed thousands of times since the Gwinnett County Fire and Emergency Services posted it on the department's Facebook page.
U.S. Senator David Perdue went head-to-head with Democratic challenger Jon Ossoff in a televised debate Monday as recent polls show them running neck and neck in the race.
Athens artist Michael Davenport is sharing his life story with a national audience in hopes of inspiring others.
Friends and colleagues are mourning the death of actor Thomas Jefferson Byrd after he was found shot to death in southwest Atlanta Sunday morning.
The UGA fraternity chapter's operations have been suspended and its members are now under investigation by National Headquarters, The University of Georgia, and the school's interfraternity council.