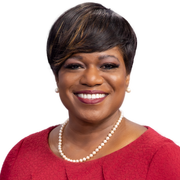 Deidra Dukes
Anchor/Reporter
When Deidra Dukes is not reporting the big story from the field, you can watch her anchor the weekend editions of FOX 5 News at 6 p.m., 10 p.m and 11 p.m. 
A member of the FOX 5 family since 2005, Deidra, a California native, earned her B.A. in Communications at Chico State (Go Wildcats!). She got her first big break in television as an anchor-reporter in Fresno and Redding. From the sunny West Coast, she headed east to do general assignment reporting at Pittsburgh's WPXI-TV. Three years later, Atlanta viewers first saw Deidra reporting for cross-town rival WSB-TV. She made the leap to FOX 5 News in 2005.
Every television station needs reporters who can handle any type of story. From criminal cases to City Hall to the just plain unpredictable, Deidra goes the extra mile for every assignment! She is most proud of her contributions to coverage of metro Atlanta's biggest stories, such as the Fulton County Courthouse shootings.
Since moving to Atlanta, Deidra has involved herself in a number of community programs, working closely with groups such as the Junior League of Atlanta, the Atlanta Association of Black Journalists, and as an adviser to the American Red Cross Minority Recruitment Program. Deidra and her son make their home in south Fulton County.
The latest from Deidra Dukes