YSL RICO: Defendant severed from trial over allegations of improper messages with deputy
FULTON COUNTY, Ga. - One of the defendants in Futon County's RICO trial against the YSL organization will have his case separated off from the rest after officials accused him and his lawyer took part in improper communications during jury selection.
Thursday, the state filed a motion for severance in their prosecution of Christian Eppinger.
The motion comes more than a week after Fulton County deputies seized the laptop of defense attorney Eric Johnson, who represents Eppinger. The arrest warrant alleged Eppinger used the laptop in court to communicate with other YSL members who are not in custody. 
Two days later, Fulton County sheriff's deputy Akeiba Stanley was arrested for allegedly using a phone to communicate with Eppinger both in and out of the courtroom. The sheriff's office says she also visited his cell and attempted to smuggle things into the jail for him.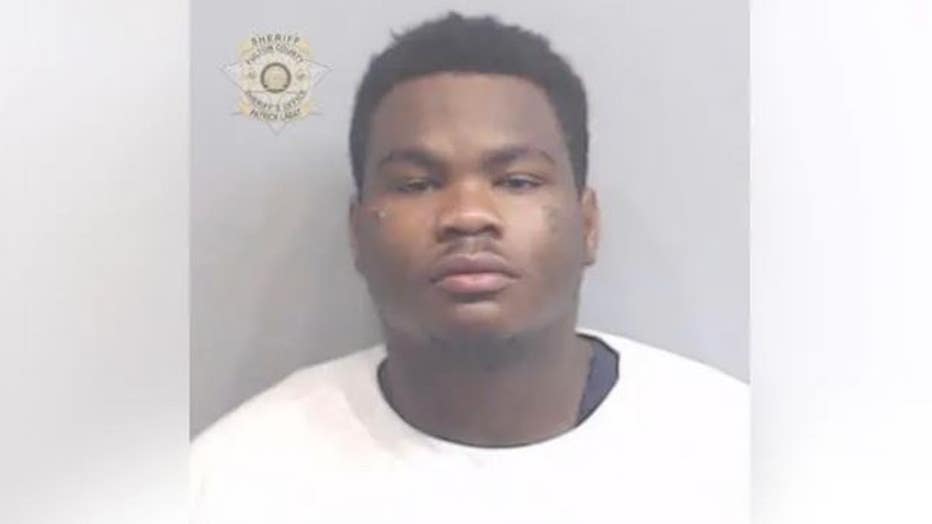 Speaking to FOX 5 after the motion, Johnson said the state "is attempting to allege that I am a co-conspirator with him in regards to improper communications."
"My client, Mr. Eppinger, has been alleged to have been having improper communications with a deputy - Ms. Stanley - on Instagram … while using my computer," he said.
Johnson said that Eppinger is most likely being tried on his own or with other defendants who had been severed from the case. Johnson says he believes he still will remain appointed to represent Eppinger.
"I believe him being tried by himself may make it more difficult for him to obtain a not-guilty verdict," he said, acknowledging that was just his "professional opinion.
In addition to the RICO charges, Eppinger was charged with shooting 11-year veteran of the Atlanta Police Department six time while he was being taken into custody.
Officer David Rodgers, who was part of the APD Gang Unit, was trying to serve an arrest warrant on Eppinger at the time. One of those bullets struck Rodgers in the back of the head. He continues to recover.
Eppinger would later have his sentence adjusted due to new charges against him.
OTHER INCIDENTS DURING THE YSL RICO CASE
In February of this year, Eppinger was also charged with stabbing a fellow inmate of the Fulton County Jail in February of this year.
Other incidents during the YSL RICO case
This is just the latest in a series of bizarre twists and turns without a single juror being seated since selection began in January.
In January, the state accused rapper Young Thug and co-defendant Kahlieff Adams of conducting a hand-to-hand drug deal in court.
According to officials, Adams, who is currently serving life without parole for murder, gave Williams a Percocet while the rapper was sitting next to his attorney in court.
A search of Adams revealed that he had Percocet, marijuana, tobacco, and other contraband wrapped in plastic and food seasonings to mask the smell, officials allege.
Deputies took Adams to Grady Memorial Hospital after they say he appeared to eat other items of contraband to try to remove the evidence.
Later that same month, the judge ordered a potential juror to write a 30-page essay after she skipped out on her jury summons, instead opting to go on a Caribbean vacation.
In April, defendant Rodalius Ryan was removed from the courtroom over suspicion that he smelled like marijuana. The defendant, who also goes by Lil Rod, did not want to be searched. In the video, a court official can be heard telling everyone to "just chill."
Fulton County Sheriff Pat Labat says that a search revealed that Ryan had two bags of marijuana sewn into a second pair of underwear. The defendant will face additional charges depending on the amount of illegal drugs, the sheriff said.
A defense attorney on the case also was arrested after a search of his belongings revealed prescription drugs in his bag.
According to the sheriff, the attorney attempted to throw a phone - hitting one of his captains.
Later that same month, attorney Justin Hill called "cap" on the judge during a hearing.
"I was just saying it's just not true," Hill told Fulton County Superior Court Chief Judge Ural Glanville. "It's cap, to be honest."
Jury selection continues Friday.