Woodstock Whataburger opens on Highway 92; more locations planned
The Woodstock Whataburger held their grand opening on Jan. 26, 2023. (FOX 5)
WOODSTOCK, Ga. - Woodstock Police are warning drivers along Georgia Highway 92 to pack their patience on Thursday as a popular Texas burger chain opens its drive through for the first time in the Cherokee County city.
This is Whataburger's second Georgia location along Ga. 92 near Indian Valley Drive next to the Chick-fil-A. But, before lining up for a limited-time Dr. Pepper Shake, the new Whataburger Breakfast Bowl, or a Triple Meat Whataburger, there are few things to know.
Police say they are expecting an extremely long line for its 11 a.m. opening. They warn drivers heading eastbound on Ga. 92 to use the left and middle lanes for through traffic. Those looking to get in line should stay in the far right lane. Officers also warn drivers to not block intersections or driveways for other businesses along the highway.
Two lanes will be open to expedite the process, officials say.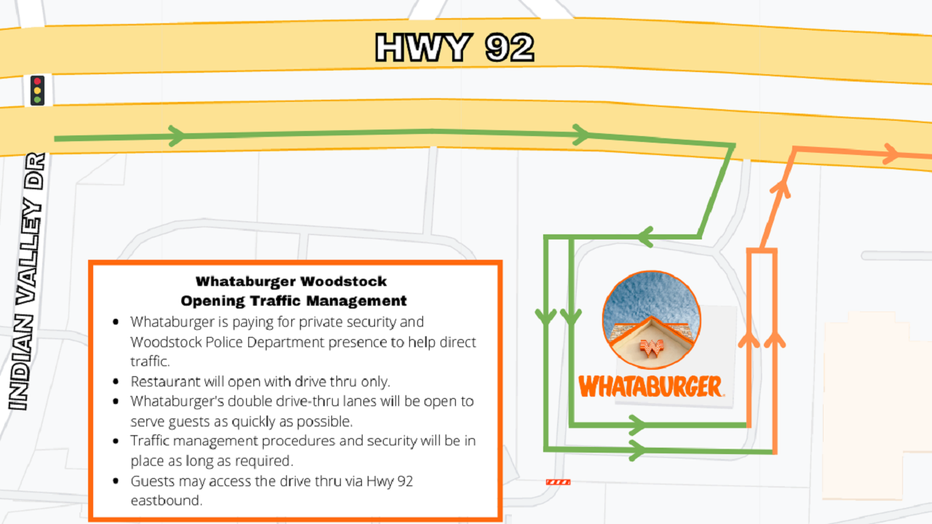 Police warn that if the backup gets too severe, officers will force traffic to move along.
Also, westbound traffic cannot directly turn into the fast-food establishment as there is a median. Those drivers will need to make a U-turn at Parkway 575 to get into the line.
For those who can take an alternative route for the next few days, police say that is the ideal plan.
As with the Whataburger in Kennesaw, only drive-thru service will be initially available due to the overwhelming popularity.
Eventually, dining room access, ordering via the Whataburger App and through Whataburger.com, curbside, and delivery options will be unveiled at both locations.
Kennesaw's location opened on Nov. 21 with traffic wrapped around the block. It still remains very steady, but with the opening of a second location, the wait times should decrease a bit.
Woodstock Police says their officers and private security will be on hand in case things get out of hand.
Last-minute preparations being done for the grand opening of the Whataburger Woodstock location on Jan. 25, 2023. (FOX 5)
Expect more Whataburger locations in Georgia
The chain say over the next year, six more restaurants will open in Gwinnett County, Athens-Clarke County, Dawson County, Forsyth County and Jackson County:
503 Lakeland Plaza, Cumming, Ga. 30040
SEQ Buford Dr and Exchange Dr, Buford, Ga. 30519
3321 Lexington Rd, Athens, Ga. 30605
3201 Atlanta Hwy, Athens, Ga. 30606
100 Pottery Rd, Commerce, Ga. 30529
15 Wallace Blvd, Dawnsonville, Ga. 30534
The chain says it currently has locations in 14 states, but fans everywhere.
What is Whataburger famous for?
More than 2 million people follow Whataburger on Facebook. The company's Facebook page for its Fancy Ketchup has more than 16,000 fans. 
If you don't believe the hype, perhaps recognitions carry some weight. Newsweek rated Whataburger as one of the "nation's favorite fast food chains in 2022," after ranking it No. 2 on its 2021 list of "America's Best Customer Service Companies."
The fast food chain promotes customizable burgers and quarterly limited-time menu offerings. For example, in January Whatabuger announced a limited edition spicier spicy ketchup, a new batch of one of the chain's signature sauces. 
Can you buy Whataburger Fancy Ketchup in Georgia?
Whataburger estimated in 2021 the fast-food chain serves about 17 million pounds of ketchup and 350k gallons of mustard per year.
In 2013, Whataburger started bottling Fancy Ketchup, Spicy Ketchup and Original Mustard for sale at H-E-B, a supermarket company in Texas, and online. Brookshire's in Texas, Louisiana and Arkansas sells condiments. 
Walmart and Kroger sells bottles too. Whataburger set up an online map to help consumers find the popular condiments.
History of Whataburger
The first Whataburger was founded in 1950 by Harmon Dobson in Corpus Christi, Texas. 
Nine years later, Dobson opened the 21st Whataburger location in Pensacola, Florida, the first outside of Texas. 
In 2021, there were more than 840 restaurants in Arizona, Arkansas, Alabama, Florida, Georgia, Louisiana, Mississippi, New Mexico, Oklahoma and, of course, Texas. The company also recently announced locations coming to Colorado and Missouri.