Giuliani may surrender at Fulton County Jail Wednesday, multiple outlets report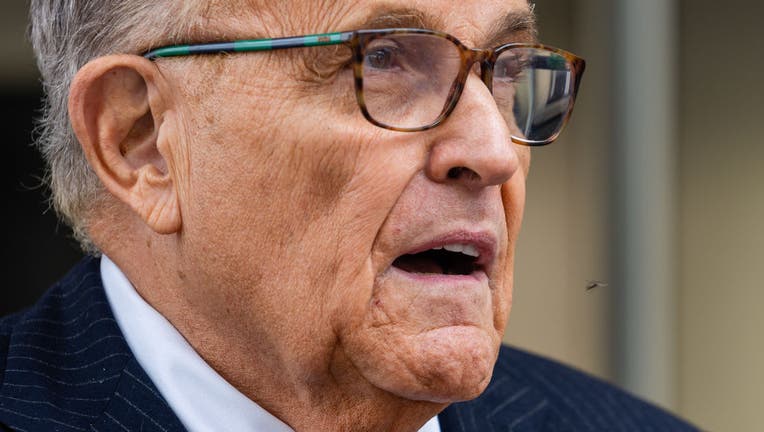 article
FULTON COUNTY, Ga. - Rudy Giuliani, former personal attorney to former President Donald J. Trump, may turn himself in at the Fulton County Jail as early as Wednesday, according to multiple news outlets.
FOX 5 has not yet confirmed that with Giuliani or his lawyers.
Giuliani is one of 19 co-defendants charged with attempting to overturn the results of the 2020 presidential election in the state of Georgia. Fulton County District Attorney announced the indictment last week. He faces 13 counts.
GIULIANI SAYS HE 'DOES NOT CONTEST' HE MADE FALSE STATEMENTS ABOUT GEORGIA ELECTION WORKERS
Last month, Giuliani reportedly conceded that he made false statements about two Georgia election workers, according to multiple sources.
The concession was made in his latest court filing on Tuesday. But, Giuliani says he does not accept that his statements caused damage to the election workers and that his latest admission should not affect his argument that his statements about the 2020 elections are "constitutionally protected" by the First Amendment.
RUDY GIULIANI: HOW 'AMERICA'S MAYOR' TIED HIS FATE TO DONALD TRUMP, GOT INDICTED
After finding out he was indicted, Giuliani issued another statement:
"This is an affront to American Democracy and does permanent, irrevocable harm to our justice system.
It's just the next chapter in a book of lies with the purpose of framing President Donald Trump and anyone willing to take on the ruling regime.
They lied about Russian collusion, they lied about Joe Biden's foreign bribery scheme, and they lied about Hunter Biden's laptop hard drive proving 30 years of criminal activity.
The real criminals here are the people who have brought this case forward both directly and indirectly."
- Rudolph W. Giuliani
One of the charges Giuliani faces is ironically one he fought hard to use back when he was a lawyer in New York.
Giuliani arguably made his name using the Racketeer Influenced and Corrupt Organization statute (RICO) to prosecute organized crime and was one of the most effective prosecutors in American history in taking down the Mafia and cleaning up New York City. He is also known for taking down Wall Street executives like Ivan Boesky and Michael Milken.
List of charges faced by Giuliani:
1 - Violation of the Georgia RICO (Racketeer Influenced and Corrupt Organizations) Act
2 - Solicitation of Violation of Oath by public officer
3 - False statements and writings
6 - Solicitation of violation of oath by public officer
7 - False statements and writings
9 - Conspiracy to commit impersonating a public officer
11 - Conspiracy to commit forgery in the first degree
13 - Conspiracy to commit false statements and writing
15 - Conspiracy to commit filing false documents
17 - Conspiracy to commit forgery in the first degree
19 - Conspiracy to commit false statements and writings
23 - Solicitation of violation of oath by public officer
24 -False statements and writings