Riverdale fender-bender leads to drug dealing arrest
FAYETTE COUNTY, Ga. - Fayette County deputies say a traffic accident led to a much bigger problem for a Riverdale man who they locked up on drug dealing charges.
It was a bad day all around for Antwon Adkins of Riverdale, according to the sheriff. It reportedly started when he caused an accident by making an illegal U-turn on State Road 85 and another driver smashed into the rear of his car.
Sheriff Babb reviewed the footage before asking the suspect about the disposed bag. (Credit: Fayette County Sheriff's Office)
Before a deputy had arrived to investigate, they say the other driver involved recorded a curious video of Adkins taking a black bag from his trunk and carrying it into some nearby woods.
The deputies gave Adkins an opportunity to explain.
"The civil infraction, all this traffic stuff, this is ending. Alright?" Fayette County Sheriff Barry Babb said. "Now, I'm switching hats, and I'm going to investigate something that may be criminal. Maybe it's not. You carried a black bag into the woods – what was in the bag?"
Adkins appeared to deny carrying anything out there.
K-9 Axe found Adkins' black bag in the woods. (Credit; Fayette County Sheriff's Office)
When a deputy along with K-9 Axe started combing the woods, and they say the dog found Adkins' black bag. Deputies say it contained fentanyl, oxycodone and marijuana as well as a .40 caliber handgun and weight scales.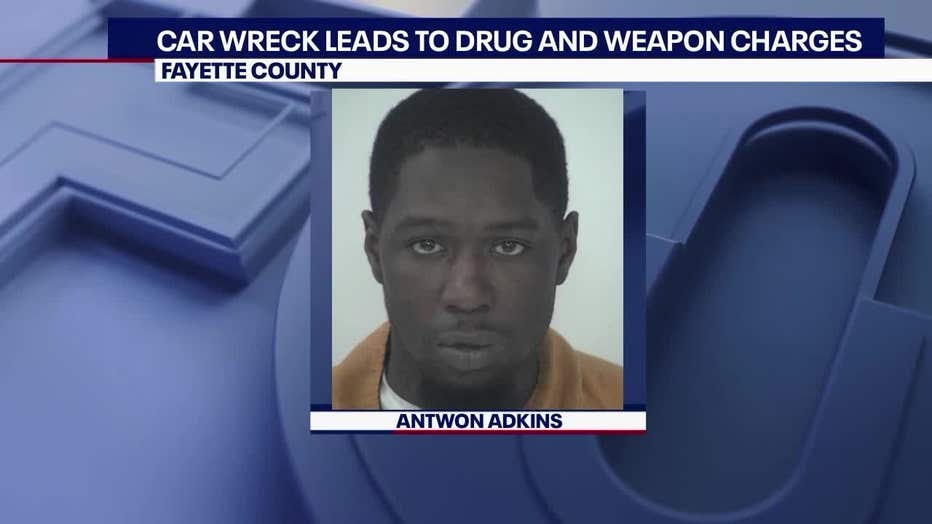 Antwon Adkins (FOX 5 Atlanta)
Adkins was charged with drug possession, possession with intent to distribute, possession of a firearm during a crime and tampering with evidence.
He was also found at fault for causing the accident that led to his troubles.