Police say U-Haul truck drove through Atlanta businesses during robbery
ATLANTA - Authorities say a U-Haul drove through a Midtown smoothie and juice shop in order to rob the clothing store next door. 
The Atlanta Police Department is investigating a smash-and-grab robbery at 969 Marietta Street on Wednesday.
Police said at 5:25 a.m., officers responded to a robbery and located a U-Haul truck inside an adjoined smoothie shop, Arden's Garden, and a high-end clothing store. 
"This is the third time they've come through our store to get to the store next door. It's very devastating to have to deal with. It's hurtful to the employees," said Victor Gaffney, the Chief Operating Officer of Arden's Garden.
Investigators said a witness saw four men leave the truck and flee in a white, four-door Nissan Altima.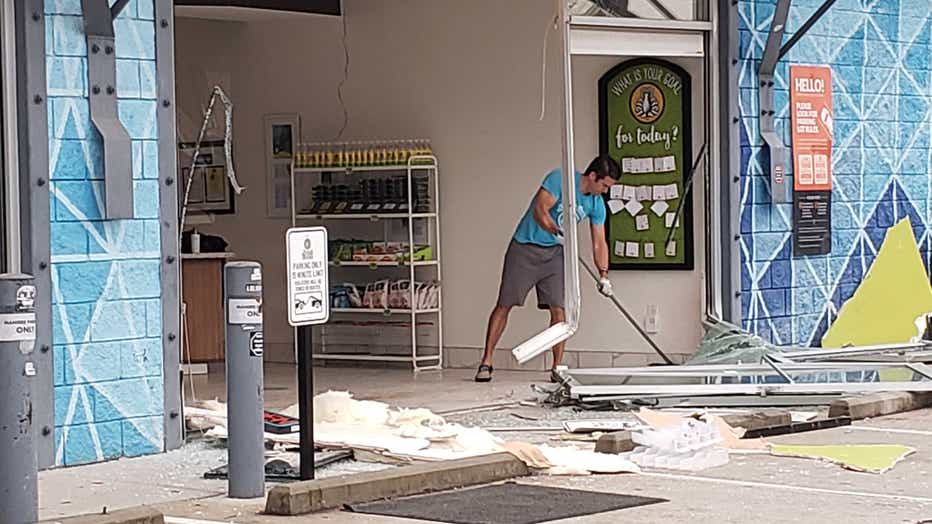 Gaffney said employees have grown weary of clothing bandits targeting the popular juice and smoothie shop near Midtown Atlanta just to get their hands on merchandise from the clothing shop.

"It's very annoying, very hurtful. We're a small business trying to succeed and provide good, healthy products to the community and we have to spend our time and money now to repair a store like this," said Gaffney, as employees hustled to clean up broken glass from the shop
The owner of the clothing store said at least $30,000 in clothes were stolen.
"I don't know what else you can do, we've got cameras. We've got security. We've got video footage of everything. But we're also very fortunate that we have a loyal customer base and they will come in and want to support us through this," Gaffney added.
Police are continuing to investigate and said the details are preliminary. 
TOP STORIES: 
_____
Sign up for FOX 5 email alerts
Download the FOX 5 Atlanta app for breaking news and weather alerts.