Owner of Gainesville tobacco store arrested for selling cannabinoid vaping liquid, Viagra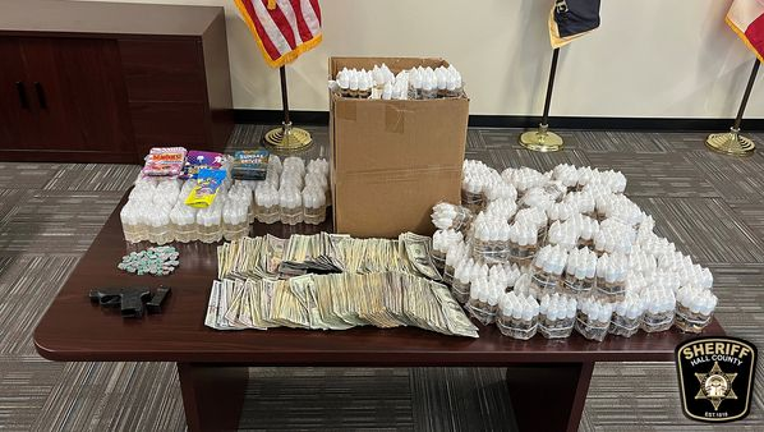 article
HALL COUNTY, Ga. - Members of the Hall County Sheriff's Office (HCSO) Special Investigations Unit (SIU) recently arrested Hirenkumar Patel, a 43-year-old Buford resident and co-owner of Discount Tobacco Depot in Gainesville. Patel was taken into custody on Sept. 11 following the execution of a search warrant at his store located at 350 Shallowford Road in a strip mall.
The investigation, initiated by SIU, commenced on Sept. 8, prompted by a complaint regarding alleged illegal drug sales at the Discount Tobacco Depot. During the operation on Monday, SIU investigators made a substantial haul, seizing approximately 2,100 vials of suspected synthetic cannabinoid vaping liquid. These vials were deceptively packaged as "Black Diamond" hemp oil and priced for sale at a staggering $80 to $120 per vial.
In addition to the synthetic cannabinoid products, investigators also discovered a quantity of the prescription drug sildenafil, commonly recognized by the brand name Viagra. Patel had possession of around 60 tablets, individually cut from blister packs, suggesting intent for individual sale. The estimated combined value of these seized drugs is approximately $225,000 based on the store's pricing.
During the search operation, investigators also uncovered $12,000 in cash and a handgun, raising further concerns about the activities taking place within the store.
Arrest warrants were subsequently issued, charging Patel with possession of a Schedule 1 drug with intent to distribute, a felony, as well as possession of a Schedule 1 drug, also a felony. Patel faces an additional charge of possession of dangerous drugs, classified as a misdemeanor. It's worth noting that no other individuals are currently facing charges in connection with this case.
Following his arrest, Patel was booked into the Hall County Jail. He was released on $3,900 bond on Sept. 13.