Questions arise over Atlanta Police deployment during Midtown shooting
ATLANTA - Nearly one week ago, Midtown Atlanta was under siege with the fear of an active shooter on the loose. Images of multiple law enforcement agencies racing through the normally busy roadways are still fresh in the minds of Atlantans.
The shooting at Northside Hospital was one of those "all hands of deck" situations, but questions arose this week by the Atlanta City Council Public Safety Committee if some of those officers did not receive that call.
An Atlanta police commander explained to city council members a "help call" was issued for that high-priority incident. Chief P. Spann says the Midtown shooter incident was given the highest priority from dispatch.
Council member Antonio Lewis, one of several, delivered a hearty thank you to a deputy chief representing the Atlanta Police Department. However, Lewis has questions about the deployment.
"Did any of the officers assigned to the training center site come in to assist?" Lewis questioned.
MAYOR'S OFFICE: COUNCIL MEMBER 'SEVERELY MISTAKEN' ABOUT PLAN TO EXPUNGE CRIMINAL RECORDS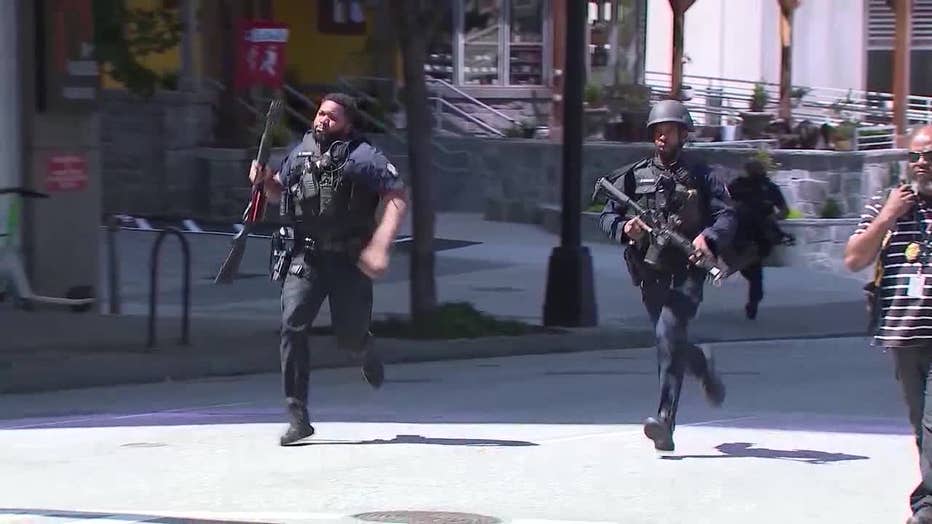 Law enforcement officers from multiple agencies in Atlanta respond to a report of an active shooter in Midtown on May 3, 2023. (FOX 5)
Lewis was referring to the several dozen on-duty police officers who have, for months, been assigned to protect the controversial Atlanta Public Safety Training Center construction site in DeKalb County.
The deputy chief says she would have to check, but there is still a safety concern at the construction site.
FOX 5 has been told those officers dedicated to guard the DeKalb County site did not answer that help call.
Lewis has been adamant generally in opposition to on-duty cops playing the role of security guards. He offered that there is a difference in property versus people when it comes to this type of situation, and he had a problem with those officers not responding.
"You are talking about property over there," Lewis said. "We are talking about an active shooter situation with lives on the line." 
APD told FOX 5 it would be difficult to answer the councilman's question because the 911 center was so busy on that afternoon, information on who responded and who did not cannot be tracked easily.