Mercedes-Benz Stadium to become Southeast's largest COVID-19 vaccination site
ATLANTA - The Southeast's largest COVID-19 vaccination site will soon be located right in downtown Atlanta.
Starting Wednesday, Mercedes-Benz Stadium will be able to distribute 42,000 vaccines a week - or 6,000 a day.
The project, which is a collaboration between FEMA, the Georgia Department of Public Health, Fulton County, the Office of Emergency Management and Homeland Security, and the stadium.
On Tuesday, Governor Brian Kemp along with other federal and state leaders toured the site.
"I would argue that no event that has taken place here at Mercedes-Benz will be as important as what's about to take place here over the next several weeks," said Steve Cannon, CEO of AMB Sports and Entertainment.
WATCH: FOX 5 Atlanta live news coverage
The White House says that the site will be run by mostly federal staff with help from the state and local governments and will run seven days a week for at least eight weeks.
"One of the beautiful things about this location is it's not drive up, it's a walk-up facility. We want to go ahead and remove barriers," explained Matthew Kallmyer, Director at Atlanta Fulton County Emergency Management Agency.
SEE MORE: More COVID-19 vaccination appointments become available for Georgians
The expansion comes days after hundreds of Fulton County educators got their first dose of the Pfizer vaccine at the stadium.
"I'm really excited now that I've actually gotten the first one," teacher Samantha Lowe said. "It's neat that we're on our way to being normal again."
Officials told FOX 5 that they have thousands of open appointments for those waiting to get their shots.
"These COVID vaccines are extraordinarily effective. They are safe. They are our way out of this pandemic," said Dr. Lynn Paxton, Fulton County Board of Health Director.
Officials say they chose the site due to Fulton County's place in the Center for Disease Control and Prevention's Social Vulnerability Index, which takes into consideration socioeconomic status, minority status, transportations, languages, and more. 
MORE: With travel surging, the CDC is urging Americans to stay close to home for spring break
The stadium will be split up into six pods. Each pod has the capability of vaccinating 1,000 people a day for a total of 6,000 people every day. 220 active-duty military members from Fort Stewart are also on-site helping operations.
"We're going to bring in a lot of medical professionals, primarily medics to actually administer the vaccine and make sure the operation goes smoothly and vaccinate as many people as possible," said Lt. Col. Steve Chadwick.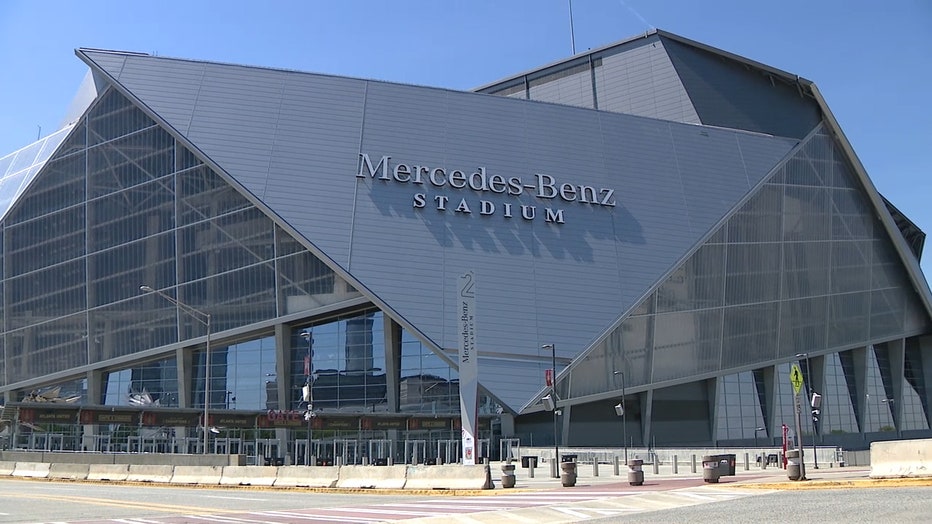 If you are eligible to receive the vaccine, you can sign up through the Georgia Department of Public Health or by calling the Health Department Vaccine Scheduling Resource Line at 888-457-0186 weekdays from 8 a.m. to 8 p.m. or weekends from 8 a.m. to 5 p.m.
"Two nights a week we'll be going until 10 p.m. at night to help folks as well as individuals that have childcare needs," said Kallmyer.
There will also be free parking on-site to access the Mercedes-Benz Stadium at the silver, orange, and red decks.
All vaccinations are by appointment only. To schedule an appointment at Mercedes-Benz stadium, click here https://gta-vras.powerappsportals.us/
Sign up for FOX 5 email alerts
Download the FOX 5 Atlanta app for breaking news and weather alerts.