How to help tornado victims in Georgia
During a visit to Newnan on Saturday, Georgia Gov. Brian Kemp remarked on the encouraging number of volunteers he saw on his way to Newnan High School providing supplies to displaced people.
He mostly named essentials: toiletries and water bottles. Officials recommended those wanting to help donate to trusted, well-known organizations to avoid scams. 
For people looking to get involved, there are a few ways to help the cleanup effort in Coweta County and communities across Georgia:
Coweta County
The county has set up a collection center at the county fairgrounds. 
Coweta County established a link for monetary donations at www.cowetafoundation.org.
The Coweta Community Foundation is a publicly supported 501(c)3 organization.
Coweta County officials posted information for anyone in the area in need of supplies. It's suspending public volunteering until roads clear.
On Monday, the county said it would use school buses to transport residents in need of supplies to the Coweta County Fairgrounds. 
Officials said the fairground storage provides non-perishable food and basic supplies. Residents can also take showers, do laundry and get counseling.
Foundation Christian Church
Foundation Christian Church announced it would begin accepting donations on Monday at a drop-off location at 30 Greenville St. in Newnan. 
The list of needs included mostly non-perishable foods, bottled drinks, hygene products and cleaning supplies — including trash bags. 
Peachtree City Church of Christ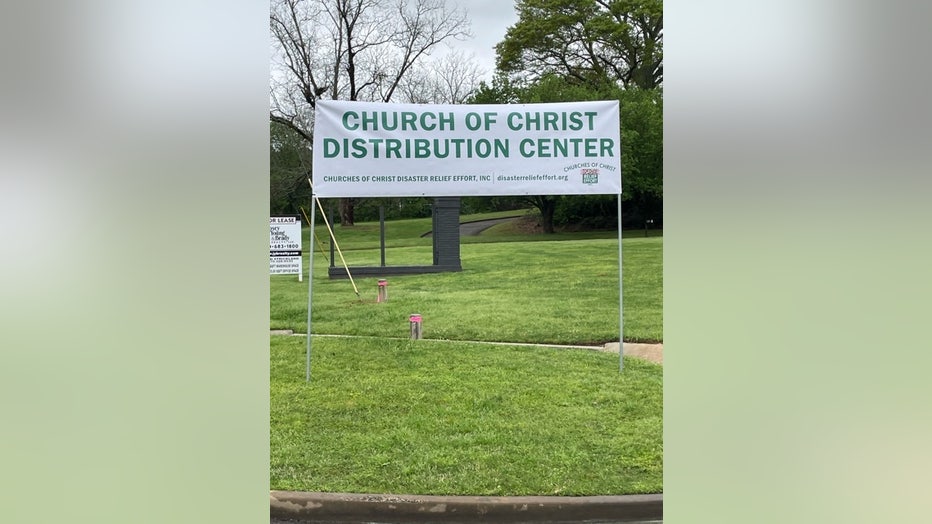 (Photo: Provided by Andy Garner, PTC Church of Christ)
The church, on Monday, said it was distributing water, food, cleaning supplies, wheelbarrows, shovels, rakes and baby supplies to Newnan residents.
The site was located at 390 Jackson Street.
The Salvation Army 
The Rome, Ga., chapter of the Salvation Army has supported first responders with lunches and dropped off cleanup kits for the Polk County Sheriff's Office on Saturday. 
You can make donations on the organization's website.
There is also an application for interested volunteers.
Georgia Red Cross
Georgia Red Cross, the local sub-organization supporting American Red Cross, estimbated 70 or more families in Georgia may need help in the days ahead.
Donations to disaster relief can be made online at the American Red Cross website.
Anyone experiencing significant home and/or health-related impact from the storms is encouraged to call the Red Cross at 1-(855) 891-7325 to report it. Calls will be directed to volunteers who can assist them locally.
City of Newnan
The city has currently paused donations and shipped a trailer full to the Coweta County Fairgrounds site on Saturday.
The city of Newnan earlier set up two donation sites to drop off items. 
The city provided an extensive list of needed items on Facebook.
The list ranged from toiletries to baby supplies to work and cleanup equiptment. 
Newnan Police Department
The city police department was accepting drop-off donations this week, but has since said it's collection center is full.
The police department could begin re-stocking with donations if supplies run low.
Senoia Police Department
The Senioa Police Department halted donatiosn after 5 p.m. on Saturday.
The department posted a video of a trailer that transported supplies to the Newnan Police Department.
The police department referred donors to the Coweta County donation site.
Georgia cities and counties
State officials on Saturday recommended people contact the cities and counties affected by the disaster for information on where to bring supplies or organizations seeking volunteers.
A list of counties affected and their offices are below:
If you know any organizations helping disaster victims that are not included in this article, email them to newstipsatlanta@fox.com.
WATCH: FOX 5 Atlanta live news coverage
_____
Sign up for FOX 5 email alerts
Download the FOX 5 Atlanta app for breaking news and weather alerts.