Georgia Waffle House employee tests positive for coronavirus
CANTON, Ga. - A Waffle House in Cherokee County has been closed after officials say an employee tested positive for the coronavirus.
A Waffle House spokesperson told FOX 5 that the associate had worked at the restaurant located at 1849 Marietta Highway in Canton on March 1.
Officials say the employee has not worked in any restaurant since March 1 and only worked that one day during the past two weeks.
Frequent customers said they are worried this virus will spread quickly through the community because the employee may have had contact with dozens of people. "I haven't panicked about this so far, but when I heard about the Waffle House here just a few miles from my home, I got a little concerned," said Marilyn Lemons who lives nearby.
RELATED: Coronavirus cases in Georgia: 6 confirmed, 11 presumptive positive
The employee has since been released from the hospital under quarantine.
As a precaution, the Waffle House has been closed for sanitization. Employees who worked with the affected associate have also been told to self-quarantine at their homes through Saturday.
"To our knowledge, none of those Associates have shown any sign of illness," the Waffle House spokesperson said.
MORE: Cobb County library closed over coronavirus patient exposure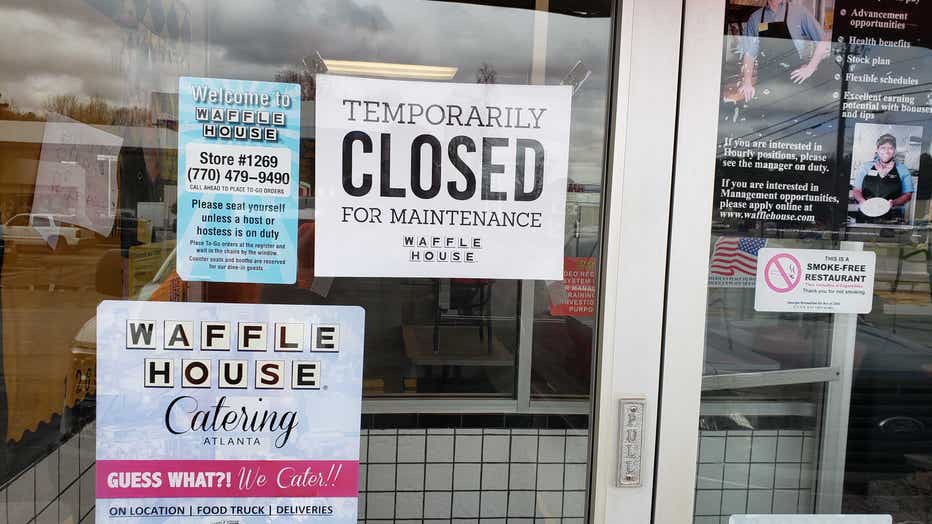 Waffle House spokeswoman Njeri Boss said the restaurant chain is removing condiment caddies from tables because of COVID-19. Instead, customers can request condiments, and they will be brought to the table.
SEE ALSO: Health officials: 5 more presumptive positive cases for coronavirus Tuesday
Additionally, the restaurant is implementing additional sanitizing procedures to make sure employees' hands and restaurant equipment is not infected.
One individual in Cherokee County was considered a presumptive positive case of COVID-19, Georgia health officials said on Monday. The source of their infection is unknown.
Currently, health officials say there are six confirmed cases of coronavirus in the state. There are 11 individuals who are presumptive positive cases, the majority being from Cobb County.  
SEE ALSO: Fulton County teacher who tested positive for coronavirus had contact with students, officials say
Officials are asking all Georgian to follow basic prevention measures to stop the spread of the virus including:
Wash your hands often with soap and warm water for at least twenty seconds.
If soap and water are not available, use an alcohol-based hand sanitizer.
Avoid touching your eyes, nose, and mouth with unwashed hands.
Avoid close contact with people who are sick.
Stay home when you are sick.
Cover your cough or sneeze with a tissue, then throw the tissue in the trash.
Clean and disinfect frequently touched objects and surfaces.