Georgia Secretary of State testifies in federal Trump election probe
ATLANTA - Georgia Secretary of State Brad Raffensperger's office has confirmed that he spoke with investigators from Jack Smith's office on Wednesday about former President Donald Trump and his allies' attempts to overturn the 2020 election loss.
His office issued the following statement:
"Georgia is a national leader in election security, integrity, and access. Failed candidates and their enablers have peddled false narratives about our elections for personal gain for a long time and the voters of Georgia aren't buying it."
ORIGINAL STORY
Georgia Secretary of State Brad Raffensperger says he has been asked to testify Wednesday in special counsel Jack Smith's investigation into former President Donald Trump and his allies' attempts to overturn his 2020 election loss.
Raffensperger previously received a subpoena from Smith's team for communications "to, from or involving" Trump, his campaign, lawyers and aides. Similar subpoenas were sent to officials in other states and counties that Trump and his allies targeted as they tried to overturn the election. 
Allegations of Trump's interference in the 2020 election
Trump pressured Georgia's Republican secretary of state to "find" enough votes to overturn Joe Biden's win in the state's 2020 presidential election, repeatedly citing disproven claims of fraud and raising the prospect of "criminal offense" if officials did not change the vote count, according to a recording of the conversation.
Prosecutors believe the phone call with Secretary of State Brad Raffensperger on Jan. 2, 2021, was part of an unprecedented effort by a sitting president to pressure a state official to reverse the outcome of a free and fair election that he lost. The president, who has refused to accept his loss to Democratic president-elect Biden, repeatedly argued that Raffensperger could change the certified results.
"All I want to do is this: I just want to find 11,780 votes, which is one more than we have," Trump said. "Because we won the state."
Georgia counted its votes three times before certifying Biden's win by an 11,779 margin, Raffensperger noted: "President Trump, we've had several lawsuits, and we've had to respond in court to the lawsuits and the contentions. We don't agree that you have won."
At another point in the conversation, Trump appeared to threaten Raffensperger and Ryan Germany, the secretary of state's legal counsel, by suggesting both could be criminally liable if they failed to find that thousands of ballots in Fulton County had been illegally destroyed. There is no evidence to support Trump's claim.
"That's a criminal offense," Trump says. "And you can't let that happen."
On the record: What Raffensperger has said about the Trump call
In a book released later that year, Raffensperger calls the phone call "threatening." In the book, "Integrity Counts," Raffensperger depicts a man who defied pressure from Trump to alter election results, but also reveals a public official settling political scores as he seeks to survive a hostile Republican primary environment and win reelection in 2022.
"I felt then — and still believe today — that this was a threat," Raffensperger writes. "Others obviously thought so, too, because some of Trump's more radical followers have responded as if it was their duty to carry out this threat."
In the phone call, the oftentimes rambling Trump suggested Raffensperger, the top elections official in Georgia, could help "find" the votes necessary to reverse the election.
"When you eat your young, and you go after people in your own party who are loyal, traditional Republicans, you are destroying our future as a party," Raffensperger writes.
He blames a defeat that wounded Trump's ego, writing, "You believe in your heart that you did a good job, and if you never lack self-doubt, it must be doubly debilitating — and confusing. Instead of accepting defeat, you look for scapegoats, shift blame, or seek alternative theories."
Raffensperger's book may only hold a fraction of what his testimony may explore. 
"I knew we had the facts, and I knew over time the truth would be revealed and believed," he writes.
Raffensperger also takes shots at U.S. Rep. Jody Hice, a Trump-endorsed opponent in Georgia's 2022 Republican primary for secretary of state, saying Hice showed little interest in election administration before 2020.
"Ironically, Hice accepted the results of his own race, which he won, but objected to the results of the presidential race," Raffensperger writes. "Same voters. Same ballots. One, presumably, was honest. The other was 'faulty and fraudulent.' He's a double-minded person. How can you hold two opposing views at one time?"
TRUMP CALLED GEORGIA SECRETARY OF STATE INVESTIGATOR, URGED HER TO FIND FRAUDULENT VOTES
Raffensperger also insists that election fraud is not systemic, writing, "Our elections are both fairer and more secure than they have been at any point in our history."
But he does think voters need to choose officials with more integrity, as conveyed by the book's title.
"If we don't have people of the highest character run for elective office, we will continue to fight disinformation, misinformation and outright deception, and the end result will be an erosion of public trust," Raffensperger writes. "We need the people who hold public office to continually strive for the noble causes in life with noble behavior."
Indictments possible for Trump, others this summer by Fulton County DA
Raffensperger is expected to testify in Atlanta on Wednesday in the federal probe.
Simultaneously, Fulton County District Attorney Fani Willis is expected to issue indictments as early as July in the 2020 election interference probe.
District Attorney Fani Willis sent a letter Thursday to Fulton County Superior Court Chief Judge Ural Glanville indicating that she plans to have much of her staff work remotely for most days during the first three weeks of August, and asking that judges not schedule trials and in-person hearings during part of that time. Copied in on the letter are 20 other county officials, including Sheriff Pat Labat, Fulton City Police Chief W. Wade Yates, the court clerk, and top leaders.
Willis last month wrote local law enforcement leaders advising them that she intended to announce charging decisions in the case between July 11 and Sept. 1. Thursday's letter seems to narrow that window. In the earlier letters, she advised law enforcement to prepare for "heightened security," noting that the announcement of charges "may provoke a significant public reaction."
For more than two years, Willis and her team have been scrutinizing actions Trump and others took as they tried to overturn his narrow loss in Georgia to Democrat Joe Biden.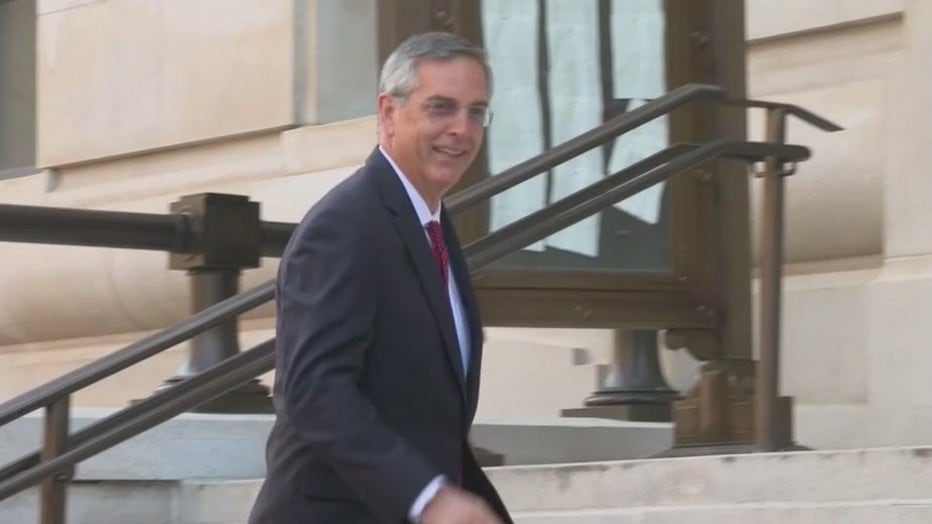 Georgia Secretary of State Brad Raffensperger walks into the Fulton County Courthouse to testify before the special grand jury in the Trump election probe on June 2, 2022. (FOX 5)
Raffensperger testified before a special grand jury in that case last June.
Other investigations of Trump's actions
Smith was appointed by U.S. Attorney General Merrick Garland to lead teams investigating the actions by Trump and his allies in the aftermath of the 2020 election, including the violent riot at the U.S. Capitol on Jan. 6, 2021, and Trump's handling of classified documents. The documents' investigation resulted in a 38-count indictment against Trump and his valet Walt Nauta earlier this month. Trump has pleaded not guilty to the 37 counts against him. Nauta's arraignment was set for Tuesday but has been delayed until next week. 
Additionally, a Manhattan grand jury in March indicted him on 34 counts of falsifying business records to cover up hush-money payments to a porn actor during the 2016 presidential election. 
FOX News and The Associated Press contributed to this report