Trump election investigation: Fulton County DA suggests indictments could come in August
FULTON COUNTY, Ga. - The Fulton County prosecutor investigating whether then-President Donald Trump and others broke the law while trying to overturn his 2020 election loss in Georgia seems to be suggesting that any grand jury indictments in the case would likely come in August.
District Attorney Fani Willis sent a letter Thursday sent a letter to county Superior Court Chief Judge Ural Glanville indicating that she plans to have much of her staff work remotely for most days during the first three weeks of August and asking that judges not schedule trials and in-person hearings during part of that time. Copied in on the letter are 20 other county officials, including Sheriff Pat Labat, Fulton City Police Chief W. Wade Yates, the court clerk, and top leaders.
"Thank you for your consideration and assistance in keeping the Fulton County Judicial Complex safe during this time," Willis wrote in the letter, which was obtained by FOX 5.
GEORGIA PROSECUTOR FIGHTS BACK AGAINST TRUMP ATTEMPT TO REMOVE HER FROM ELECTION PROBE
Willis last month wrote local law enforcement leaders advising them that she intended to announce charging decisions in the case between July 11 and Sept. 1. Thursday's letter seems to narrow that window. In the earlier letters she advised law enforcement to prepare for "heightened security," noting that the announcement of charges "may provoke a significant public reaction."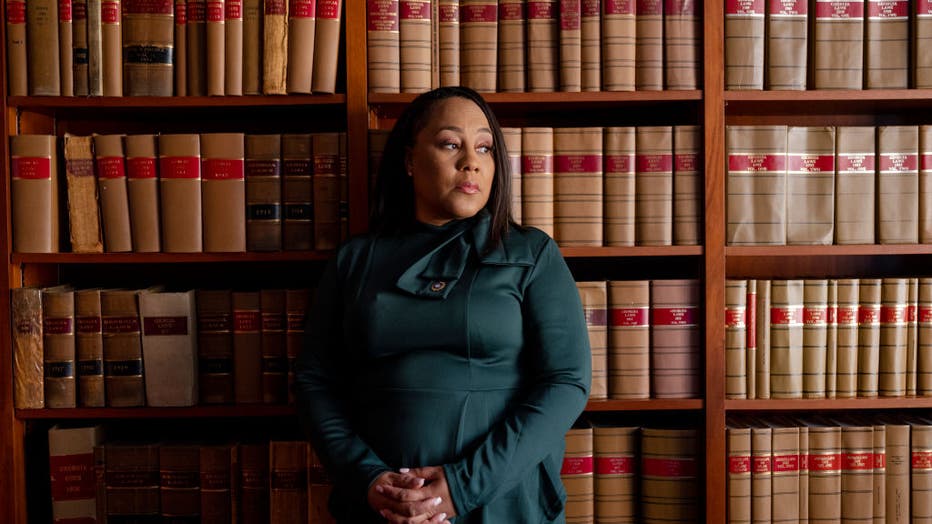 Fani Willis, the District Attorney of Fulton County, Georgia inside her office chambers in the Fulton County Justice Center Tower in Atlanta, Georgia ( Photo by David Walter Banks/Getty Images)
For more than two years, Willis and her team have been scrutinizing actions Trump and others took as they tried to overturn his narrow loss in Georgia to Democrat Joe Biden.
She wrote in the letter to Glanville that she plans to reduce the staffing in her office by about 70% on most Mondays, Tuesdays, Thursdays and Fridays — the days when grand juries meet in Fulton County — between July 31 and Aug. 18. But she said her "leadership team, all armed investigators" and some other staff would continue to be on site during the remote work days.
Willis noted that most judges will be attending an annual state judicial conference from July 31 to Aug. 4, and she asked that they not schedule trials or in-person hearings the weeks of Aug. 7 and Aug. 14. But she said her office will be present and ready to go for any in-person proceedings during that time. If in-person hearings are scheduled when most of her staff is working remotely, she wrote, they would be handled by senior leadership.
READ THE FULL LETTER BELOW:
Trump's Georgia legal team in March asked A court to toss out the report and to prevent prosecutors from using any evidence or testimony stemming from the panel's investigation. They also asked that Willis and her office be barred from continuing to investigate or prosecute the case. 
Willis responded in a filing Monday that the Trump's motion is "procedurally flawed" and advances "arguments that lack merit."
The Georgia investigation is one of several that threatens the former president as he campaigns to regain the White House in 2024.
A Manhattan grand jury in March indicted him on 34 counts of falsifying business records to cover up hush-money payments to a porn actor during the 2016 presidential election. Federal grand juries in Washington are investigating efforts by Trump and his allies to undo the results of the 2020 presidential election and the potential mishandling of classified documents by Trump at his Florida estate.
A federal jury in New York recently found Trump liable for sexually abusing advice columnist E. Jean Carroll in 1996, awarding her $5 million.
The Associated Press contributed to this report