'Stop Cop City' organizers in race against time for petition signatures
DEKALB COUNTY, Ga. - Just days after picking up their petition forms, "Stop Cop City" organizers hit the streets to rally the community against the $90-million Atlanta Public Safety Training Center.
Organizers are trying to gain as much support as possible ahead of Aug. 15, the deadline for a petition to give voters the power to decide what happens to the facility they've nicknamed "Cop City."
"We are residents of Atlanta advocating for support from Atlanta," student organizer Daxton Pettus told FOX 5. 
Demonstrators rally the community around Atlanta, looking for 70,000 signatures for their petition. (June 24, 2023)
It's been a winding road to get to this point for the group that sued the City of Atlanta after its initial petition for a referendum to put "Cop City" on the November ballot was denied twice due to what they say were 'technicalities.' 
"It just shows how scared the city is to let the people speak," movement supporter Shaheen Rana said.
Opponents of the training facility said despite setbacks, they're pushing forward with a week of community events that started at Brownswood Park Saturday.
Demonstrator lay out a series of protesting signs (June 24, 2023)
Pettus, a student organizer from Morehouse College, said the goal is to raise awareness about their concerns with the facility in hopes of getting closer to the 70,000 thousand signatures they'll need. 
"Luckily, the movement has been built in the community, so the effort is there and there are people going out day-to-day to get those signatures through the referendum," he explained.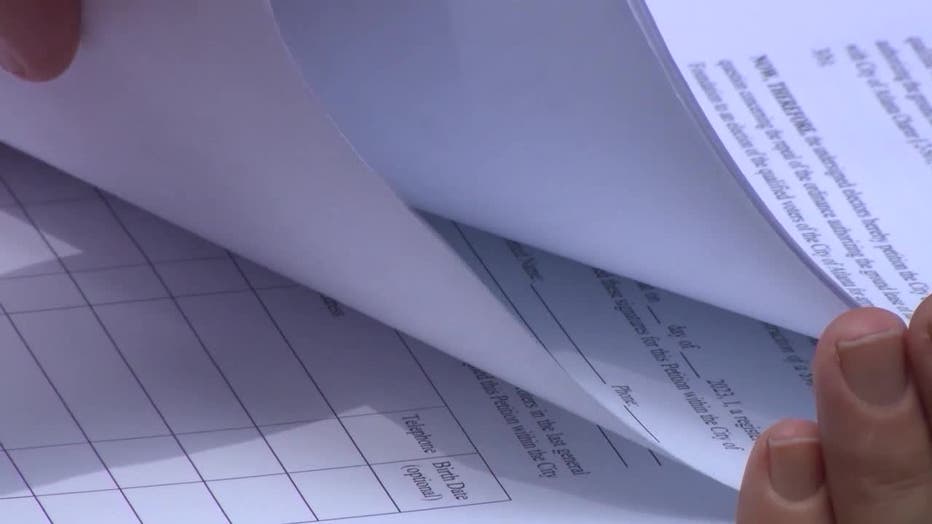 Organizers couldn't say exactly how many signatures had been collected as of Saturday, but said they were celebrating another small "victory" in their movement. A few days ago, DeKalb County District Attorney Sherry Boston announced her office would no longer pursue cases against dozens of protesters facing domestic terrorism charges.
Those charges stemmed from previous demonstrations—some of which turned violent. Boston said the decision came after recent conversations revealed a "fundamental difference in prosecutorial philosophy."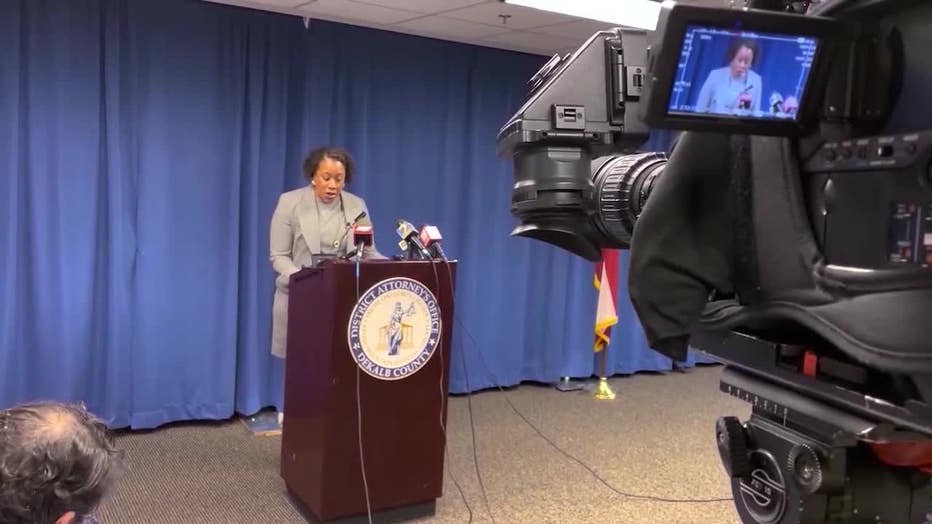 DeKalb County District Attorney Sherry Boston
"The movement has been gaining support, but the state has been losing support … and it's clear because these repressive tactics are clearly oppressive," Pettus told FOX 5.
"I wish the District Attorney would have spoken out against the charges instead of just recusing herself," Rana stated.
State Attorney General Chris Carr took to Twitter in a response to Boston's announcement: 
"While the District Attorney has decided to no longer assist in this case, our office is fully committed to moving forward with the prosecution of those who have engaged in or supported violent acts surrounding the public safety training center. If you shoot police officers, throw Molotov cocktails at law enforcement, and set fire to police vehicles, you will be held accountable. We will not waver when it comes to keeping Georgians safe and putting a stop to violent crimes in our state." 
More than 40 people have been arrested and charged since May 2022. Domestic terrorism is a felony that carries a penalty of up to 35 years in prison. 
There was a noticeable police presence in the area around the park where the rally took place on Saturday.
The day ended with a vigil at 8:30 p.m. honoring the protester who was killed earlier this year in what the GBI says was an exchange of gunfire with a state trooper.  Organizers told FOX 5 more than a dozen officers showed up after that, warning demonstrators the park would be closed at 11 p.m.
"Stop Cop City" organizers said they plan to continue holding community events throughout the week.