Code Orange Air Quality Alert issued for metro Atlanta over Canadian wildfire smoke
ATLANTA - A Code Orange Alert was issued for parts of Georgia as the state continues to feel the effects of the far-reaching smoke from the wildfires in Canada on Tuesday, but it turned out to be much higher.
Tuesday, the Air Quality Index (AQI) teetered back and forth from orange to red, signaling unhealthy conditions for sensitive groups such as older adults, children, teenagers and those with lung and heart disease. 
Between that haze and the July heat, it can be a tricky time to be outdoors, especially if you're dealing with health conditions. 
"Steamy, and just walking to get groceries I'm already breaking out with a pretty good sweat," said Craig Heiser of the conditions outside as he walked through Piedmont Park Tuesday morning. 
What is a Code Oranage Alert?
A Code Orange Alert is issued when the air quality index (AQI) is between 101 and 150 based on five major air pollutants. This means that the air pollution concentrates may be unhealthy for the elderly, children and people who have lung or heart conditions. 
KEEP UP WITH THE LATEST BY DOWNLOADING THE FREE FOX 5 STORM TEAM APP AND FOLLOWING @FOX5STORMTEAM ON TWITTER
According to the Environmental Protection Agency's AirNow.gov Smoke and Fire map, parts of north Georgia and the metro Atlanta area were experiencing an unhealthy air quality level to the point where everyone should limit time outdoors.
The EPA advises keeping outdoor activities light and short when air quality indexes reach above 150 on the agency's map. In metro Atlanta, the highest AQI seen was 162 in the city.
Sensitive groups, including people with heart and lung disease, older adults, children and pregnant women, should consider staying inside, advisories warn.
"It can lead to more flare-ups in the short term. For children, it can lead to new asthma or long-term asthma issues. It absolutely is unsafe, particularly when the numbers go above 100, the AQI is above 100," said Doctor Ishan Mehta, Assistant Professor of Medicine at Emory University, Pulmonary Critical Care. 
Tuesday may also tie the area's hottest day of 2023 so far with temperatures possibly reaching 96 degrees. The poor air quality will continue all day until we get some relief on Wednesday thanks to rainfall chances returning.
"The standard precaution we recommend to patients is you want to make sure you're keeping an eye on the numbers, the AQI in particular, and you're making sure you're not doing any sort of vigorous exercise on days that the AQI is high," said Doctor Mehta. 
WHEN WILL THINGS RETURN TO NORMAL?
However, people hanging out at Piedmont Park on Tuesday say neither the heat nor haze are keeping them inside. 
"I have to be outside. It's still wonderful being outside in the summer," said Atlanta resident Jared Cook. 
The haze from the wildfire smoke is expected to clear up through Tuesday evening into Wednesday.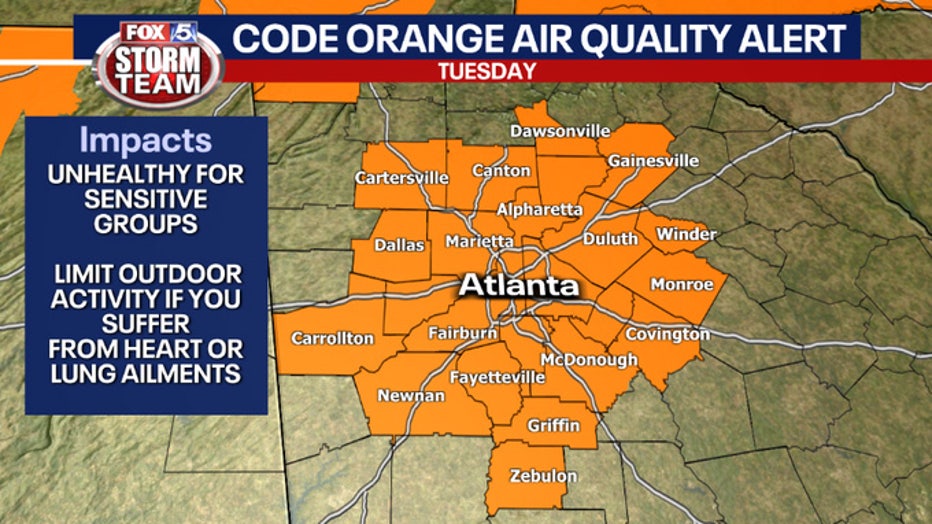 How dangerous is the air quality?
The smoke particulates create not only a hazy looking sky, but they also help fog to form early in the day, reducing visibility.
Fine particle pollution caused by smoke from Canada's wildfires caused a red zone air quality index in many parts of the country Monday. The particles, known as PM2.5, are tiny enough to get deep into the lungs and cause short-term problems like coughing and itchy eyes, and in the long run, can affect the lungs and heart.
Relief from the smoke crossing the Canadian-U.S. border won't be immediate, experts said. Large fires in Alberta, British Columbia and Saskatchewan are likely to keep churning out smoke throughout the summer and possibly into early fall, said Montana Department of Environmental Quality meteorologist Aaron Ofseyer.
"The worst is over with this round," Ofseyer said. "Unfortunately there's still a ton of wildfire smoke north of the border. Anytime we get a North wind we're going to be dealing with Canadian wildfire smoke."
Climate change and rising temperatures cause the environment to be more prone to wildfires, and more susceptible for air masses to become stagnant and stationary, explained Dr. Ravi Kalhan, a pulmonologist and professor of medicine and preventative medicine at Northwestern University's Feinberg School of Medicine.
"It's not normal," he said of the repeated air quality alerts experienced in parts of the United States this summer.
"We keep having these events. They're not just one bad day a year," Kalhan said.
The Canadian Interagency Forest Fire Centre website reported 882 active fires, with 581 deemed "out of control," as of Monday afternoon.
The Associated Press contributed to this report.