Man shot Saturday by Cobb County police officers identified
COBB COUNTY, Ga. - An armed man was shot and killed by Cobb County Police in Marietta late Saturday afternoon. Police say he assaulted a woman before they were called to the scene. The Georgia Bureau of Investigation is working to determine whether the use of deadly force was justified.
The fatal shooting happened just before 4 p.m. Police say someone called 911 saying the man assaulted the woman inside a home on Michael Drive. Cobb County Police Chief Stuart VanHoozer said the situation escalated quickly once officers realized the man was armed with a gun.
Officers opened fire, hitting him several times. Chief VanHoozer said it was too early in the investigation to say whether the man pointed the weapon at police before they began shooting. None of the officers involved were injured.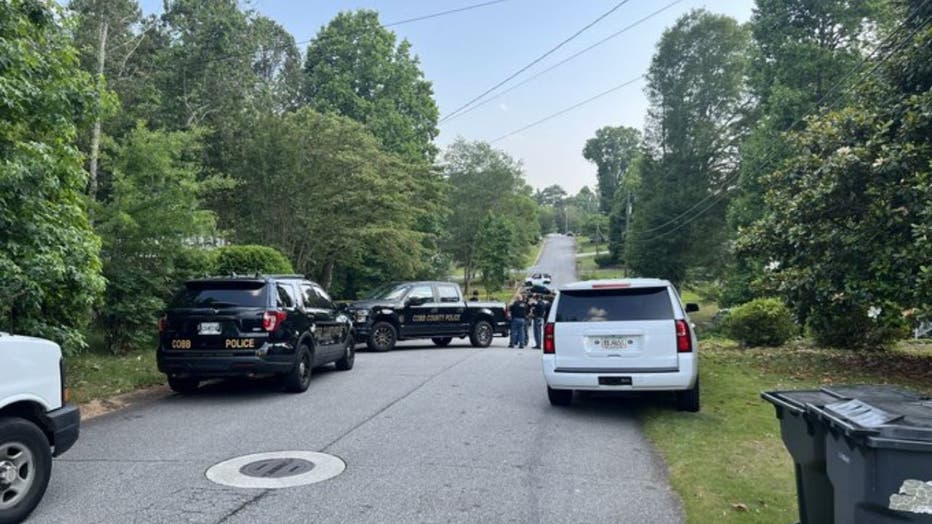 Austell Road/Milford Church Road.  (FOX 5 Atlanta)
"To the family and the loved ones of the deceased tonight: We certainly express our heartfelt condolences. Our job is unfortunately full of a lot of death, but it doesn't ever become routine to us. We realize there is a hurting family right now, and a group of friends that are mourning this evening. We mourn with them," Chief VanHoozer said.
Police say they then located the victim of the original assault and offered her medical treatment at the scene. They say she did not require hospitalization, and is now safe now.
Chief VanHoozer said investigators believe the victim may have been the man's girlfriend. Authorities have not released either of their identities.
"I would like to ask our community to hold both the family and the loved one's of the gentleman that was killed tonight and our officers in their thoughts and prayers," VanHoozer said. "It was a dangerous call to go to. It was a scary call to go to. They did their job … Unfortunately, it did not end the way the officers, the family and probably even the victim [of domestic violence] would've liked."
The man was identified on Sunday by the GBI as 33-year-old Murdock Jackson. 
Once the investigation has concluded, the findings will be reviewed by Cobb County District Attorney Flynn Broady's office.
This is the 45th officer-involved shooting investigated by the GBI so far this year.