City to unveil Eternal Flame memorial honoring Atlanta child murders victims
ATLANTA - Current and former Atlanta city leaders will gather at City Hall Tuesday to remember the lives lost in the series of Atlanta child murders.
It's been over four decades since more than 25 children and teenagers were found dead in metro Atlanta in the span of two years.
The crimes, which captivated the country, were known as the Atlanta child murders. The cases are still ongoing.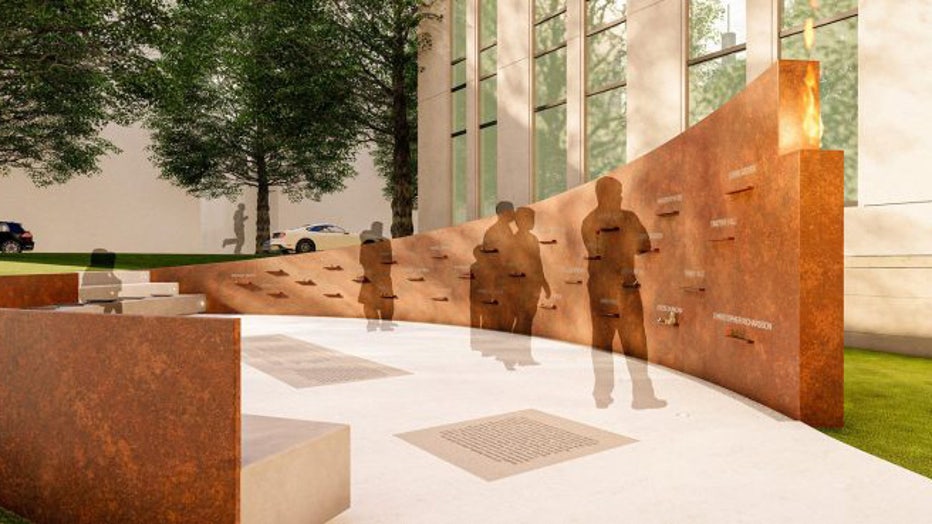 A rendering of the Eternal Flame memorial (City of Atlanta)
Tuesday, past and present leaders including Mayor Andre Dickens and former Mayor Keisha Lance Bottoms will unveil a new tribute to the victims.
The memorial, titled Eternal Flame, will be a 55-foot-long wall with the name of each victim placed next to their own shelf where mourners can put tributes and mementos. Artist Gordon Huether says the walls of the memorial are made of Corten steel, which will eventually weather into a rust-colored patina.
The memorial comes a few years after the Atlanta Police Department reopened their investigation into the case after finding a private lab that specializes in analyzing deteriorated DNA.
"As with all murder cases, our investigators dedicate countless hours of time and energy to successfully solve cases and bring some sense of closure to victims' relatives," a spokesperson for the APD said in a statement.
As part of the investigators, detectives have been directed to look into whether there are more victims beyond the timeframe of 1979 to 1981.
Family members of the victims say they still don't have closure more than 40 years after the murders.
FOX 5 I-TEAM SPECIAL 'PATTERN OF A KILLER: THE TRIAL OF WAYNE WILLIAMS'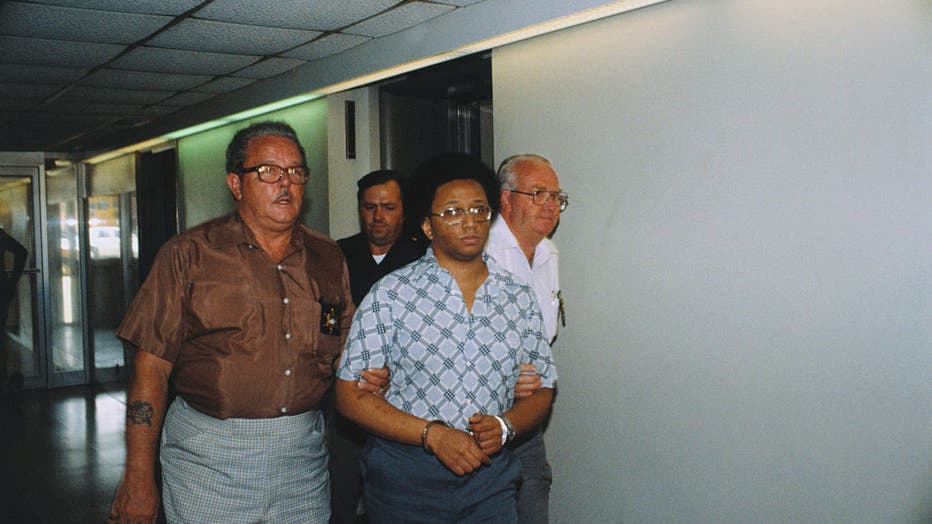 Wayne Williams, the suspect being detained in Atlanta murders, being led in handcuffs. (Getty Images)
Wayne Williams, the man suspected of being behind the murders, continues to serve life in prison for the 1982 killing of two adults.
Late last year, members of the Wayne Williams Freedom Project called for the results of DNA testing to be released in hopes of proving his innocence.
Atlanta police have not provided any recent updates on their investigations.
The ceremony is set to begin at 10:30 a.m. at Atlanta City Hall.