Atlanta Mayor Andre Dickens highlights TSPLOST, new parks during 1st State of the City
ATLANTA - Atlanta Mayor Andre Dickens delivered his first State of the City address On "404 Day" — April 4, an ode to the city's original area code. The 40-minute speech was roughly three months after Dickens was sworn into office at his alma mater, the Georgia Institute of Technology. 
Speaking at the Georgia World Congress Center, Dickens touched on the city's response to the COVID-19 pandemic and the achievements of frontline workers. Dickens touted lifting the indoor mask mandate in the decline of the omicron variant surge and the city's vaccination rate that helped essential offices stay open. 
"We are determined to keep our city safe and clean," Dickens said.
The 40-minute speech to civic leaders focused on making Atlanta work better for citizens regardless of their income or demographic. 
With a visionary zeal, Dickens talked about public safety initiatives that that go beyond police being able to make arrests. 
Dickens listed items like adding better lighting for neighborhood streets and dedicating someone inside his office to monitor nightlife businesses as just two ways he can make the police department's job easier. 
He again asked citizens to play a part by connecting their private surveillance cameras up to the city system, so police will have and expanded glimpse into what may be going on. 
Dickens addressed transportation, saying the city's Department of Transportation teams have a goal of addressing about 20 potholes per day citywide. He endorsed a transportation SPLOST package, so-called "TSPLOST 2.0," to fund repair sidewalks, bridges and roadways. He said a public improvement bond would yield millions for capital projects.
"Taken together, that's $750 million toward improvements across this city," Dickens said. 
Dickens also wants to increase the amount of green space. Dickens said the city acquired land to develop a park with direct access to that Chattahoochee River.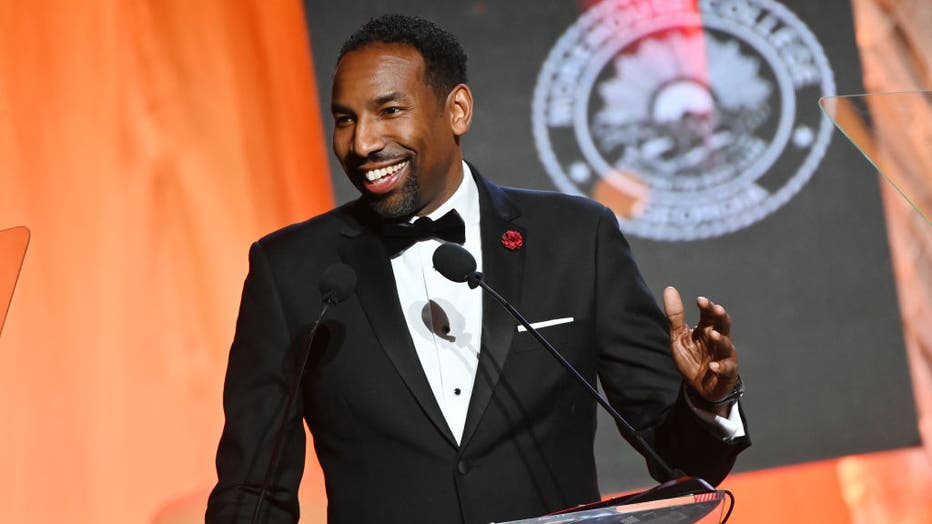 Atlanta mayor Andre Dickens speaks onstage during Morehouse College 34th Annual "A Candle In The Dark" Gala. (Photo by Paras Griffin/Getty Images)
Crime was a big focus and the mayor outlined public safety measures to stop violence across Atlanta. Dickens covered public safety measures in about the last half of his address. 
Dickens said the city is moving forward with its initiative to increase street lighting. He said a "Nightlife" divisions of the Atlanta Police Department will host training session for businesses on deescalating altercations. He said the city won't tolerate businesses with consistent problems. 
"Bad operators and bad patrons, will be kept in line," Dickens said.
ATLANTA MAYOR GIVES STERN WARNING TO 'NUISANCE' BUSINESSES BY TAKING THEM TO COURT
Last week, Dickens and the Atlanta Police Department discussed a new unit aimed at keeping repeat offenders from cycling through the criminal justice system. According to Dickens, 30% of the suspects arrested by the APD each week are men and women who have already been convicted of at least three felonies.
"We catch them, we arrest them, we convict them, but somehow, they are back on our streets and committing crimes," Dickens said. "About 1,000 individuals are committing up to 40% of the crimes in our city."
ATLANTA CRIME: POLICE RECRUITING, CATCHING REPEAT OFFENDERS ARE PUBLIC SAFETY PRIORITIES
The Mayor also announced new investments in programs aimed at "giving youth something to do," with corporations assisting with donations for centers and educational opportunities. 
Dickens had previously also kicked off a midnight basketball program aimed at giving young people a positive thing to do in an environment that will include resources to help youth off the court as well.
ATLANTA MAYOR ANDRE DICKENS RELAUNCHES 'MIDNIGHT BASKETBALL'
"This activity drives them to some of the opportunities they can have in the  community versus being outside, maybe getting into trouble or sitting around, they can be here having fun," said Mayor Dickens.
The initiatives are attempting to reduce crime throughout the city. According to the APD, burglaries have been ticked up about 25% in almost every police zone in Atlanta.