Tornado confirmed in Douglas County, deadly storm causes damage southeast of Atlanta
ATLANTA - Severe weather swept across northern areas of Georgia on Monday morning into the early afternoon, and officials have confirmed at least two deaths. The hardest hit in metro Atlanta were Douglas and Fulton counties.
The National Weather Service confirmed an EF-1 tornado packing winds of about 90 mph briefly touched down in Douglas County. The tornado was on the ground for three minutes traveling about a mile and a half starting around 10 a.m. Officials said it touched down along North Summers Circle near Bedwood Way and lifted just north of the dead-end of McKoy Trail. 
Officials said the tornado uprooted and snapped a few trees at the beginning of the track. The tornado intensified as it crossed Kings Highway snapping and uprooting trees along multiple roads. At least 10 homes had trees on them, according to the National Weather Service survey. 
Severe Thunderstorm Watches are in effect in multiple Georgia counties until 9 p.m. 
Tornado Watches in Georgia expired shortly after 3 p.m. on Monday.
The Flash Flood Warnings were allowed to expire, but all of north Georgia is under a Flash Flood Watch.
A radar-indicated tornado touched down southwest of Atlanta near the Interstate 20 and Interstate 285 interchange. 
One killed during storm in Douglasville, officials say
Douglas County officials said power lines and a tree fell and killed a driver trapped in a car during Monday's storm, north of the confirmed tornado.
FOX 5 Atlanta's Doug Evans said police confirmed the accident occurred in Douglasville near the post office on Monday morning.
Firefighters received a call of an occupant trapped at approximately 10:36 a.m. on Campbellton Street between Woodrow Avenue and Spring St. in Douglasville.
SEE MORE: Douglasville restaurant owner killed by falling tree during storm
"When firefighters arrived at the scene, they discovered the driver was trapped inside the vehicle with power lines and a tree on the vehicle."  Douglas County Communications Director Rick Martin said. "Firefighters had to extricate the driver who we are only identifying as a male at this time until next of kin are notified."
The victim has not been officially identified.
Woman dies in storm in Houston County
A 55-year-old Bonaire woman was killed during a severe storm packing wind gusts of 50 to 60 mph on Monday afternoon.
Emergency officials were called out to a home located on Fox Hall Blvd. around 4:35 p.m. to find a large pine tree that crashed through the living room area of a home, killing a resident.
Houston County officials identified the woman as 55-year-old Carla Harris.
The Red Cross is helping the family through this difficult time.
Dogs killed after tree falls during storm
A man living in the Orchard Point subdivision said he got a call from Douglas County sheriff's deputies on Monday telling him his home suffered damage after a confirmed tornado moved through the area.
Darryl Blalock was not home at the time of the storm but said his two dogs were in their backyard kennel at the time. A tree fell on that kennel, killing both dogs.
"I loved 'em. They're gone now, so," Blalock said, adding his grandchildren were upset by it. "They're gone, I buried them over there."
Blalock said his dogs were named Chevy and Christian. Both were just over a year old.
While he is upset to lose his pets, he is grateful he and his family were not injured and that the home wasn't severely damaged.
Storm damage in Fulton and Douglas counties
Parts of Atlanta and Fulton County reported significant damage from Monday morning's storm. 
Georgia Power said approximately 7,500 customers were impacted by the storms, mostly in metro Atlanta. 
Areas of Fulton County reported damage from a tornado. Severe weather brought down trees and significant debris was visible in South Fulton off Westgate Parkway.
MORE COVERAGE: Trees down, debris strewn in South Fulton after storm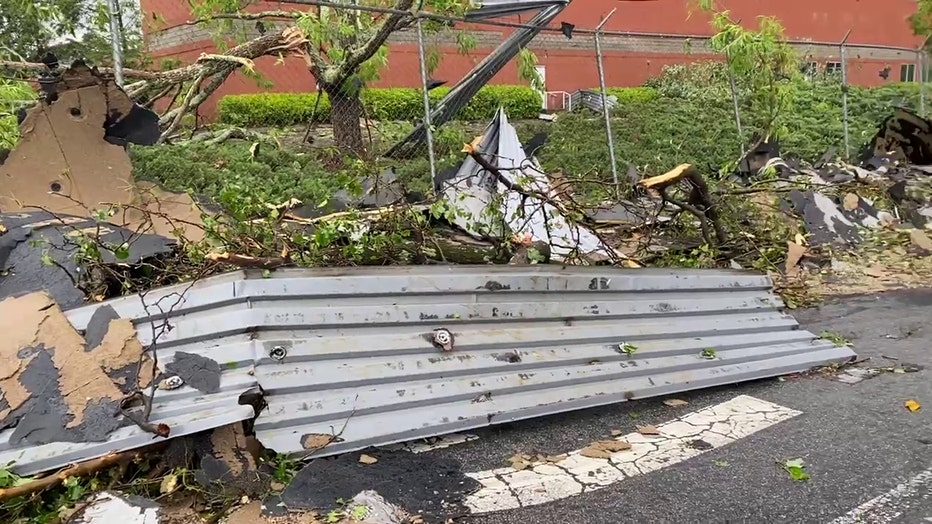 Debris was disrupting traffic on Monday at around noon.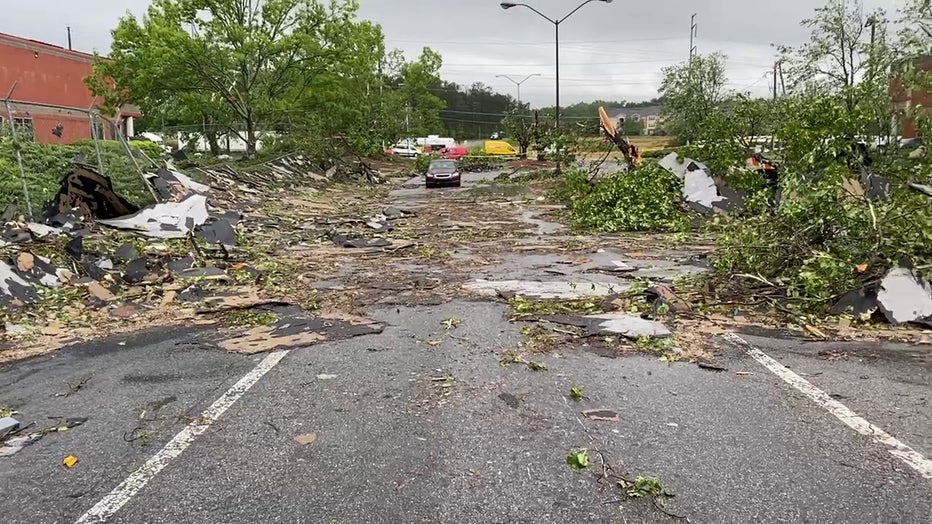 There was damage near PepsiCo on Fulton Industrial Boulevard.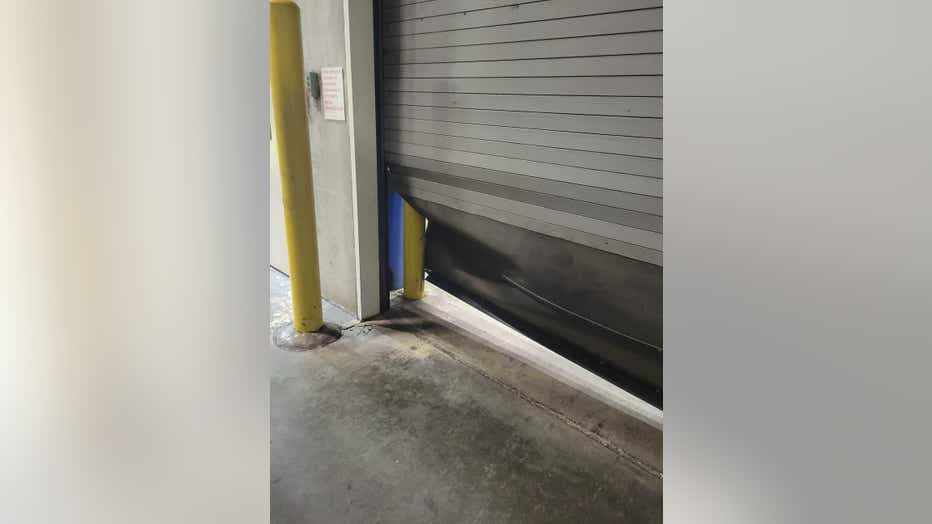 An air conditioning unit was ripped off the roof of the building.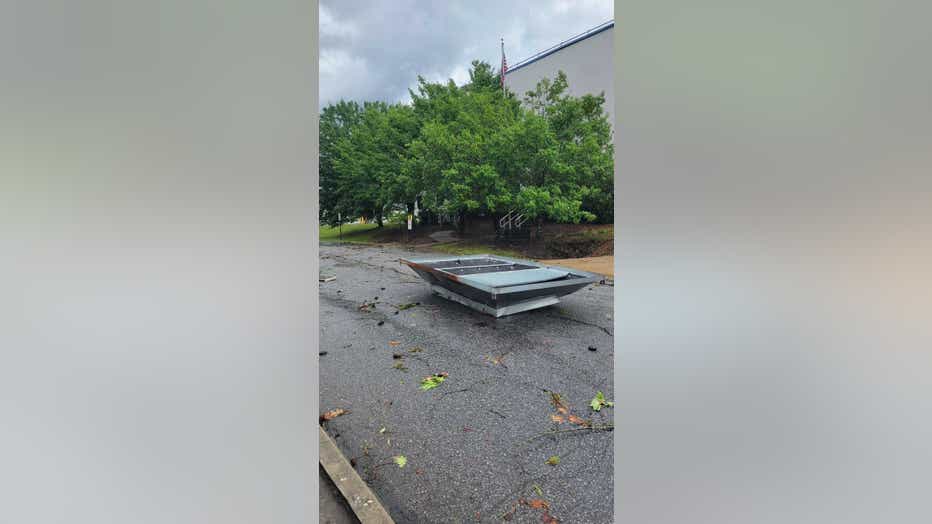 There was some damage to the interior of the building.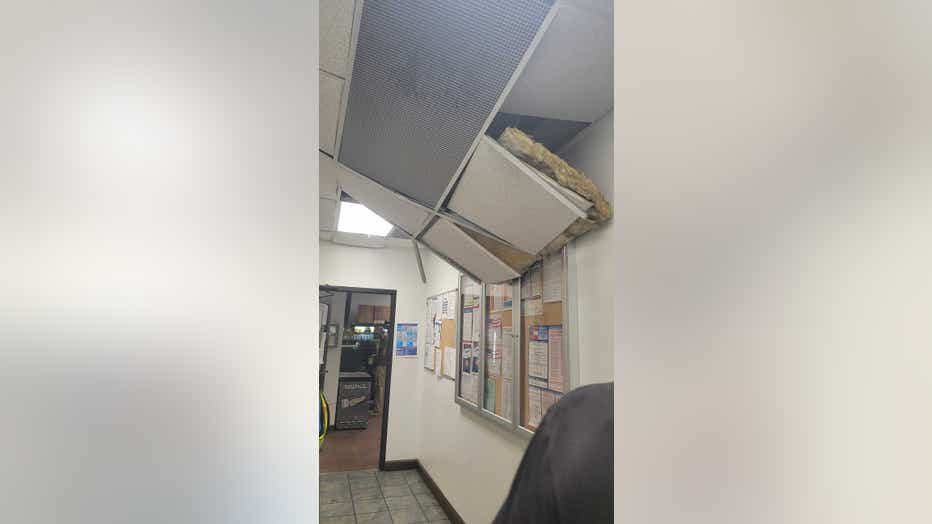 The storm caused flooding on Georgia Highway 400 near I-285. 
Atlanta Public Schools reported its students and staff sheltered in place until 12:15 p.m. on Monday.
Atlanta Mayor Keisha Lance Bottoms shared photos of fallen trees near her home.
A Tornado Warning in Fulton and DeKalb counties expired at 11:15 a.m. on Monday.
It preceded a Severe Thunderstorm Warning in DeKalb County, Rockdale County, Walton County and Gwinnett County, which expired at 12:30 p.m.
Tornado Warnings swept through east Georgia in the early afternoon including Butts County and Jasper County. 
Severe weather outlook this week
Tuesday is a Storm Alert Day for north Georgia including metro Atlanta. Residents will want to be weather aware with a game plan to react to two possible rounds of severe weather on Tuesday.
Monday's showers and thunderstorms will wrap up early Tuesday morning, but two more rounds, with the potential for even more intense severe weather, will move just after sunrise on Tuesday and then again in the late afternoon and early evening hours.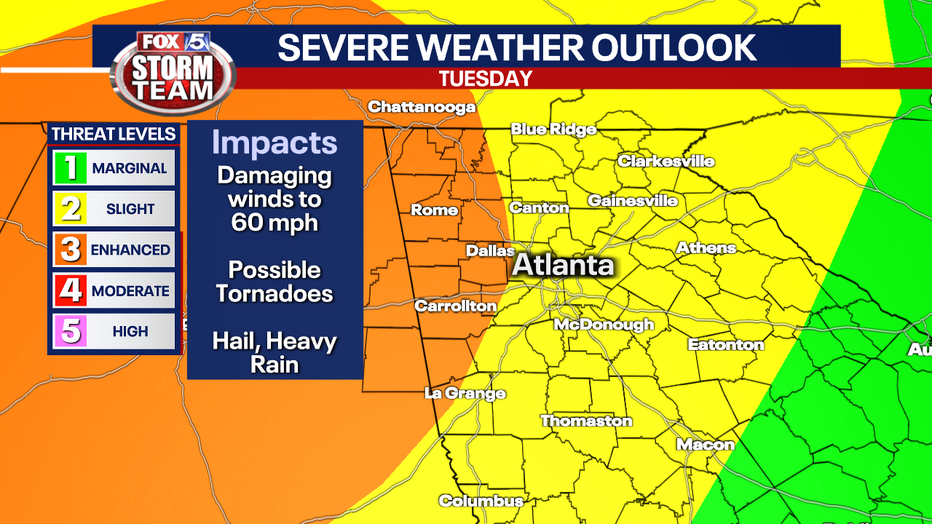 The biggest threats on Tuesday will be damaging winds, isolated tornadoes, heavy rain, and frequent lightning.
SEE MORE: Storm Alert Day: 2 rounds of potentially severe storms Tuesday
Keep up with the latest by downloading the FREE FOX 5 Storm Team app and following @FOX5StormTeam on Twitter.